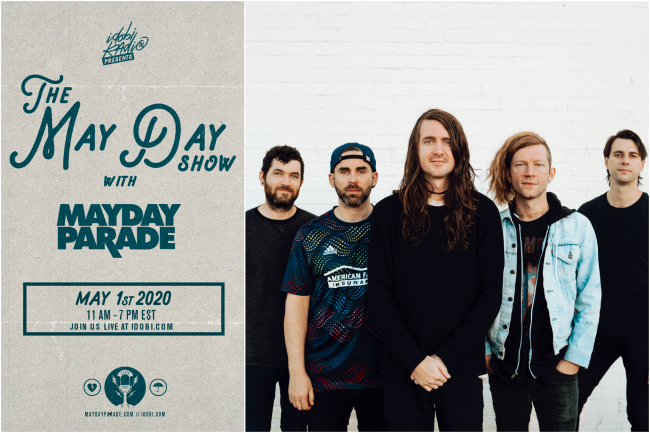 Did you know Mayday Parade has their own holiday?
…well, now you do.
May Day is right around the corner and this year we're celebrating big time. Since we couldn't have a (ahem) parade, Mayday Parade is taking over our airwaves all day long to do whatever the f#©k they want.
The May Day Show will go from 11am to 7pm ET on May 1st, only on idobi Radio. We'll hear from all the members of the band as they hang out and chat, answer questions, and play their favorite tunes. We'll also hear from some of their best pals, like The Maine and Four Year Strong. (We heard State Champs and Knuckle Puck might come out to celebrate too…)
The guys will be switching off throughout the day, giving us some time to get to know each member of the band individually. They'll be answering fan questions and playing their favorite Mayday tracks. If you've ever wanted to know which song guitarist Alex Garcia loves the most, or ask drummer Jake Bundrick how many drumsticks he's broken over the years, your time is coming this May Day.
Of course, you can't celebrate a holiday without the proper attire. Luckily, Mayday Parade is launching a massive merch sale at 10am ET on May Day—so you have time to grab that exclusive May Day tee before heading over to idobi's festivities.
Calendars, remember those? You're gonna need 'em to count down the hours (and minutes and seconds) until May Day kicks off.
Tune into idobi Radio ALL DAY on May 1st for The May Day Show.