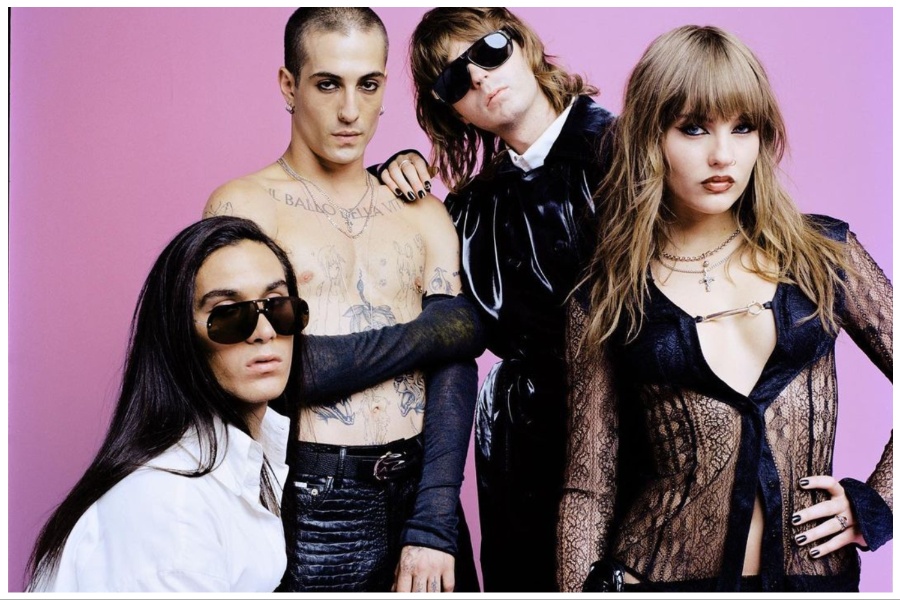 Fresh off the release of their fall single "HONEY (ARE U COMING?)," Italy's sexiest export, Måneskin has shared exciting news with fans. The award-winning rock quartet are launching an extended version of their January 2023 LP RUSH!.
The new album edition, RUSH! (Are U Coming?), includes five new songs. The 22-track extended album is officially coming out November 10, so fans will have to hang tight, and maybe add the record to their Christmas shopping list. Fans can also pre-order the album beginning on September 29.
RUSH! (Are U Coming?) Tracklist:
​​1. HONEY (ARE U COMING?)
2. VALENTINE
3. OFF MY FACE
4. THE DRIVER
5. TRASTEVERE
6. OWN MY MIND
7. GOSSIP (Feat. Tom Morello)
8. TIMEZONE
9. BLA BLA BLA
10. BABY SAID
11. GASOLINE
12. FEEL
13. DON'T WANNA SLEEP
14. KOOL KIDS
15. IF NOT FOR YOU
16. READ YOUR DIARY
17. MARK CHAPMAN
18. LA FINE
19. IL DONO DELLA VITA
20. MAMMAMIA
21. SUPERMODEL
22. THE LONELIEST
The band recently kicked off their RUSH! WORLD TOUR with a recent win at the VMAs for Best Rock Video with "The Loneliest." With more new music on the way, fans just might be able to hear some tracks live before the official release. Fingers crossed. Check out the full list of dates below and grab your tickets here.
Tour Dates:
Sept. 29—Chicago, IL @ Allstate Arena
Oct. 1—Detroit, MI @ Michigan Lottery Amphitheatre at Freedom Hill
Oct. 3—Nashville, TN @ Nashville Municipal Auditorium
Oct. 6—Irving, TX @ The Pavilion at Toyota Music Factory
Oct. 10—Los Angeles, CA @ Kia Forum
Oct. 13—Oakland, CA @ Oakland Arena
Oct. 15—Vancouver, BC @ Doug Mitchell Thunderbird Sports Centre
Oct. 20—Mexico City, Mexico @ Palacio De Los Deportes
Oct. 24—Bogotá, Colombia @ Movistar Arena
Oct. 27—Santiago, Chile @ Estadio Bicentenario La Florida
Oct. 29—Buenos Aires, Argentina @ Movistar Arena
Nov. 1—Rio de Janeiro, Brazil @ Qualistage
Nov. 3—San Paulo, Brazil @ Espaço Unimed
Nov. 20—Brisbane, QLD @ BCEC
Nov. 22—Sydney, NSW @ Hordern Pavilion
Nov. 23—Melbourne, VIC @ Margaret Court Arena
Nov. 25—Adelaide, SA @ AEC Theatre
Nov. 27—Singapore @ Singapore Expo
Dec. 2—Tokyo, Japan @ Ariake Arena
Dec. 3— Tokyo, Japan @ Ariake Arena
Dec. 5—Tokyo, Japan @ Garden Theatre
Dec. 7—Kobe, Japan @ World Hall
Dec. 14—Dublin, Ireland @ 3 Arena
Dec. 19—Manchester, UK @ AO Arena