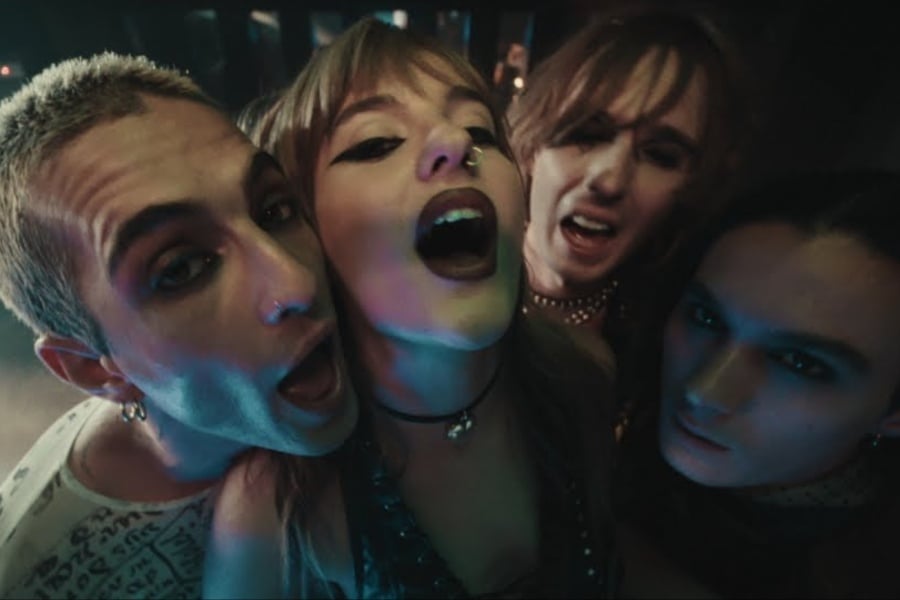 Rock music's sexiest band Måneskin is back with a brand-new music video for "OFF MY FACE." The track comes from the group's latest extended LP RUSH! (ARE U COMING?).
"I'm off my face/Lockеd inside your prison/Yeah, I'm off my face/Your lovе is my addiction/And I like the taste/Yeah, I just can't resist it," sings Damiano David on the sultry new offering. Check out the new music video where viewers can get really up close and personal with the rock quartet.
In an Instagram caption, Måneskin shared that they "had so much fun filming this one," as they got to film cute and goofy close-ups.
Preceding the "OFF MY FACE" music video, the band released "THE DRIVER" on November 16, which showcased a raw rooftop performance of the new song. Additionally, the band dropped a music video for "VALENTINE" in tandem with their RUSH! (ARE U COMING?) launch, marked with a stunning black and white backdrop.
You can check out the "VALENTINE" music video below.
RUSH! (ARE U COMING?) Tracklist:
​​1. HONEY (ARE U COMING?)
2. VALENTINE
3. OFF MY FACE
4. THE DRIVER
5. TRASTEVERE
6. OWN MY MIND
7. GOSSIP (Feat. Tom Morello)
8. TIMEZONE
9. BLA BLA BLA
10. BABY SAID
11. GASOLINE
12. FEEL
13. DON'T WANNA SLEEP
14. KOOL KIDS
15. IF NOT FOR YOU
16. READ YOUR DIARY
17. MARK CHAPMAN
18. LA FINE
19. IL DONO DELLA VITA
20. MAMMAMIA
21. SUPERMODEL
22. THE LONELIEST
The band is close to concluding their RUSH! WORLD TOUR with a few more dates in Australia, Japan, Ireland and England. Check out the full list of dates below and grab your tickets here.
Tour Dates:
Nov. 20—Brisbane, QLD @ BCEC
Nov. 22—Sydney, NSW @ Hordern Pavilion
Nov. 23—Melbourne, VIC @ Margaret Court Arena
Nov. 25—Adelaide, SA @ AEC Theatre
Nov. 27—Singapore @ Singapore Expo
Dec. 2—Tokyo, JP @ Ariake Arena
Dec. 3— Tokyo, JP @ Ariake Arena
Dec. 5—Tokyo, JP @ Garden Theatre
Dec. 7—Kobe, JP @ World Hall
Dec. 14—Dublin, IE @ 3 Arena
Dec. 19—Manchester, UK @ AO Arena