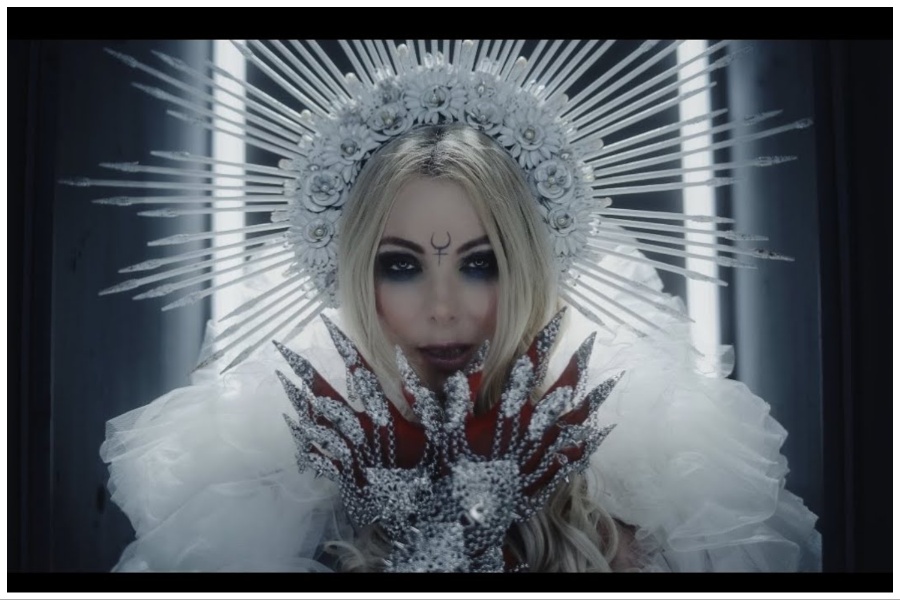 In This Moment has tapped into their divine prowess and ascended to "GODMODE," as evidenced by the awe-inspiring release of the very track that shares its name with their eagerly awaited full-length album. Continuing the artistic journey set in motion by 2020's Mother, In This Moment's highly-anticipated new album, GODMODE, is poised to make its mark on October 27, courtesy of BMG.
Following the release of the album's debut track, "The Purge" earlier this year, "GODMODE" emerges as a forceful anthem that blurs the lines between vulnerability and strength, darkness and light. From the very first notes, the listener is engulfed in an electrifying and punchy soundscape that serves as a sonic canvas for Maria Brink's signature vocals. Her voice, simultaneously haunting and empowering, navigates the track's emotional terrain with a skill that has become emblematic of In This Moment's distinct style.
"The lyrics came from feeling powerful and tribal and entrancing," Brink shares. "The fact that Chris gets me so much that I can literally send him a voicemail and he sends it back to me in music form shows how in tune we are. It's been a long time since I screamed on an entire verse for a song. I wanted to release a bunch of stuff and it felt visceral."
Earlier this summer, In This Moment and Ice Nine Kills jointly unveiled the Kiss Of Death Tour, slated to ignite this upcoming fall season. The convergence of these two dark metal units is set to commence on November 3 in Gary, Indiana, embarking on a gripping journey spanning 17 electrifying performances through November and into December. Grab tickets to see In This Moment and Ice Nine Kills here.
Tour Dates:
Nov. 3—Gary, IN – Hard Rock Live Northern Indiana  
Nov. 4—Maplewood, MN – Myth Live^
Nov. 5—St Louis, MO – Dome At America's Center*
Nov. 6—Kansas City, MO – Uptown Theater^
Nov. 7—Indianapolis, IN – -Blue Ribbon Pavilion (Indiana Fairgrounds)  
Nov. 8—Cincinnati, OH – The Andrew J Brady Music Center  
Nov. 9—Milwaukee, WI – Eagles Ballroom  
Nov. 11—Green Bay, WI – EPIC Events Center^
Nov. 12—Detroit, MI – Ford Field*
Nov. 14—Greenville, SC – Bon Secours Arena  
Nov. 16—Estero, FL – Hertz Arena  
Nov. 17—Jacksonville, FL – Daily's Place  
Nov. 18—Orlando, FL – Orlando Amphitheater  
Nov. 20—Atlanta, GA – Coca Cola Roxy  
Nov. 21—Greensboro, NC – Greensboro Coliseum Complex  
Nov. 22—Reading, PA – Santander Arena  
Nov. 24—Wallingford, CT – Oakdale Theatre  
Nov. 25—Bangor, ME – Cross Insurance Center  
Nov. 28—Washington, DC – The Anthem  
Nov. 30—Norfolk, VA – Chartway Arena  
Dec. 1—Johnstown, PA – 1st Summit Arena  
Dec. 2—Wheeling, WV – Wesbanco Arena
^ In This Moment only
*Ice Nine Kills supporting Metallica