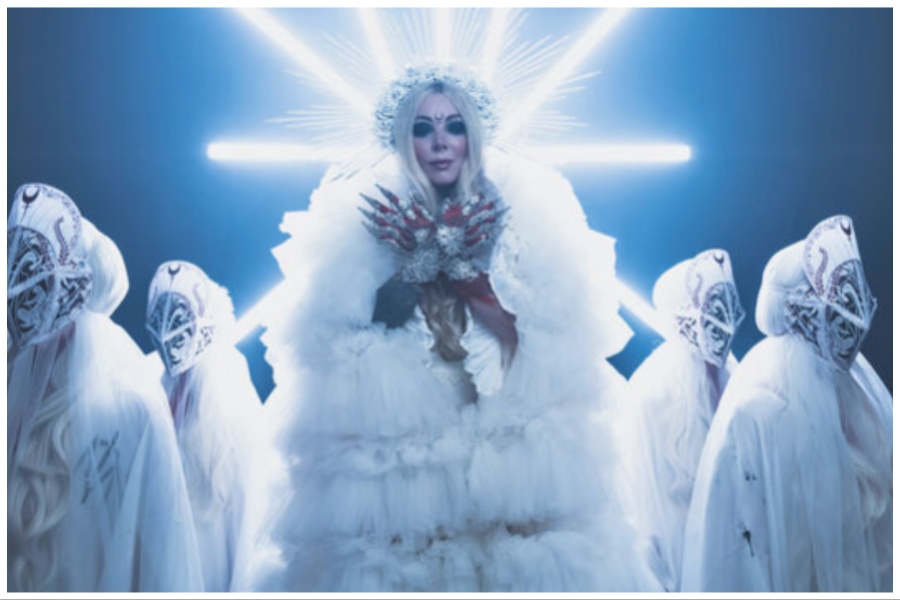 In anticipation of their upcoming full-length album GODMODE, In This Moment has been gradually teasing their audience with song releases. They first dropped "The Purge" and the titular track early this year, sparking significant buzz around the album release. Now, they've unveiled a gripping cover of Björk's 1995 hit "Army Of Me," originally featured on her chart-topping sophomore album, Post.
Björk's original rendition of "Army Of Me" is a mesmerizing blend of electronic beats coupled with her unique vocal musings. In reimagining this classic track, In This Moment pays homage to its essence and integrity while infusing their signature fusion of metal and rock. The track features vocalist Maria Brink, whose hauntingly powerful voice navigates the song's dynamic terrain, supported by boisterous electronic elements that echo Björk's original work.
In This Moment's cover maintains a connection to the source material, drawing on the key elements that made Björk's version so iconic. However, the band's transformative touch gives it a distinct edge, making it an exciting addition to their body of work and a compelling preview of what to expect from GODMODE.
Detailing the importance of Björk's "Army Of Me," Brink and guitarist Chris Howorth both shared their reasoning for covering the track and featuring it on their forthcoming release.
"I was a teenager when I first got into Björk," Brink recalls. "I was mesmerized by her. She has a really inspiring energy to a lot of her stuff, an enlightening feeling. She's just so innovative and groundbreaking and inspiring and magical."
Howorth adds, "Maria played me three different Björk songs to see which I thought would be the best. This was the one. I didn't know it was gonna come out as cool as it is. It's so rockin'."
In This Moment's GODMODE album is slated to come to life on October 27, courtesy of BMG.
You can listen to Björk's original "Army Of Me" below.
Earlier this year, In This Moment and Ice Nine Kills came together to announce the Kiss Of Death Tour, a fiery spectacle scheduled to set ablaze on November 3 in Gary, IN. Secure your tickets to witness the mesmerizing collaboration between In This Moment and Ice Nine Kills here.
Tour Dates:
Nov. 3—Gary, IN @ Hard Rock Live Northern Indiana  
Nov. 4—Maplewood, MN @ Myth Live^
Nov. 5—St Louis, MO @ Dome At America's Center*
Nov. 6—Kansas City, MO @ Uptown Theater^
Nov. 7—Indianapolis, IN @ Blue Ribbon Pavilion (Indiana Fairgrounds)  
Nov. 8—Cincinnati, OH @ The Andrew J Brady Music Center  
Nov. 9—Milwaukee, WI @ Eagles Ballroom  
Nov. 11—Green Bay, WI @ EPIC Events Center^
Nov. 12—Detroit, MI @ Ford Field*
Nov. 14—Greenville, SC @ Bon Secours Arena  
Nov. 16—Estero, FL @ Hertz Arena  
Nov. 17—Jacksonville, FL @ Daily's Place  
Nov. 18—Orlando, FL @ Orlando Amphitheater  
Nov. 20—Atlanta, GA @ Coca Cola Roxy  
Nov. 21—Greensboro, NC @ Greensboro Coliseum Complex  
Nov. 22—Reading, PA @ Santander Arena  
Nov. 24—Wallingford, CT @ Oakdale Theatre  
Nov. 25—Bangor, ME @ Cross Insurance Center  
Nov. 28—Washington, DC @ The Anthem  
Nov. 30—Norfolk, VA @ Chartway Arena  
Dec. 1—Johnstown, PA @ 1st Summit Arena  
Dec. 2—Wheeling, WV @ Wesbanco Arena
^ In This Moment only
*Ice Nine Kills supporting Metallica