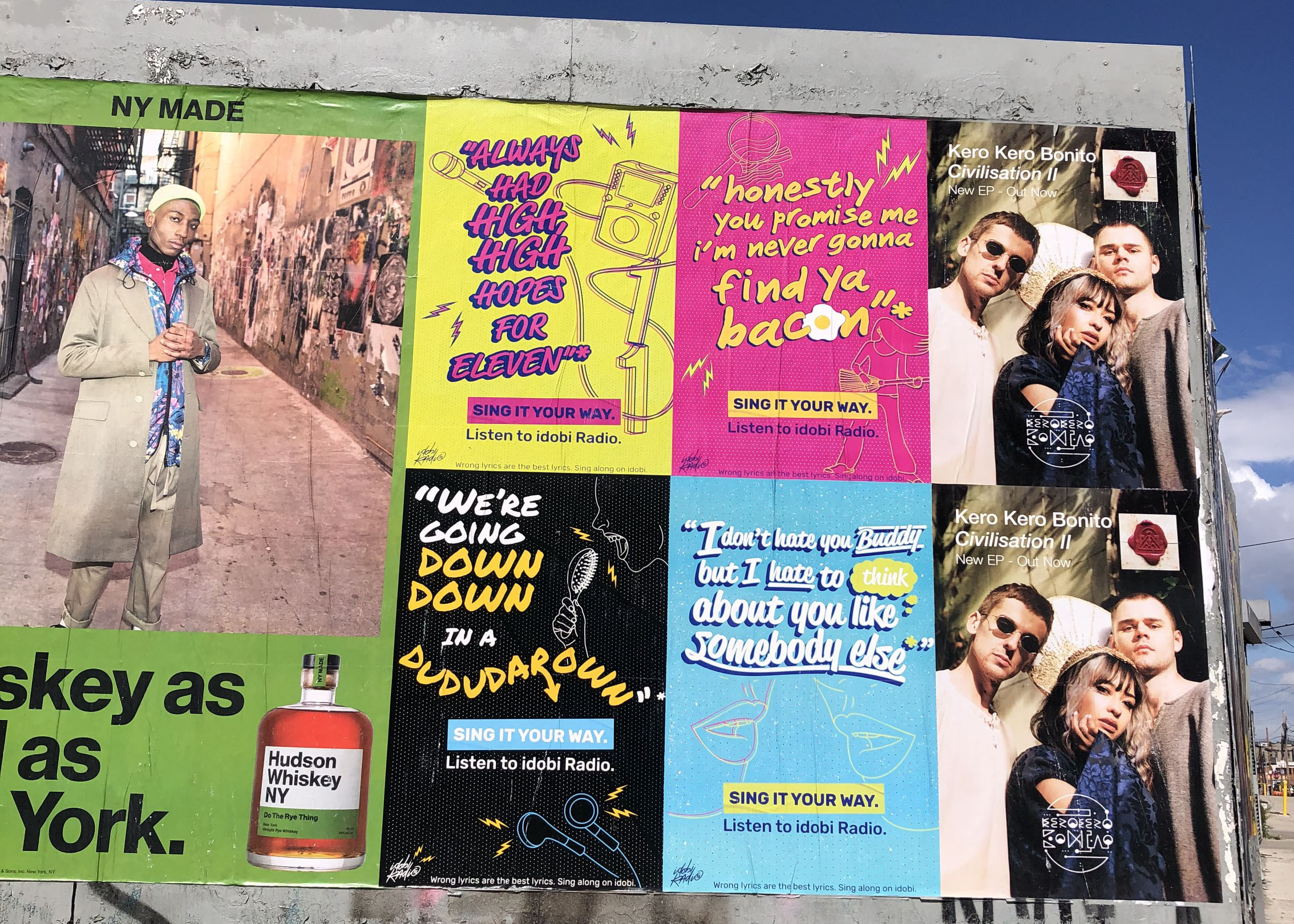 idobi Radio's Sing It Your Way campaign embraces the songs we notoriously get the lyrics wrong for—songs we all sing along with in shower, at karaoke night, folding laundry, or driving with the radio on (hopefully iR, Howl, or Anthm). In this campaign we encourage new and current listeners to sing their favorite songs with their own twist…and sing them loud!
Who cares if you never get the lyrics to Fall Out Boy's "Sugar, We're Goin Down" right or that you have no idea that you've been singing "Somebody Else" by The 1975 wrong. As long as you're rocking out, singing it loud, and having fun—that's what it's all about. And for the next two weeks, you'll find our posters for Sing It Your Way all over New York City.
The Sing It Your Way posters, designed by Eli Ritter, feature wrong lyrics from "Sugar, We're Goin Down" by Fall Out Boy, "Complicated" by Avril Lavigne, "Somebody Else" by the 1975, and "High Hopes" by Panic! at the Disco.
"I wanted these graphics to resonate with familiar, personal, nostalgic, and unabashed energy that got people thinking about some other favorite songs that might fall under this category. The styling of each graphic is meant to match the feeling of each song while maintaining a few unifying elements both visually and conceptually that create a cohesive campaign." –Eli RItter
If you're walking around New York City and spot one of our posters in the wild make sure to snap a pic and tag us!

Don't forget:
Wrong lyrics are the best lyrics. Sing along on idobi.
"Sing It Your Way. Listen to idobi Radio" Credits:
Sherin Nicole, art director, creative director, concept
Sherin Nicole / Alex Bear / Aud Lew, writers
Eli Ritter, designer
Alex Bear / Aud Lew, editors, project managers