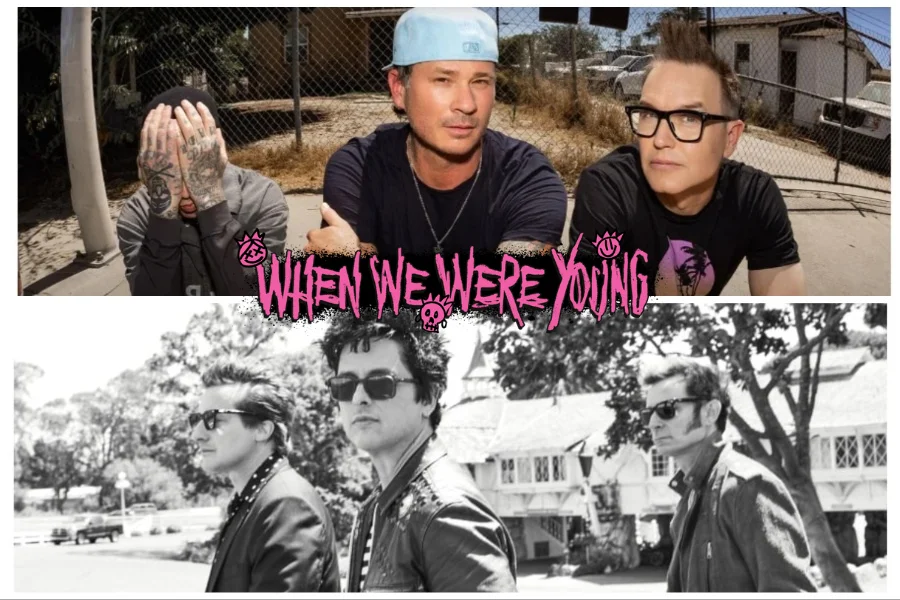 Dust off your Chucks and Vans because it is officially When We Were Young Fest week! With excitement building around the festival, particularly the highly anticipated headline performances from blink-182 and Green Day, the official When We Were Young Fest 2023 set times for this weekend's festivities and shenanigans are here!
Amidst a flurry of teasers hitting left, right, and center from artists across the lineup, one notably apt teaser has piqued our interest—a sneak peek at blink-182's upcoming track, "When We Were Young." We're crossing our fingers that they debut the song live at the festival…I mean, seriously, what a missed opportunity that would be if they didn't!
Not to mention, we know that Green Day is planning a not-so-secret but still unannounced show leading up to the festival on Saturday, October 21, and Sunday, October 22. What they could be planning and why, we're not certain yet, but it's Green Day. Do they ever disappoint? The correct answer is no.
When We Were Young Fest has also added a few new names to the bill! Jaden Hossler and Now More Than Ever will be featured on the Ghost Stage ahead of performances from Citizen, The Academy Is…, Simple Plan, and more.
Check out the full festival schedule breakdown below, and let us know what artist you're most excited to see perform live at When We Were Young this weekend!
Green Stage
The Ataris @ 11:45 AM
Something Corporate @ 12:55 PM
Yellowcard @ 2:05 PM
5 Seconds Of Summer @ 3:25 PM
Sum 41 @ 4:45 PM
Good Charlotte @ 6:05 PM
The Offspring @ 7:35 PM
Green Day @ 10 PM
Pink Stage
Fenix TX @ 11:10 AM
Motion City Soundtrack @ 12:20 PM
New Found Glory @ 1:30 PM
Pierce The Veil @ 2:45 PM
All Time Low @ 4:05 PM
Rise Against @ 5:25 PM
Thirty Seconds To Mars @ 6:50 PM
blink-182 @ 8:25 PM
Ghost Stage
Magnolia Park @ 11:35 AM
Zebrahead @ 12:10 PM
Now More Than Ever @ 12:45 PM
Jaden Hossler @ 1:20 PM
No Pressure @ 1:55 PM
Citizen @ 2:30 PM
Finch @ 3:05 PM
The Academy Is… @ 3:40 PM
Hot Mulligan @ 4:15 PM
Beach Bunny @ 4:50 PM
Relient K @ 5:25 PM
Saves The Day @ 6:10 PM
Simple Plan @ 6:45 PM
Thrice @ 7:35
Less Than Jake @ 8:10 PM
Set It Off @ 8:45 PM
Joyce Manor @ 9:20 PM
Lit @ 9:55 PM
EKKSTACY @ 10:30 PM
Stripe Stage
Games We Play @ 11:15 AM
Knuckle Puck @ 11:50 AM
The Movielife @ 12:25 PM
The Veronicas @ 1:00 PM
Michelle Branch @ 1:35 PM
Tigers Jaw @ 2:10 PM
The Wrecks @ 2:45 PM
Goldfinger @ 3:20 PM
Turnover @ 3:55 PM
Plain White Ts @ 4:30 PM
MXPX @ 5:05 PM
Gym Class Heroes @ 5:40 PM
The Front Bottoms @ 6:15 PM
Movements @ 6:50 PM
Say Anything @ 7:25 PM
Waterparks @ 8:00 PM
AJJ @ 8:35 PM
Bowling For Soup @ 9:10 PM
Jean Dawson @ 9:45 PM
KennyHoopla @ 10:20 PM