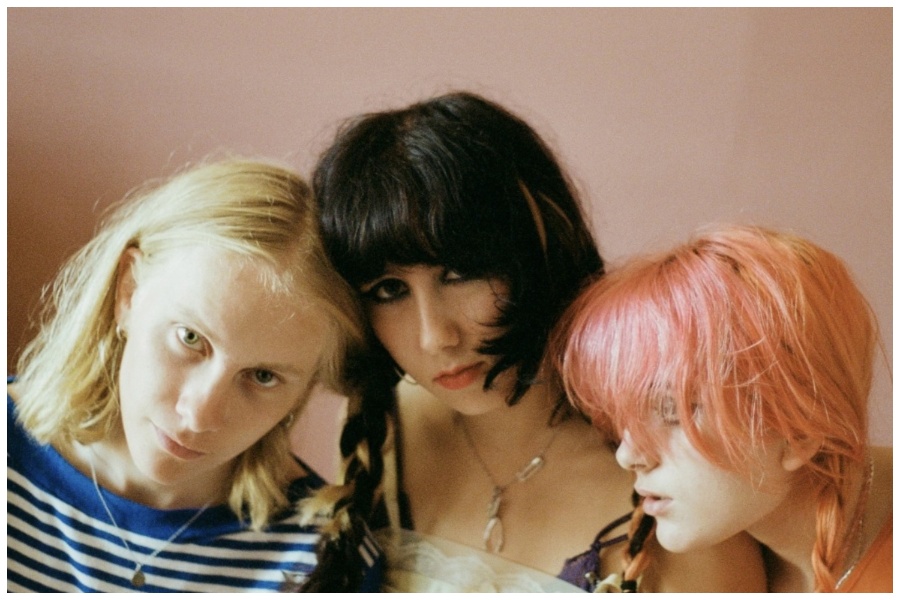 Don't underestimate teenage bands: they're unstoppable. Their drive, ambition, and carefree attitudes toward life and the world around them don't make them naive; these traits just make them better at tapping into their vulnerable sides. Whether this means sadness, rage, or cautious contentment, the three members of the punk trio HotWax are proving this to be true with their latest single, "Phone Machine."
Mixing distorted guitars with Bikini Kill-esque vocal melodies, "Phone Machine" is a refreshing new take on the '90s feminist punk sound. The music video holds the same DIY attitude, showcasing the members of HotWax performing the track and a mix of montage clips incorporating those vintage corded phones. It's a blast from the past, taking listeners back to a time when the Riot Grrrls were unifying the worlds of politics and punk. Only this time, we have a new set of up-and-coming female and non-male leaders to look up to in the scene.
"Phone Machine" marks the band's second single off of their upcoming EP, A Thousand Times. Set to release October 18 via Marathon Artists, the 5-track collection of songs that share the teenage trio's stories of growing up and finding themselves. In a statement about the release, vocalist and stage badass Tallulah shares that the experience of writing and recording the record was both cathartic and healing.
"I felt I had lots of phrases saved up in my head that I couldn't wait to put into my lyrics," Tallulah says. "The EP looks at themes of acceptance to people who have hurt you before, letting your doubts leave you, and feeling free. Playing these songs live this summer has been so refreshing, I still feel so passionately about a lot of the lyrics, which makes it feel very therapeutic to perform. Working with Alan Moulder on recording the EP was amazing, he was so open to our ideas and really helped our vision come to life."
Listen to "Phone Machine" below and tell us what you think!