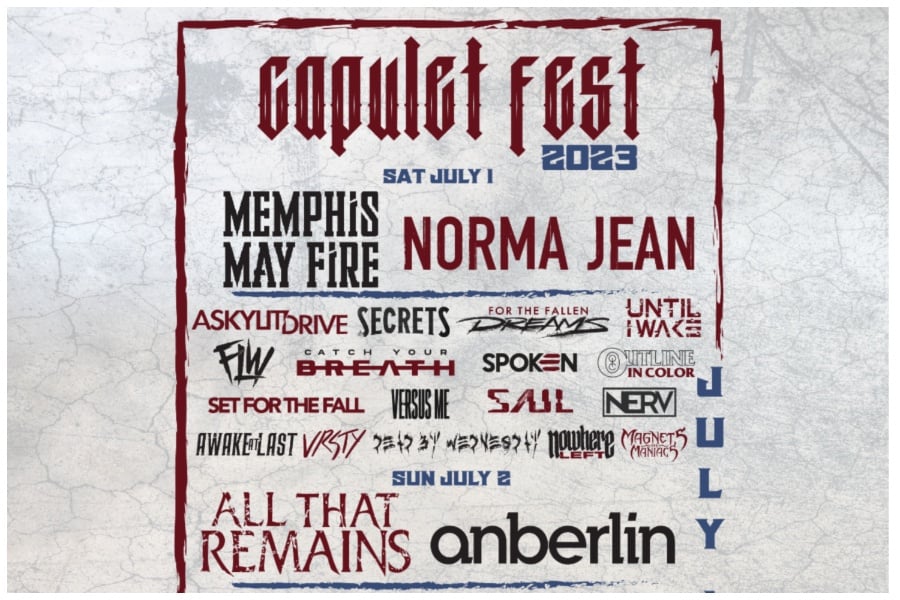 Get ready for an unforgettable experience as this year's Capulet Fest returns to the Thompson Speedway Motorsports Park in Thompson, CT, promising two days of unparalleled excitement and music. Taking place on July 1 and 2, during the extended Fourth of July weekend, this highly anticipated event is shaping up to be bigger and better than ever before.
This year's two-day event features more than 30 electrifying bands spread across two stages, showcasing a diverse range of metal and rock genres. The lineup is stacked with heavy hitters, including the likes of Memphis May Fire, Norma Jean, and A Skylit Drive, who will be performing their groundbreaking debut album, Wires…and the Concept of Breathing, in its entirety. With Woe Is Me and many other talented acts gracing the stage, fans can expect a non-stop, adrenaline-pumping musical extravaganza.
But Capulet Fest offers more than just incredible live performances. Fans will also have the opportunity to participate in Meet and Greets with Memphis May Fire, Norma Jean, Anberlin, A Skylit Drive, Emery, and Woe Is Me during the event. Check out the full two-day lineup breakdown below and snag tickets for the fast-approaching Capulet Fest here.
Saturday, July 1 – Day 1
Memphis May Fire, Norma Jean, A Skylit Drive (performing Wires…and the Concept of Breathing in full), Secrets, For The Fallen Dreams, Until I Wake, Famous Last Words, Catch Your Breath, Spoken, Outline In Color, Set For The Fall, Versus Me, Saul, Nerv, Awake At Last, VRSTY, Dead By Wednesday, Nowhere Left, Magnets For Maniacs
Sunday, July 2 – Day 2
All That Remains, Anberlin, Emery, Woe Is Me, Savage Hands, Picturesque, Within The Ruins, Convictions, Any Given Sin, Dreamwake, Horizon Theory, Kingsmen, Uncured, Kill The, Imposter, Rise Among Rivals, Destroy / Create, Little Us, Saved By Skarlet, Gina Fritz