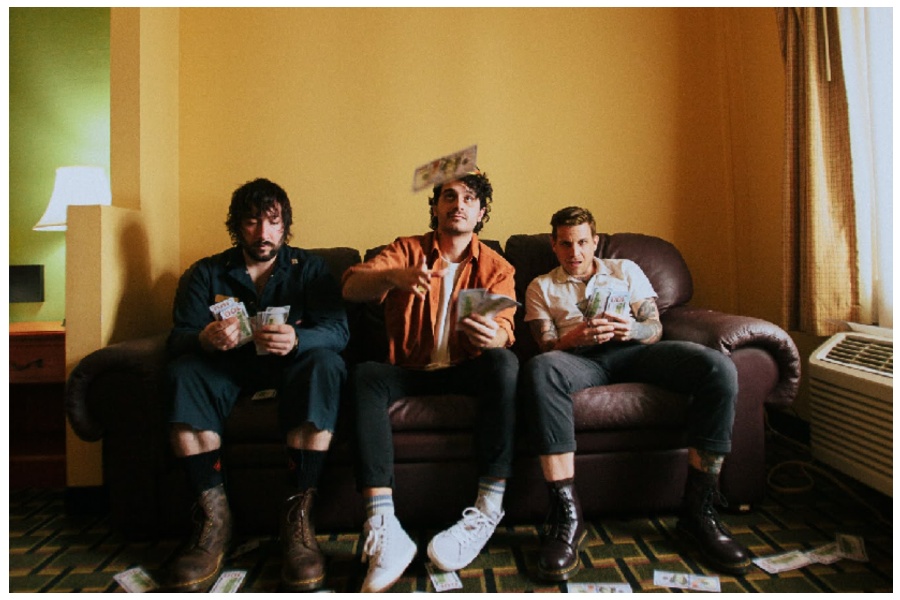 Broadside is officially back in action! After dropping their latest hit "Bang," featuring Magnolia Park's Joshua Roberts, Broadside is infusing their lush sound alongside Honey Revenge's Devin Papadol on their collaborative track, "Lucid." Their latest offering, as well as their previous releases "Bang" and "Cruel," will appear on their forthcoming full-length album, Hotel Bleu, set to release through SharpTone Records on November 10.
As the song kicks in, "Lucid" intricately weaves together ethereal, breathy vocals courtesy of frontman Oliver Baxxter and a kaleidoscope of neon-hued synthesizer melodies that glide atop an upbeat, pulsating beat. The delicate interplay between Baxxter's vocals, marked by their airy quality and falsetto, alongside Devin Papadol's sultry delivery, harmoniously encapsulates the complex emotions connected with loss. This juxtaposition creates a captivating sonic landscape that, at first glance, appears vibrant and electrifying. However, "Lucid" harbors a poignant narrative of loss beneath its dazzling exterior. Complementing the vocalists' prowess and vulnerability, the glitchy beat with its distinctive rhythms and subtle imperfections, mirrors the tumultuous nature of grappling with such a profound loss.
"It's about escaping," Baxxter explains of the new release. "Maybe you're getting away from a breakup or thinking of someone who passed. The idea is, 'The only place I'll see you is in a lucid dream because you're not around.'"
Speaking on the group's forthcoming LP, the band shares, "Hotel Bleu is the natural progression from our previous records. We've grown as men and as friends. We really focused on the live experience for some of these tracks, whereas some might be better heard off alone somewhere. It's a true record, thorough, the full experience. We are and have always been ready to be someone's next favorite band."
Before embarking on their fall tour alongside This Wild Life, Worry Club, and Not My Weekend, which kicks off on November 1, Broadside is set to perform a free show in Austin, TX, alongside The Maine. Tickets for Broadside's fall tour are available here, and their full touring schedule for the remainder of 2023 is listed below.
Tour Dates:
Sept. 30—Austin, TX @ Domain NORTHSIDE*
Nov. 1—Phoenix, AZ @ Crescent Ballroom
Nov. 2—San Diego, CA @ SOMA Sidestage
Nov. 4—Los Angeles, CA @ The Regent Theater
Nov. 5—Fresno, CA @ Strummer's
Nov. 7—Berkeley, CA @ Cornerstone Craft Beer & Live Music
Nov. 8—Roseville, CA @ Goldfield Trading Post Roseville
Nov. 10—Portland, OR @ Hawthorne Theatre
Nov. 11—Seattle, WA @ El Corazon
Nov. 13—Salt Lake City, UT @ Soundwell
Nov. 14—Denver, CO @ Marquis Theater
Nov. 16—St. Louis, MO @ Old Rock House
Nov. 17—Chicago, IL @ Bottom Lounge
Nov. 18—Detroit, MI @ The Blind Pig
Nov. 19—Cleveland, OH @ Mahall's
Nov. 21—Pittsburgh, PA @ Thunderbird Café
Nov. 22—Rochester, NY @ Montage Music Hall
Nov. 24—Allston, MA @ Brighton Music Hall
Nov. 25—New York, NY @ Gramercy Theatre
Nov. 26—Philadelphia, PA @ The Fillmore Philadelphia
Nov. 28—Baltimore, MD @ Ottobar
Nov. 29—Richmond, VA @ Canal Club
Nov. 30—Greensboro, NC @ Hangar 1819
Dec. 1—Orlando, FL @ Level 13 Event Center
Dec. 2—Atlanta, GA @ The Loft
Dec. 4—Nashville, TN @ Exit/In
Dec. 7—Oklahoma City, OK @ Beer City Music Hall
Dec. 8—Dallas, TX @ Granada Theater
Dec. 9—San Antonio, TX @ Vibes Event Center
*Free Show with The Maine