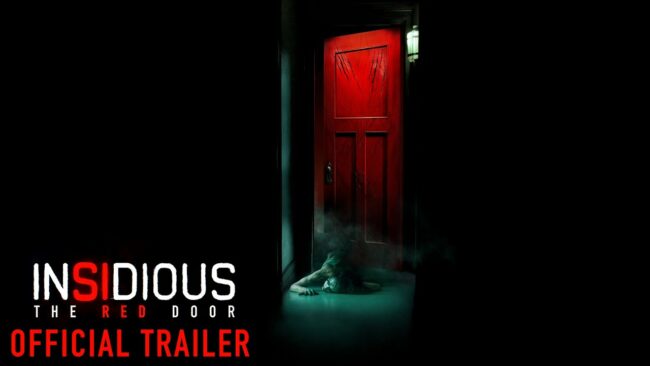 10 years after the Lambert family escaped "The Further" for the first time, they will be forced to revisit their past and uncover the horrors of their suppressed memories. Today Blumhouse Productions (Get Out, M3GAN, Paranormal Activity) has shared the trailer for the brand new installment in the Insidious film series, Insidious: The Red Door. The trailer follows the Lambert family 10 years after their son, Dalton fell into a coma that resulted in bizarre paranormal events. The family experienced unexplainable and imaginable horrors within their own home.
In attempts to escape the demonic entity terrorizing the family, parents Josh (Patrick Wilson) and Renai (Rose Byrne) relocated their family to a new home only to find the frightening instances continue. After hiring a psychic, the Lamberts are informed that Dalton is stuck in a purgatory-like realm called "The Further". Their only hopes of saving him is to travel into the paranormal world and retrieve him from the tortured spirits of the deceased before they possess his body forever.
A decade later, Insidious: The Red Door shows the family appearing to have moved on. In present day we see Dalton now in his first year of college, seemingly moved on from the terrible experiences of his childhood. However, this peace will not last long. The family will be forced to return to their horrific memories and confront a new set of demons. What is behind the red door? The Lambert family will unfortunately find out soon enough. The fifth installment chronologically comes after Insidious and Insidious: Chapter 2 as Insidious: Chapter 3 and Insidious: The Last Key served as prequels to the original.
The new installment will serve as Patrick Wilson's directorial debut with James Wan, Jason Blum, Steven Schneider, Ryan Turek and Brian Kavanaugh Jones as producers. Scott Teams wrote the script based on the story developed by franchise creator Leigh Whannell. Whannell will also serve as a producer on the film. You can check out the official trailer below! Expect the film to hit theaters on July 7th of this year.