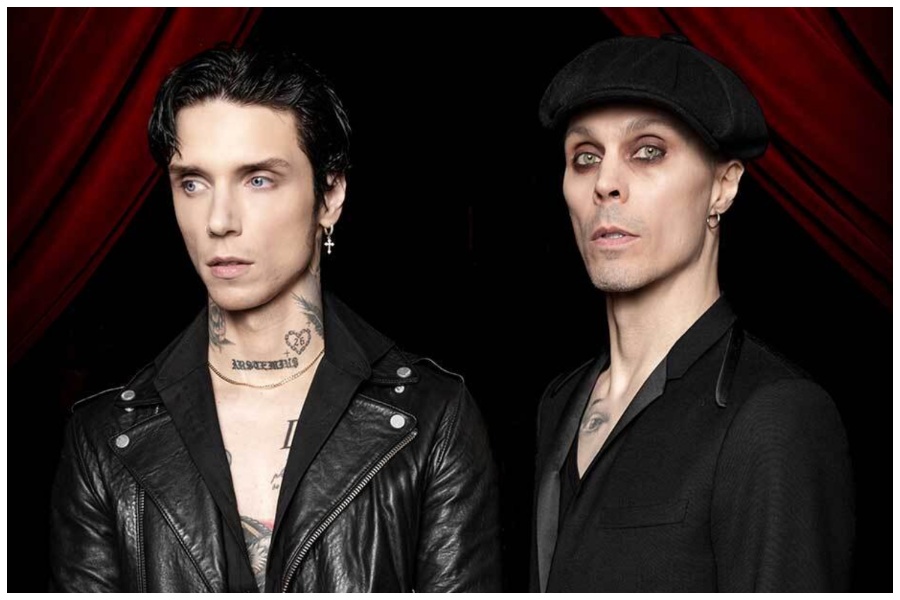 In anticipation of their highly anticipated fall co-headlining tour, Black Veil Brides and former HIM frontman Ville Valo (VV) have unveiled their epic, collaborative cover of Sisters Of Mercy's "Temple Of Love." 
The collaboration captures the essence of the original while infusing it with fresh energy that only Black Veil Brides' Andy Biersack and VV could bring to the table. The haunting melodies and atmospheric instrumentals create a mesmerizing backdrop for Biersack and Valo's distinctive, dark vocals and the dynamic presence of Black Veil Brides. Their combined efforts bring a unique interpretation to the song, adding a modern twist while staying true to the spirit of the original.
​​I first discovered Sisters Of Mercy in my freshman year of high school," Black Veil Brides' frontman Biersack shares. "I had a poster of AFI from the Art Of Drowning era and Davey [Havok] was wearing a SOM shirt, and so as was often the case back then, I went on the hunt to find the music that had inspired my favorite musicians. The very first song I heard by SOM was the '92 version of 'Temple Of Love' and I became obsessed with their entire catalog. We've talked about doing a BVB version of this song for years and when given the opportunity to collaborate with fellow SOM fan and goth rock icon VV (Ville Valo), it seems like the perfect situation."
"We are thrilled with how it turned out and hope that anyone who's familiar with the track enjoys our spin on it and those who have never heard the original enjoy it and maybe this will lead them down the path to the greatness that is Sisters Of Mercy like that poster of AFI did for me when I was a kid," Biersack concludes.
Prepare for an electrifying explosion of rock as Black Veil Brides and VV (Ville Valo) join forces for an exhilarating co-headline tour across North America this fall. With support from Dark Divine, this tour promises to be a relentless showcase of musical prowess and raw energy. The journey will commence on September 10 in Louisville, KY, igniting the stage with their captivating performances. Tickets for their co-headline tour are available here and you can check out their full touring schedule for the fall below.
Tour Dates:
Sept. 10—Louisville, KY @ Paristown Hall
Sept. 11—Birmingham, AL @ Avondale Brewing Company
Sept. 12—St. Petersburg, FL @ Jannus Live
Sept. 14—Myrtle Beach, SC @ House of Blues
Sept. 15—Baltimore, MD @ Rams Head Live!
Sept. 16—Niagara Falls, NY @ The Rapids Theater
Sept. 17—Toronto, ON @ HISTORY
Sept. 19—Montreal, QC @ MTELUS
Sept. 20—Hampton Beach, NH @ Hampton Beach Casino Ballroom
Sept. 22—Wallingford, CT @ Dome at Toyota Oakdale Theater
Sept. 23—Bethlehem, PA @ Wind Creek Event Center
Sept. 24—Montclair, NJ @ The Wellmont Theater
Sept. 25—Huntington, NY @ The Paramount
Sept. 27—Grand Rapids, MI @ GLC Live at 20 Monroe
Sept. 28—Gary, IN @ Hard Rock Casino Northern Indiana
Sept. 29—Columbus, OH @ KEMBA Live!
Sept. 30—Indianapolis, IN @ Egyptian Room at Old National Centre
Oct. 1—Chesterfield, MO @ The Factory
Oct. 3—Austin, TX @ ACL Live
Oct. 5—Tulsa, OK @ Tulsa Theater
Oct. 6—Omaha, NE @ Steelhouse Omaha
Oct. 7—Madison, WI @ The Sylvee
Oct. 9—Winnipeg, MB @ Burton Cummings Theatre
Oct. 11—Edmonton, AB @ Edmonton Convention Centre
Oct. 12—Calgary, AB @ Grey Eagle Event Centre
Oct. 14—Vancouver, BC @ Doug Mitchell Thunderbird Sports Centre
Oct. 15—Spokane, WA @ The Podium
Oct. 16—Seattle, WA @ Paramount Theatre
Oct. 18—Garden City, ID @ Revolution Concert House
Oct. 19—Wheatland, CA @ Hard Rock Live
Oct. 20—Riverside, CA @ Riverside Municipal Auditorium