It was May 6th, 2014, two days before my birthday on a hot spring night in NYC, and I was on my way to Terminal 5 to see a co-headlining show between Cage the Elephant and Foals. I was very excited to see Cage the Elephant for the first time. Back then, however, I was rather unfamiliar with Foals, except for their single "My Number", a catchy guitar rock song with a fun backing vocal and an infectious groove.
Foals were up first that night and I got there early to secure a front-and-center spot so I'd be ready for Cage the Elephant later on. There are a handful of concert memories permanently engraved into my brain. That night is one of them—but not because of the band I originally bought the tickets for.
Foals were still riding high at the time from the massive success of their third LP, Holy Fire. The album was released the year before and the boys from Oxford spent much of 2013 on the road. Once the calendar turned over to 2014, Foals and Cage the Elephant kicked off their extensive US and UK co-headline run.
Holy Fire was a natural progression for Foals at the time. Their 2008 debut, Antidotes had a classic British punk backdrop, while their sophomore record, 2010's Total Life Forever saw the band expand their sound into post-rock with anthemic vocal passages and more interesting guitar layering and patterns. Holy Fire harnessed the best of both worlds and created one of the best post-rock records of the decade.
The album kicks off with the slow-building intro track aptly called "Prelude". A faint guitar arpeggio echoes in the background before distorted vocals and sporadic drumming morph into a more structured groove. The song builds into a noisy climax before transitioning into the plucky guitars of the second track, "Inhaler". Lead singer Yannis Philippakis declares in the first verse, "Sticks and stones don't break my bones, They're make believe," setting up a brash and in-your-face attitude that resonates on much of the record. The song is another swelling array of synths and guitars that crescendo into a furious groove as Yannis screams the last lines of the verse:
"So can you not go away?
If just for one day?
Impossible, possible
How do you feel now?
How do you feel now in a war?
War sends out for you
Throw your fortune away
And I can't get enough space
I can't get enough space!"
Lyrically, Holy Fire frequently hits on themes of love and war; competing feelings of isolation, the desire for companionship, and the need to expand into new states of mind. Images of the ocean, both as a metaphor and a physical barrier, are omnipresent. I relate to these themes through the lens of life in a big city; being surrounded by all the noise and chaos can still make you feel incredibly alone at times. Not having enough room to grow and connect with others can make you feel trapped, as Yannis exclaims, "I can't get enough space." The theme continues on "My Number", which also boasts one of the catchiest grooves in Foals' catalog:
"You don't have my number,
We don't need each other now.
We don't need the city,
The creed or the culture now.
'Cause I feel, well, I feel alive. 
I feel the streets are not pulling me down. 
So people of the city, 
I don't need your counsel now.
And I don't need your good advice
'Cause you don't have my lover's touch."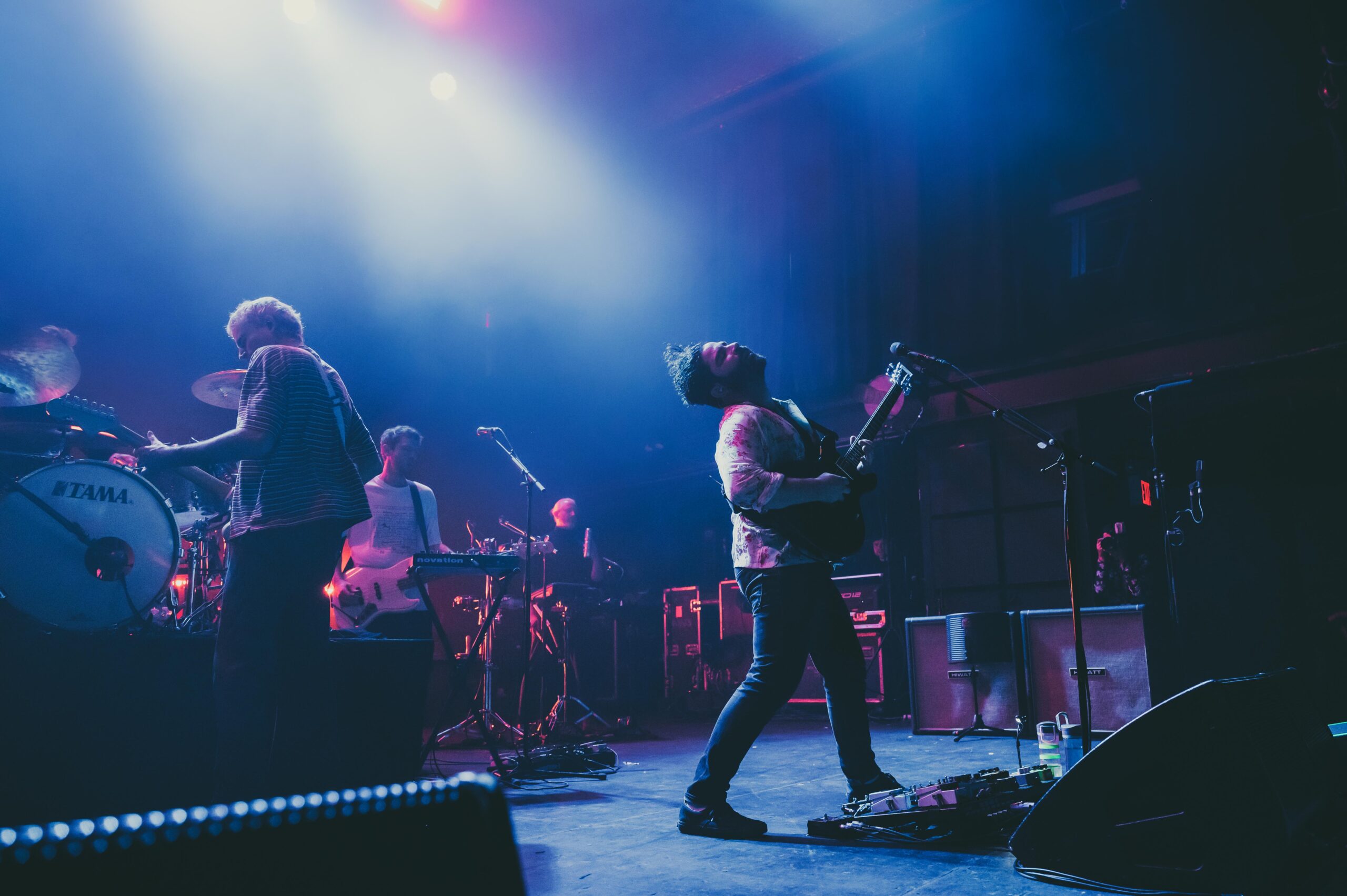 The backing vocals stand out on "My Number" as well. Yannis delivers vocals ripe for singing along while bassist Walter Gervers delivers perfectly timed "oohs" throughout. Released as the second single leading up to the album, "My Number" is still the band's highest-charting track to date.
On the back half of the record, we hit "Milk and Black Spiders". The song builds in a classic Foals way but here we get more of a mantra from Yannis. The swirling guitar loops flutter around the background while Yannis croons out the phrase, "'Cause I've been around two times and found that you're the only thing I need," over and over. We get another vibrant climax in the back end of the track as the lyric loops over and over in epic fashion. When I listen to Holy Fire, I run this track back at least once or twice before moving on to the rest of the album. The outro overwhelms me, and the quality of the recording brings me right back to Terminal 5 every time.
From front to back, Holy Fire is incredibly consistent, with song after song ringing true to the anthemic post-rock the band fine-tuned on the LP. What sets Foals apart from the pack is their ability to write, record, and perform their music with the same vitality you get at a live show. People tend to talk about "live versions" of songs and how some bands are able to adapt and embellish their style for a live setting. This does not exist when you talk about Foals. Their records all have the same dynamic range and virtuosity you would expect at a rock concert. It's not an easy thing to achieve but when you listen to Foals you can close your eyes and the music reverberates inside of you the same way it does coming from a venue's PA.
This brings me back to that show at Terminal 5 in May of 2014. Even though I didn't have much context about Foals beforehand, they walked off stage after their set and left me stunned. More than half of Holy Fire was played that night: they opened with "Prelude", a perfect rock album and concert opener, before hitting "My Number" and "Milk and Black Spiders" later in the set. Their last song of the night was "Inhaler" and this is where my memories could not be more vivid. Hearing Yannis absolutely belt out "I can't get enough space!" over that sinister guitar groove gave me instant goosebumps that I can still feel when I listen to the Holy Fire.
While the crew was turning the stage over for Cage the Elephant, I was in disbelief over how good Foals' short but powerful set was. I grabbed another beer and watched the rest of the show from the back of the room, trying to preserve the feeling Foals gave me that night.
Holy Fire turned into one of my favorite albums that year—and it is still one of my most listened-to rock records. Fast-forward 10 years and Foals are once again between legs of a world tour in support of new music, popping up on dozens of festival posters, and continuing to deliver on their signature anthemic post-rock sound. And the songs from Holy Fire are still essential inclusions for any Foals show.
The band just wrapped up US dates and they kick off a UK run in May before supporting Paramore on their massive arena tour. I had the chance to see (and photograph) the band's last stop at Terminal 5 back on December 16th, 2022; full gallery below. Standing only a few feet from where I got my first taste of Foals, I braced myself as those first notes of "Inhaler" rang out to start the encore.