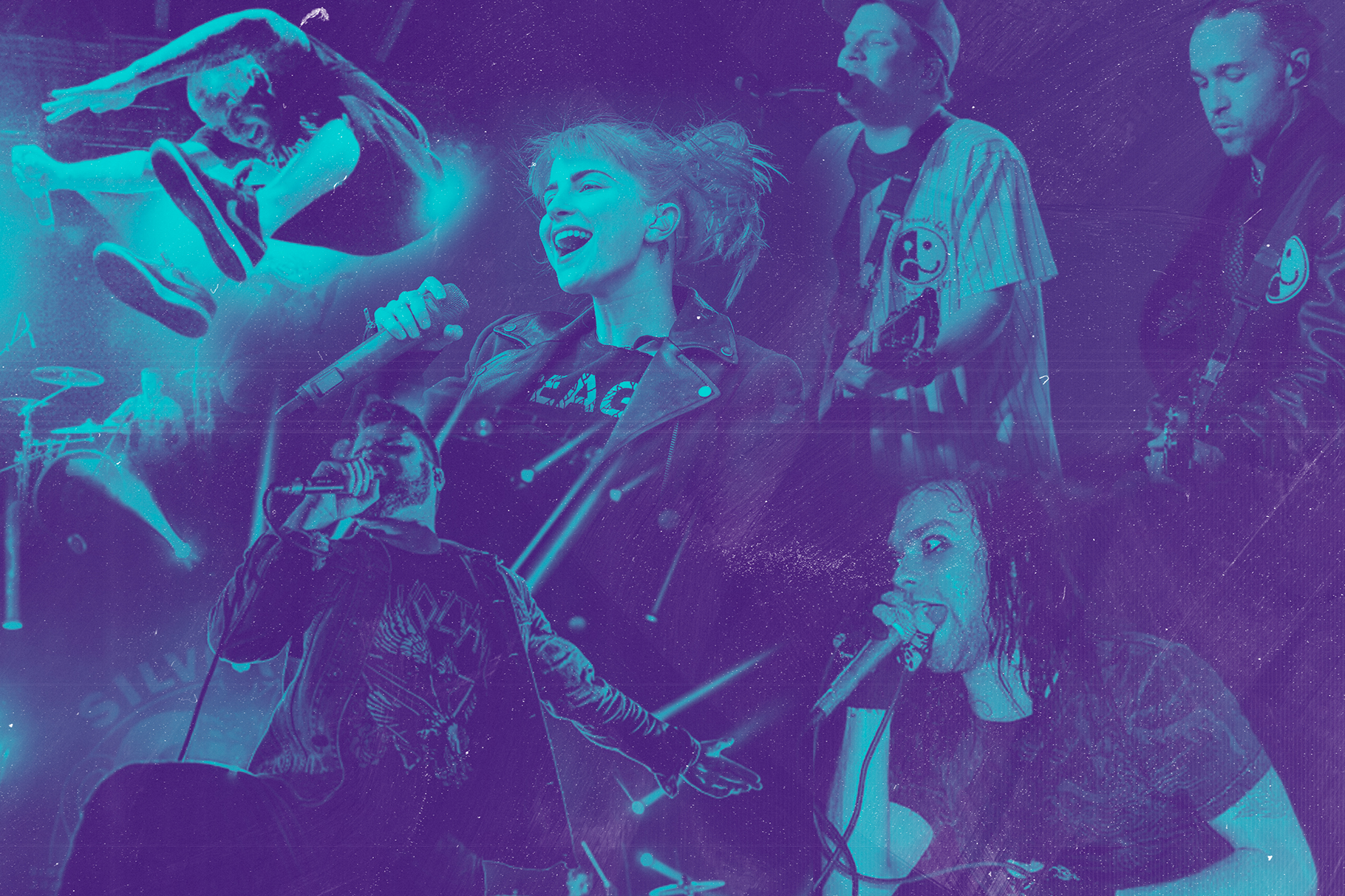 Nostalgia is a major fuel source for pop culture today, stimulating our brains with positive memories. Rewarding our present selves transcending the confines of time and space. But nostalgia can only get you so far. A bunch of the bands we grew up on are not only still together, but still killing it, selling out tours and releasing new music for us to fall in love with. Do you remember blasting Story Of The Year's "Until The Day I Die" on your CD player? Buying Fall Out Boy's From Under The Cork Tree at FYE or Borders? Attempting to learn Paramore's "Misery Business" on guitar? These memories connect us to these bands forever, but as we mature and grow, so do they. Growing with their audience over the years allows them to also connect with the generations that come after. Bridging the gap of fans in different age ranges uniting us to sing along to the same songs. Over two decades, their looks have changed, and their music has evolved, but they still got it.
The Used
The Used is one of the pillars of the screamo/emo era that broke into the mainstream and hasn't stopped since the early 2000s. Singer Bert McCracken has been very candid about how he temporarily left the band for a few weeks after the success of their self-titled album in 2002. Getting noticed by Warner Bros. A&R and even being featured in movies and TV shows such as 'Saw II,' 'True Blood,' and 'Transformers' seemed incomprehensible. Throughout all the years, McCracken has been vulnerable with his lyrics, giving us emotions to relate to married with the band's chaotic yet beautiful self-proclaimed "gross pop" musical style. Now the band is celebrating the release of their tenth studio album Toxic Positivity and will be on tour this summer with Pierce The Veil.
Fall Out Boy
Since their formation in 2001, these Midwest-based pop-punk juggernauts have sold over 8.5 million albums worldwide, and released eight studio albums, two live albums, two compilation albums, eight extended plays, 32 singles, and 47 music videos. When the band took a hiatus in 2009 everyone definitely felt their presence missing in the scene. The group released their own projects away from the band, but even when the speculation of their return went public, it effortlessly broke the internet. When the band returned in 2013 with Save Rock And Roll, reaching No. 1 on the charts, further proving their dominance and that nostalgia wasn't everything. Whether it's "Sugar We're Goin Down" or "Love From The Other Side" off their new album So Much (for) Stardust, you'll be singing your heart out. Fall Out Boy will be touring this summer and fall with support from Bring Me The Horizon, as well as Alkaline Trio, New Found Glory, Four Year Strong, The Academy Is…, Royal & the Serpent, Games We Play, Daisy Grenade, and Carr on select shows in the US, and PVRIS and nothing,nowhere. in the UK/Europe.
Story Of The Year
Celebrating the 20-year anniversary of their hit album Page Avenue, Story Of The Year went back to their roots with their new album Tear Me To Pieces. The new full-length serves as a spiritual sequel to their 2003 scene staple, bringing a modern twist to the sound that made them popular. The band has expressed how happy they are to still be active, let alone continuing to put out new music. A record about falling in love with music and how it's changed all of our lives forever, it's no surprise the band is still playing major festivals and touring in amphitheaters. You can catch them this summer supporting Yellowcard on the Ocean Avenue 20th Anniversary Tour.
Paramore
It's hard to believe that Paramore's debut album All We Know Is Falling came out nearly 20 years ago. We all remember tuning into Fuse after school and falling madly in love with Hayley Williams and co. on their breakout single/video, "Pressure." Tell us you didn't try and replicate that off the backspin with your best friend. Fast forward to the present, and the band just released their sixth studio album This Is Why. The band may be poppier in sound, but they still bring that infectious energy to dance all night. There's even room to argue that the band has gotten catchier over time. Sculpting their sound into something that is purely themselves and that transcends beyond the alternative scene, bridging the gap into the mainstream music landscape. Regardless, Williams alone has stood the test of time as one of the best vocalists in the alt/pop/pop-punk space. You can catch them touring the States all summer.
Silverstein
This Canadian post-hardcore band has pumped out an insanely impressive 11 studio albums over the span of their 23-year career. And would you believe that they have never taken a break or hiatus? Consistently releasing new music every two years and touring, they have remained a prominent fixture in the scene and not letting nostalgia control their output. Starting with their signature screamo/emo sound that was popular in the early 2000s to evolve over the years into a more modern and accessible metalcore lane while still blending in their early efforts that made them popular. Even when celebrating anniversaries of When Broken Is Easily Fixed or Discovering The Waterfront, they paired it with new music to give their fanbase more than just pure nostalgia. Silverstein just dropped a deluxe edition of their 2022 album, Misery Made Me, and finished a headlining tour alongside Dayseeker, SeeYouSpaceCowboy, and One Step Closer with a majority of the dates selling out.