Basically: The Baudelaire orphans may still be unfortunate, but at least they look fashionable as they try to escape Count Olaf's devious clutches.
Season two of Netflix's A Series of Unfortunate Events picks up right where season one left off: The three Baudelaire orphans, Violet, Klaus, and Sunny, are sitting in the lobby of Prufrock Preparatory school. Will it be their new home? Will they finally find some happiness? And will they finally evade the nefarious Count Olaf?
Well, the answer to that last question is a definite "no", otherwise the series would have finished after the first episode. But let's talk about how they got here in the first place.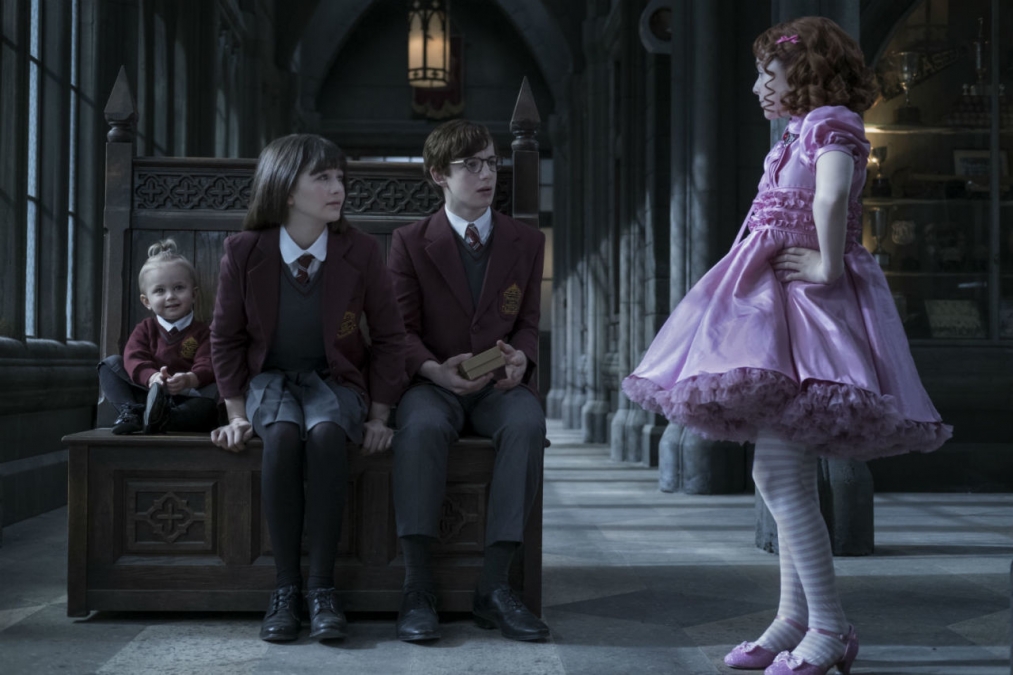 Photo credit: Netflix 
In season one, the Baudelaires—fourteen year old inventor Violet (Malina Weissman), bookish twelve year old Klaus (Louis Hynes), and toothy baby Sunny (Presley Smith)—were tragically orphaned when their parents died in a mysterious fire. They were sent to live with a distant relative, Count Olaf (Neil Patrick Harris), who was more concerned with getting on his hands on their fortune than taking care of children. Though the Baudelaires managed to escape from under Olaf's roof, he found a way to follow them as they bounced from guardian to guardian before finally being shipped off to a boarding school, which is where this new season starts.
Of course, because the Baudelaires are so very unfortunate, this school isn't all it's cracked up to be: The vice principal is an egomaniac, the teachers are boring and self-indulgent, the school bully immediately sets out to make them miserable and, worst of all, Count Olaf shows up again as the new gym teacher, forcing them to run around the track and fall behind in their school work.
It's not all bad though: The Baudelaires also meet two thirds of the Quagmire triplets, Duncan and Isadora (Dylan Kingwell and Avi Lake). The Quagmires are also orphans—we actually see part of their sad history in the first season. No spoilers, but try not to get too attached to them, their story is just as tragic as the Baudelaires'.
The third episode sees that Baudelaires moving to yet another new home. This time, they're taken in by a wealthy couple, mild-mannered Jerome (Tony Hale) and his fiercely fabulous wife Esme (Lucy Punch). Alas, Olaf is but one step behind them and before they know it, the Baudelaires are once more running for their lives…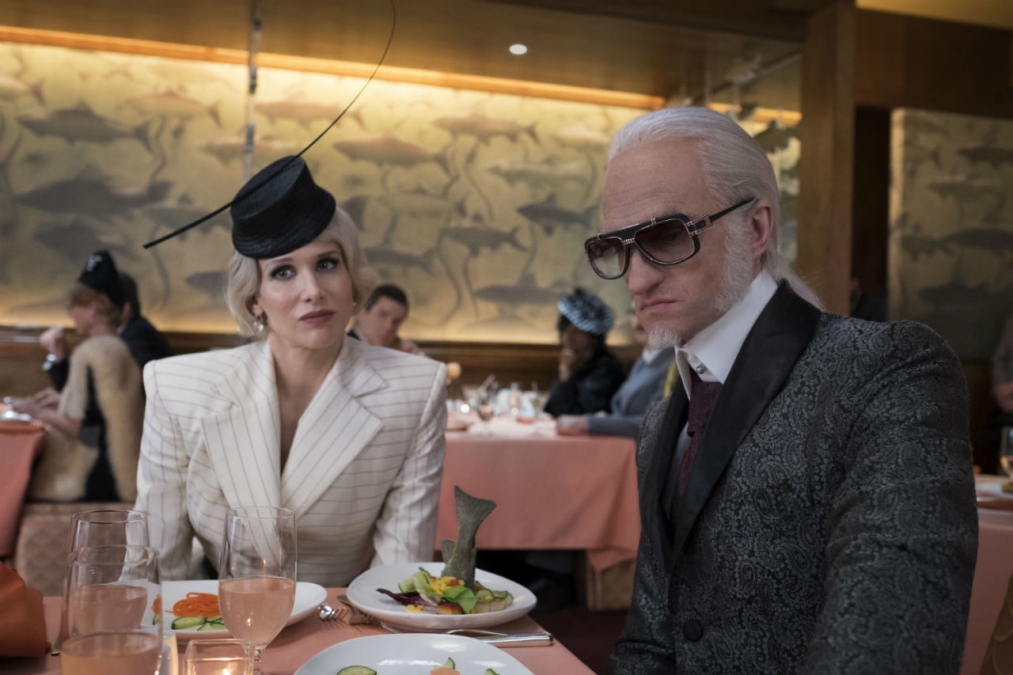 Photo credit: Netflix 
The show, based on the books of the same name by Lemony Snicket aka Daniel Handler, focuses on the fifth through ninth installments. But unlike the books, the show doesn't put any sort of emphasis on character building. The problem is that there are too many characters to give them each a chance to shine.
Not only do we have the Baudelaires, who are technically our protagonists, but we also have Count Olaf and his cronies, plus the various guardians, friends, and bullies the Baudelaires meet. Added to those are a host of tv-show-only characters who have their own plot lines. Each set of characters gets their own scenes which should give us a chance to get into their heads but, instead, it feels like the plot just slows down. So many new concepts are introduced but there's very little resolution which means that each episode—which last around 40-50 minutes—feels even longer. I'd really like to know who the intended audience is since the episodes drag too much to keep younger kids involved while adult fans might be frustrated by the repetitive storylines and lack of proper development.
The supporting cast is a delight—Prufrock Prep's resident bully Carmelita Spats (Kitana Turnbull) is entertainingly horrid, and Nathan Fillion's Jacques Snicket is given a larger role in the show to fully take advantage of his talent, plus who doesn't love a Tony Hale cameo? But the main cast still feels flat to me. And I've tried but I honestly can't get into Neil Patrick Harris' portrayal of the devious Count Olaf. He comes across as rather goofy but not as threatening as Olaf should be.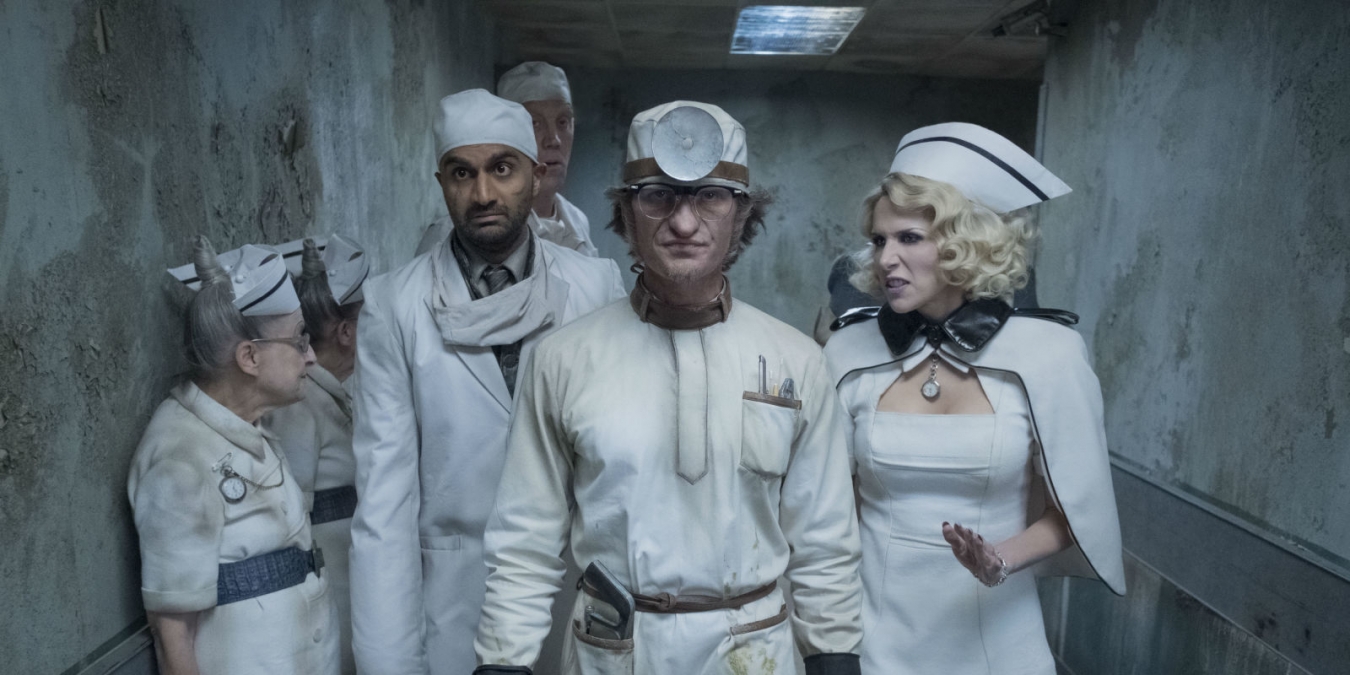 Photo credit: Netflix 
On the positive side, the costumes are gorgeous and the sets are perfect for each installment. A few episodes in, the dark brooding school is swapped for the Squalors' sleek and modern apartment which brightens the show up a little bit. Later, the children escape to a carnival that looks like it's straight out of a Tim Burton movie. While I wouldn't say the show is entirely faithful to the books, there are off-hand sentences or background props that readers will recognize as being foreshadowing of future (unfortunate) events.
In the end: Lots of people seem to love this show but for a purist the slow pace and story changes make watching the adaptation Very Frustrating and Difficult.
A Series of Unfortunate Events will be available on Thursday March 30 on Netflix.