Basically: Rough Night is like being hungover before you get drunk—at first you think it wasn't fun and then you realize you had a good time.
Everyone is saying this. I'm going to say it too: Rough Night is a lighter, less relentless version of Very Bad Things (1998). The filmmakers could've called it 'Not Very Bad Things, Girl'.
Jess (Scarlett Johansson) is getting married and her best friend from college Alice (Jillian Bell) has planned an "everybody in the club gettin' tipsy" bachelorette weekend in Orlando. Their quintuplet of besties is completed by Blair and Frankie (Zoë Kravitz, Ilana Glazer). These ladies party hard— always have—they get boozed up and powdered down in a montage of delightful debauchery. Of course, the party must continue when they get back to their beach house, so Frankie orders a stripper. Stripper #1 shows up looking skeezy. He goes to the bathroom for too long, dances like his hips need lubricant, and then accidentally gets dead. Yup.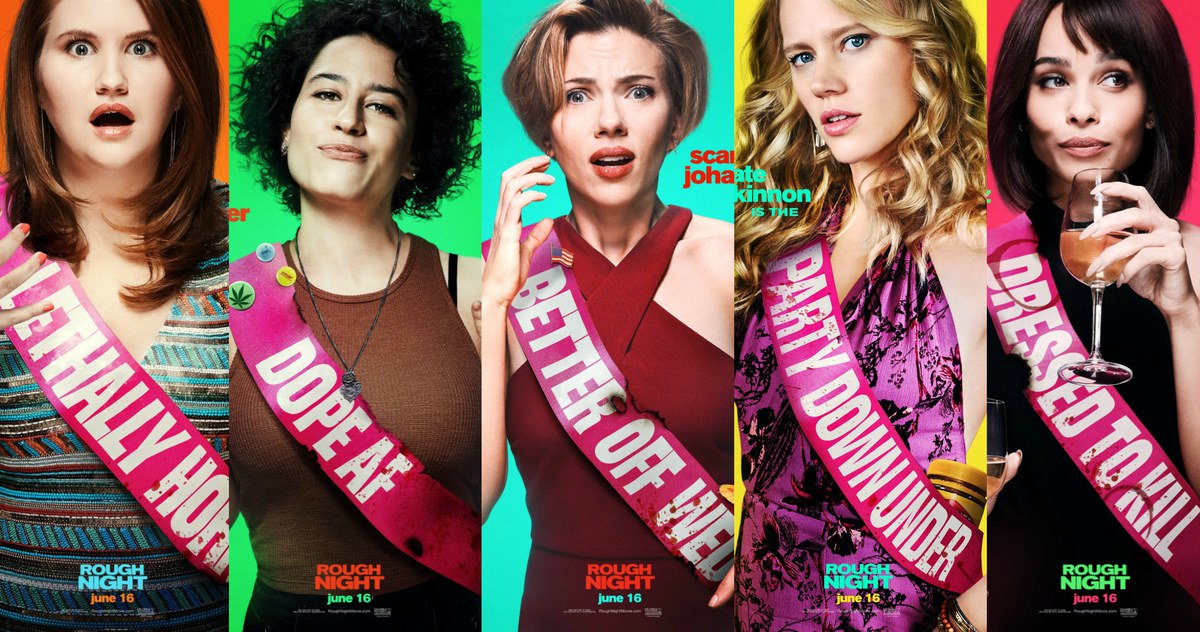 But wait there's more. Before the crazy happens—culminating in Stripper #1's head bursting  open like a rotten tomato—Pippa (Kate McKinnon) shows up. She's Australian, which in Hollywood is code for batshit and indestructibly awesome. Kate McKinnon makes everything better (not the events in the movie, she makes those worse, but the movie itself is enhanced by her presence). Kate McKinnon is the comedy equivalent of dabbing hot sauce on chicken wings. Flavor! There should be a meme. This meme should be: Put some Kate McKinnon on it.
Each of the women have reasons to make the dead stripper go away. Jess is running for office, Alice needs to care for her mother, Blair is in a custody battle, Frankie is on her third strike, and Pippa is there to make the movie better—put some Kate McKinnon on it, ya'll. The ladies also need to hide their antics from their sex-crazed swinger neighbors, played by Demi Moore and Ty Burrell.
Being the snob that I am, I laughed the hardest during the scenes with Jess' fiance Peter (Paul W. Downs). In a dizzying spin on gender norms, Peter is enjoying the ultimate Beta Male Bachelor Party with guy pals (Patrick Carlyle, Eric André, Bo Burnham, Hasan Minhaj) when Jess calls and shatters his world. The guys pour the wine (Madeira because it's good medicine) and share their feelings about how Peter always picks the wrong girls. There's no ice cream in this scene but there's "ice cream" in this scene, you know what I'm saying? During their kiki, the guys give Peter the type of advice that will likely end with Peter dead on the side of the road in an adult diaper after a prescription drug overdose. Yup.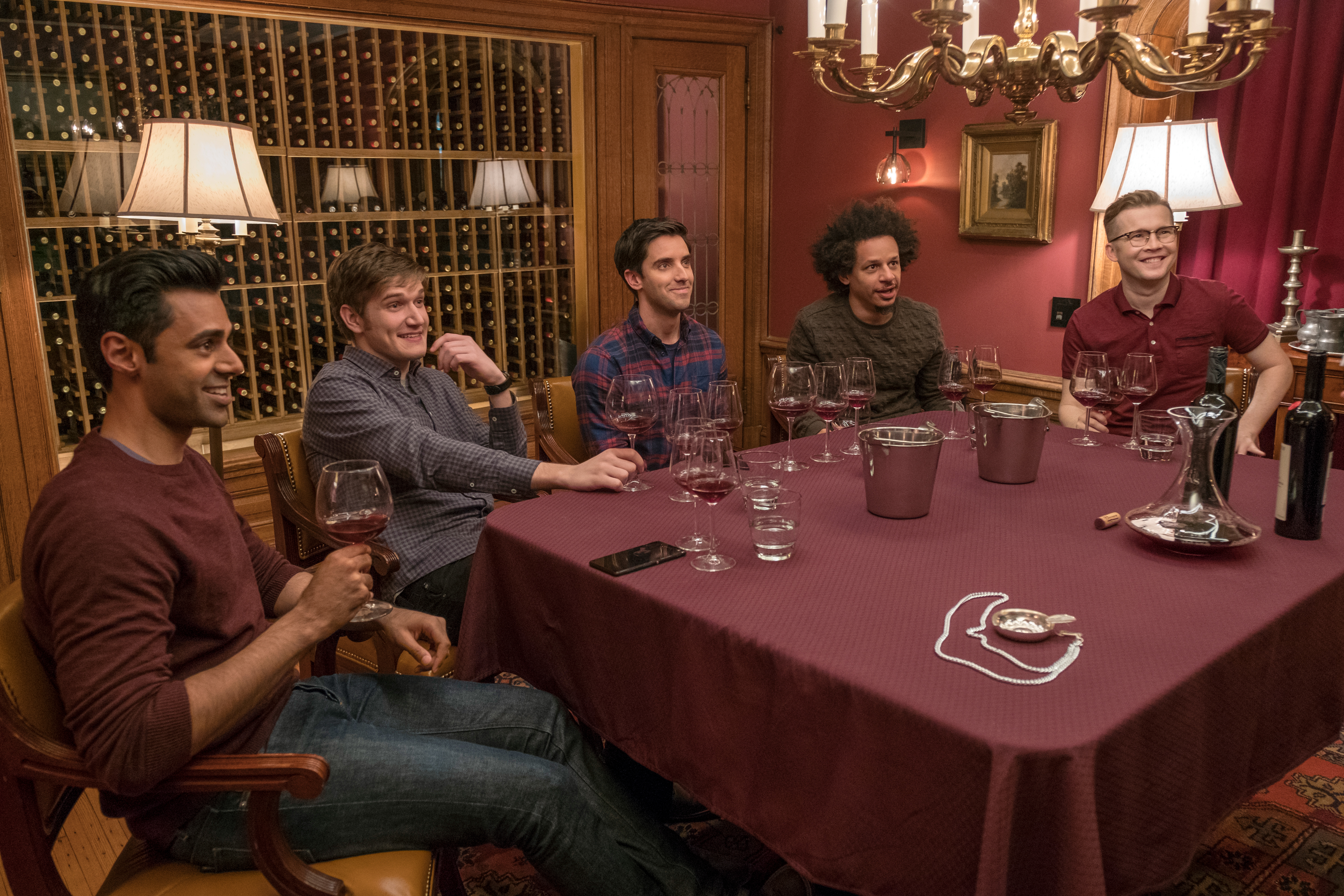 Stuff goes really bad from there because involuntary manslaughter and epic misunderstandings are such a buzzkill. Murphy's law is a colloquialism used for situations in which everything that can go wrong, does go wrong. The subtitle for Rough Night could've been: 'Murphy's Law Happens When You're Lit at a Beachside Bachelorette Party and Also Mind-Blowingly Stupid, But Hey at Least You Got Head From The Neighbors, Girl'.
The movie is funny but you can't escape the feeling something is missing. Emotion or the deeper laughs that come from darker truths…or maybe I was expecting a dark comedy and got a slapstick one instead. I dunno [shrug] but Rough Night is a fun timepass for the weekend. Perhaps that's why I thought I was hungover at the end of it, but then Kate McKinnon sang a song containing the lyrics, "Sometimes you kill a man, you kill him with your friends" and I realized I didn't have a headache, I'd somehow gotten a contact high. Cheers!
In the end:  Watch it on a girls night. Rough Night is not the headache you thought is was, you're just drunk, girl.