Actually 7.5/10 – B+
Basically: 'Okja' weaves a modern fable, entwining us with quirky charm to ultimately pierce our apathy with an unflinching needle.
The buzz surrounding Okja is fascinating. From the question of whether or not it's Cannes eligible, to inducing spontaneous vegetarianism; people are talking about this movie's impact. Okja is impactful. After watching it you're left to wonder which was more powerful, the fractured fairytale or its underlying message.
Up first: The Story. Nancy Mirando (Tilda Swinton), a woman who seems to be made entirely of cotton candy but is actually pink steel wool, introduces us to the food of the future. It's the Super Pig! a new breed of meat with a small imprint and big flavor. Despite Nancy's marketing verve there's an undertone of desperation to her claims—she's under pressure to fix the bad press her family's agrochemical company, Mirando, earned when her sociopathic father and sister were in control. If there's any doubt Mirando is an evil corporation, you should know they dumped so much toxic waste into a lake that it exploded. A lake exploded. Back to the Super Pigs! Each of them are sent to be raised by farmers around the world for ten years, at the end of which Mirando will host a beauty pageant to choose the finest porcine of them all.
Time jump. We fly forward to Korea. Cutie pie Mija (An Seo Hyun) and her best friend, the massive and adorable, Okja (CG) are playing on a mountain top. It's all very sweet and quirky until we realize ten years have passed. It's time for Mirando to collect their pigs. Okja is stolen away and taken to New York where all manner of horrible things happen. That's when Mija realizes friends can also be food and she embarks on a desperate journey to save her friend. Even allies, like the Animal Liberation Front (ALF), become liabilities as Okja and Mija's fairytale becomes a dark twisted tale, drenched in painful realizations.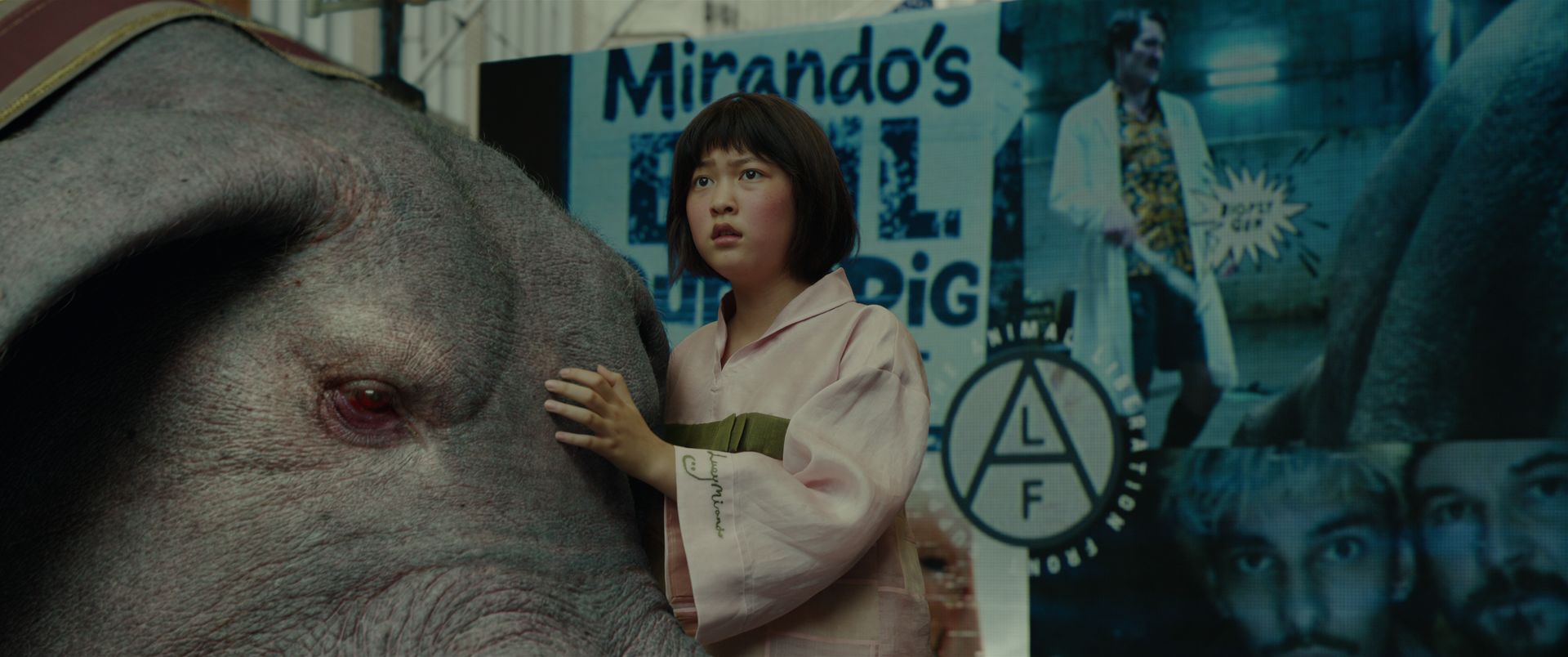 View Okja on Netflix (Wed Jun 28)
Up Next: The Impact. With Okja, as with Snowpiercer before it, writer/director Bong Joon Ho (and Jon Ronson) weave a modern fable, threading it with quirky charm to ultimately pierce our apathy with an unflinching needle. At first it's difficult to understand the character design of Okja herself—she looks more like a crossbreed of hippo and bunny than a pig. Ahh, but we don't empathize with pigs the way we do with hippos or bunnies—make that an intelligent fantasy hybrid of hippo and bunny who acts like a dog and we're all feels. (Yes, we've read Charlotte's Web and we've seen Babe; so have you, yet you're still munching on that bacon.) A pig is food to most of us but Okja is something else, she's the kind of animal we humanize, and our ability to identify with her is important to central themes of this film.
Just a spoonful of sugar helps the knowledge go down, the knowledge go down, the knowledge go down… Asian cinema, especially in its animation—more specifically in its Japanese anime (Miyazaki, Tokyo Godfathers)—understands the spoonful of sugar theory well, but this theory can also be found in French farce (La Cage aux Folles, Delicatessen), and British satire (Monty Python, Brazil). American filmgoers may see shades of Wes Anderson in Okja, not because Bong Joon Ho is copying (he's well established in his own right) but because this is a form of storytelling that, with its distorted caricatures and absurdity, is most often found in international cinema. When we see it in English, in modern America, it's usually Wes Anderson. All these forms give us wonderfully ludicrous imagery that ultimately hits us over the head with dire warnings of societal failings.
Rampant consumerism, genetic modification, the objectification of female bodies, and the demeaning of any life that isn't perfectly analogous to our own, are the harbingers Okja is warning us against. We consume other cultures, religions, physical abilities, gender identities, and ethnic groups like they're pork chops—as though they're meant only to nourish our sense of privilege before being discarded. We treat everyone who isn't "us" like Super Pigs! and that's the point:
Much like Soylent Green—Okja is people.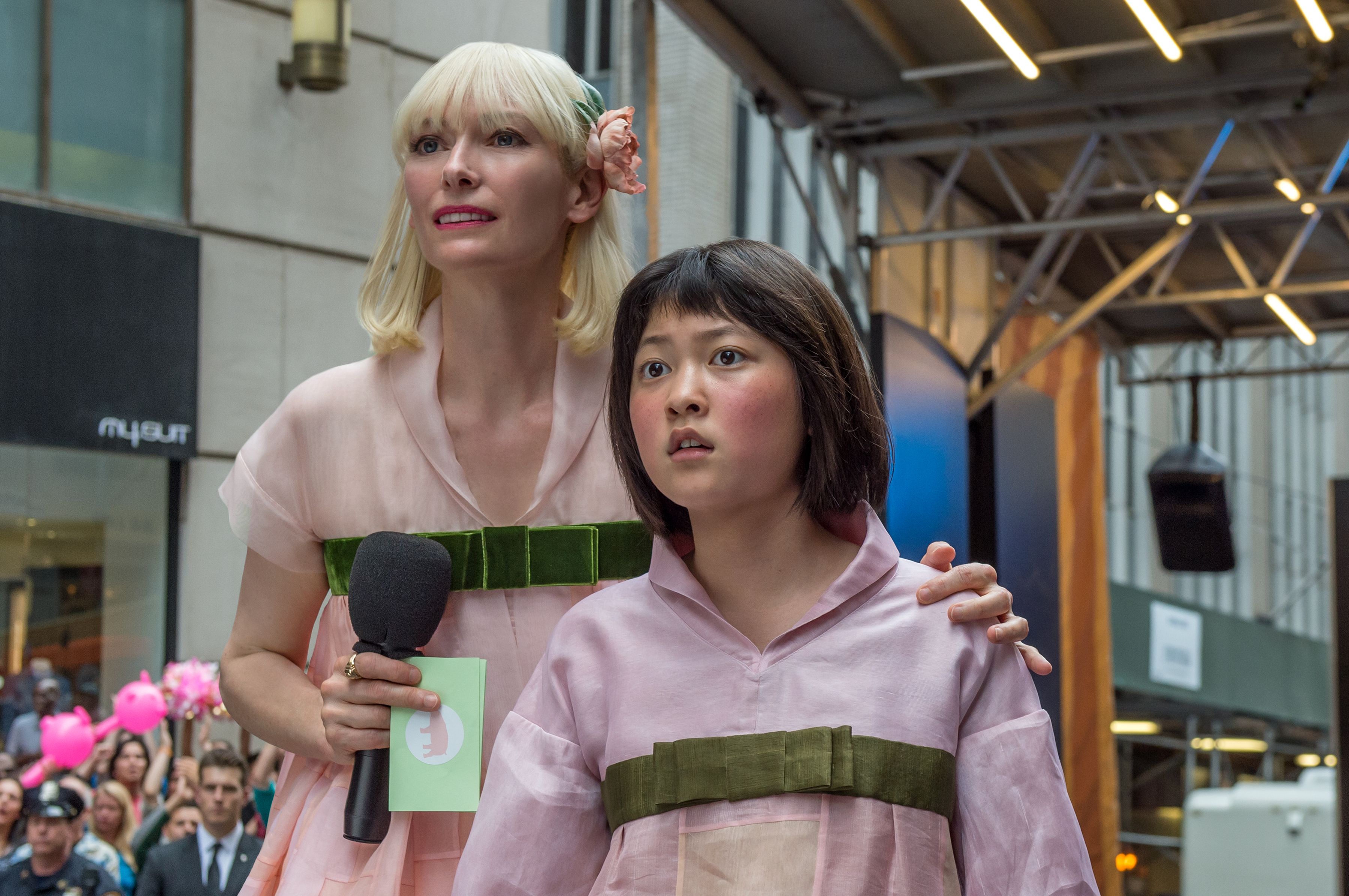 Near the end of the movie, there is a scene at a slaughterhouse, that is symbolic of concentration camps, internment camps, and refugee holding facilities. These animals, these Super Pigs!, know their bodies are nothing but meat, their pain is incidental, and their lives are over. In a poignant moment, two of the Super Pigs! make a sacrifice that we'd expect to see in a Schindler's List or from a story marking The Trail of Tears. It is heartrending.
Just a spoonful of sugar helps the poison go down, the poison go down, the poison go down… Okja is a reminder of the terrible things that can literally and figuratively be shoved down our throats if "they" (the ruling class) make it sweet enough. When you think about it, this movie is horrifyingly sweet. It hints that we are likely to be betrayed by false icons—hello Jake Gyllenhaal as animal preservationist Johnny Wilcox—although, if we're paying attention, we'd know those types of icons are unworthy of our adoration. The film also speaks to the changing faces of our leaders; positing that the ultra cutesy cotton candy veneer of the new breed of politician is far more insidious, in that they believe they are doing what is best for the populace even while they're choking the life out of us.
Shit, man, this fluffy frothy little film is terrifying. I can't stop thinking about the ramifications of that damned Super Pig! and her intrinsic humanity.
When the waning moments of Okja's not-quite-a-happy-ending unfold, we're left with the thought that our only escape, from the oncoming madness of society, might be the simple life (perhaps up in the mountains) surrounded only by those we could save. And that takes us right back to the post-apocalyptic slapdown that was Snowpiercer. You'll swear you can hear a voice yelling at you, it's Bong Joon Ho, he's screaming, "Wake up."
In the end: Okja is a "grimm" fairytale with all the sense-of-wonder and dark consequences of those bloodsoaked originals—and, like the most memorable fables, we'll continue to tell this tale…(and we'd do well to heed Bong Joon Ho's warnings).