Dear Reader, our fondest wish this season was for an untamable lady to take the Viscount Anthony Bridgerton in hand and make the rakish reprobate beg for her love. This being a romance, there is no doubt our desires were granted. However, did the voyage become heated enough to cause heaving bosoms and the fluttering of fans? That, dear ones, is all the more reason to continue reading.
It is a truth universally acknowledged that season 1 of Bridgerton led to uncontrollable swooning and dreams of tantalizing a Duke into becoming one's very own…but what remains unknown, dear reader, is what will become of season 2 with so much fanfare to live up to.
In lieu of musings from the elusive Lady Whistledown we hope you will allow, we two, the ladies Bearmont and Whimsnicole to regale you with the juiciest of details regarding this second round of romantic dueling.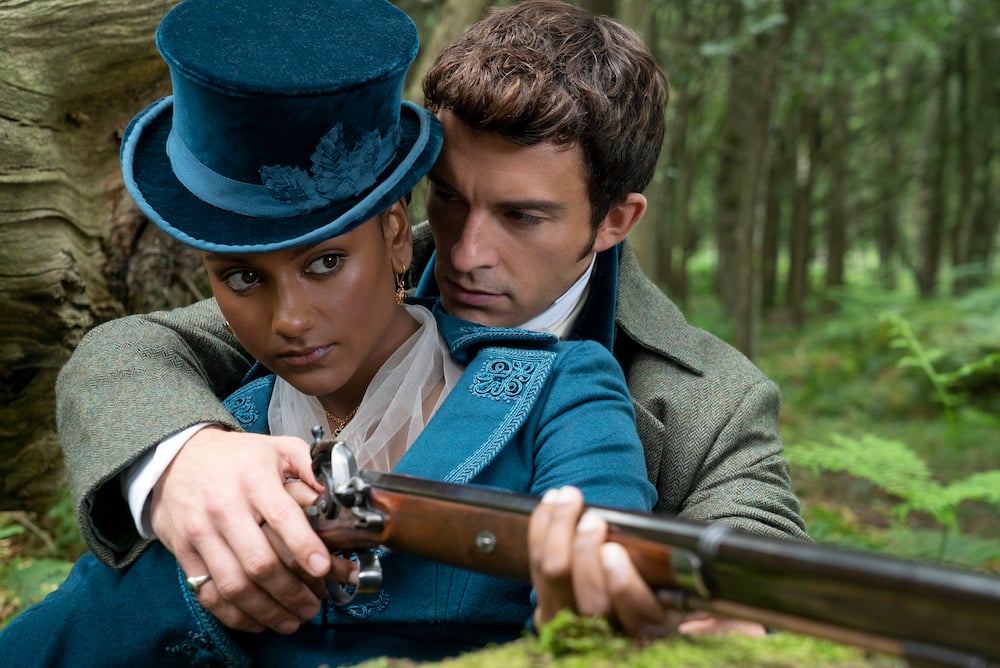 This wedding season, the Viscount (Jonathan Bailey) feels duty-bound to find a wife without the nonsensical leanings of love to muddle up the process. Once Edwina Sharma (​​Charithra Chandran) enters the room, her gentility and amiable ways quickly make her the perfect match to suit the Viscount's high demands. Yet what would a romance be without a roadblock? Kate Sharma (Simone Ashley), Edwina's elder sister might be considered an old maid but her fires have far from gone cold. As Anthony notices almost immediately. Kate is strong, quick-witted, and oh, how she detests him. Would you disagree with her stance? We are not often prone to Shakespearean language, dear reader, but one might suspect a shrew is ready to be tamed. The only question is which, the lady or the viscount?
Yes, this new Taming of the Shrew for the Regency era plays well with the way Bridgerton loves to remix the classics. Yet, while being swept away by this high-tempered drawing-room drama, one mustn't forget to listen out for those delightful orchestral arrangements of hit songs, brought back from the far-off future, for all the proof one needs.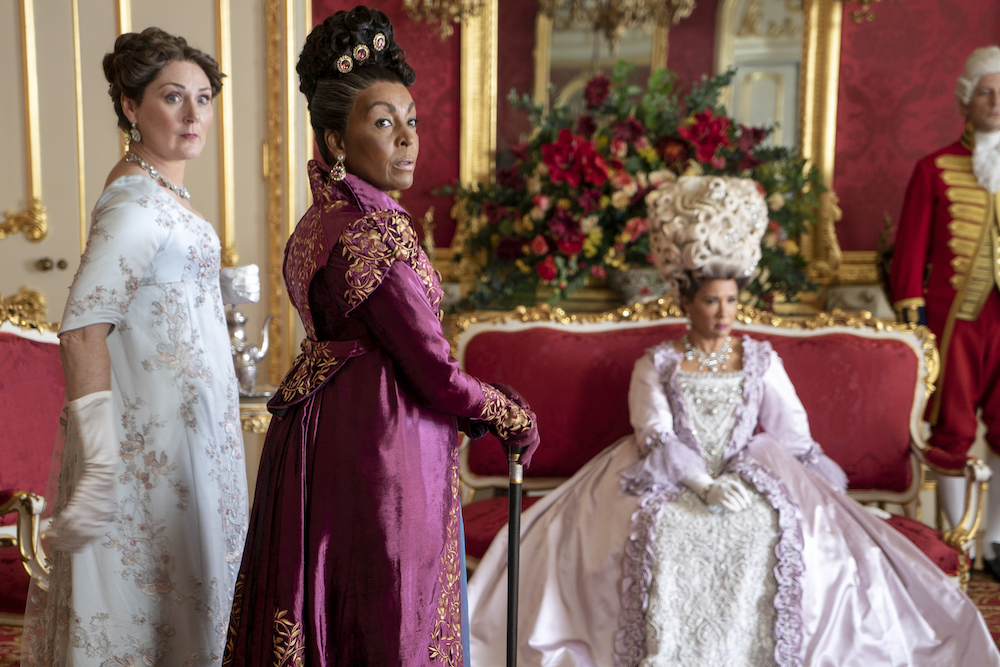 As for the rest of the Ton, Eloise (Claudia Jessie) is forced to come out into society and she loathes every minute of it. We must say, if it isn't too scandalous to do so, one could definitely do with less of this thoroughly modern lady. As for Pen (Nicola Coughlan), she struggles to keep her own scandalous alter ego in check, while sighing longingly after Colin (Luke Newton). Colin, Colin, Colin, she sighs, she moans, she schemes. For our part, wastrels have been clubbed over the head in back alleys with less intensity and we might prefer the latter.
However, if one is searching for a turnabout, The Featheringtons are the ones to watch this season. The four ladies are introduced to a new "estate manager," an American who has some very interesting plans. And Her Majesty the Queen (Golda Rosheuvel) is in desperate need of some entertainment—and some answers. Always at her side, the ever-sparkling Lady Danbury (Adjoa Andoh), whom we would claim as our dearest friend were we allowed to, provides more than enough amusement while remaining the true belle of this 8 episode ball. If anyone can pull the strings of society into tidy order, it's Queen Charlotte with the help of the aforementioned lady and, stunningly enough, the Lady Bridgerton (Ruth Gemmell) herself.
As for the affable Benedict Bridgerton (Luke Thompson), when there is a reason to care about more than his good advice and dimpled chin, we will most certainly make you aware. Benedict requires a bit more than art to make our hearts palpitate. Let us hope he has it in him. Otherwise, might there be a Bridgerton cousin available for closer examination?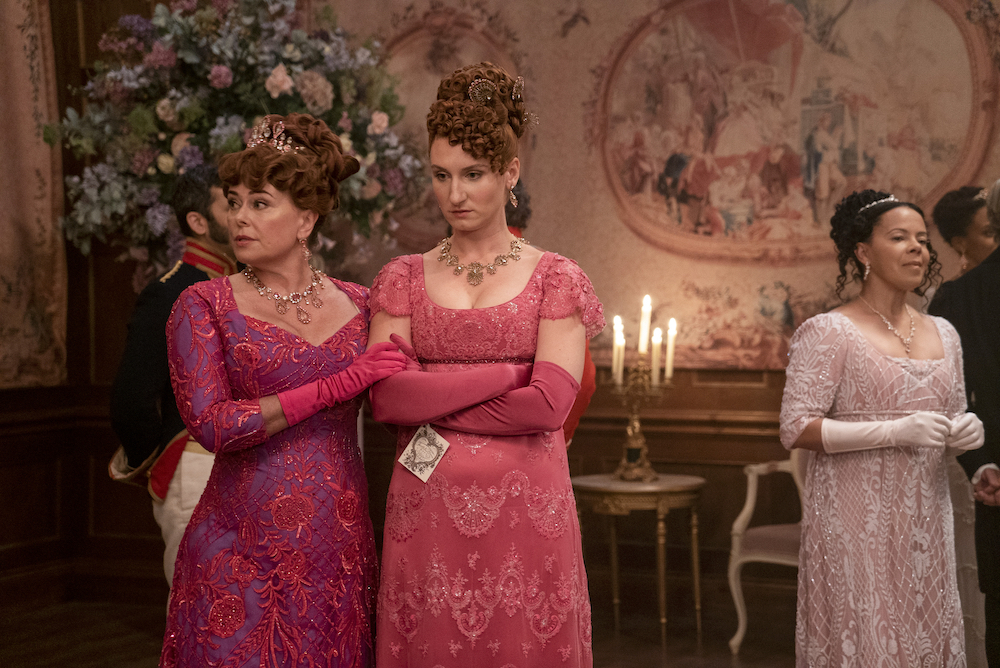 The heavens can be thanked that Anthony has quite an engaging backstory, one that may well prove the beast has a warm center after all. How warm? We'll leave you to take your own temperature.
Have we tempted you enough, dear ones? If so, you needn't wait much longer. The second season of Bridgerton will be available on Friday the 25th Day of March in the year of Twenty-Twenty-Two.
Until then, we shall await the next scandal to tear the Ton apart, most likely on Geek Girl Riot, Tuesdays at 11PM Eastern. That's where it's possible you'll learn our predictions for next season. After all, we got it right the first time.
–Signed with razored pens by the Ladies Bearmont & Whimsnicole
Watch Bridgerton on Netflix on Friday.