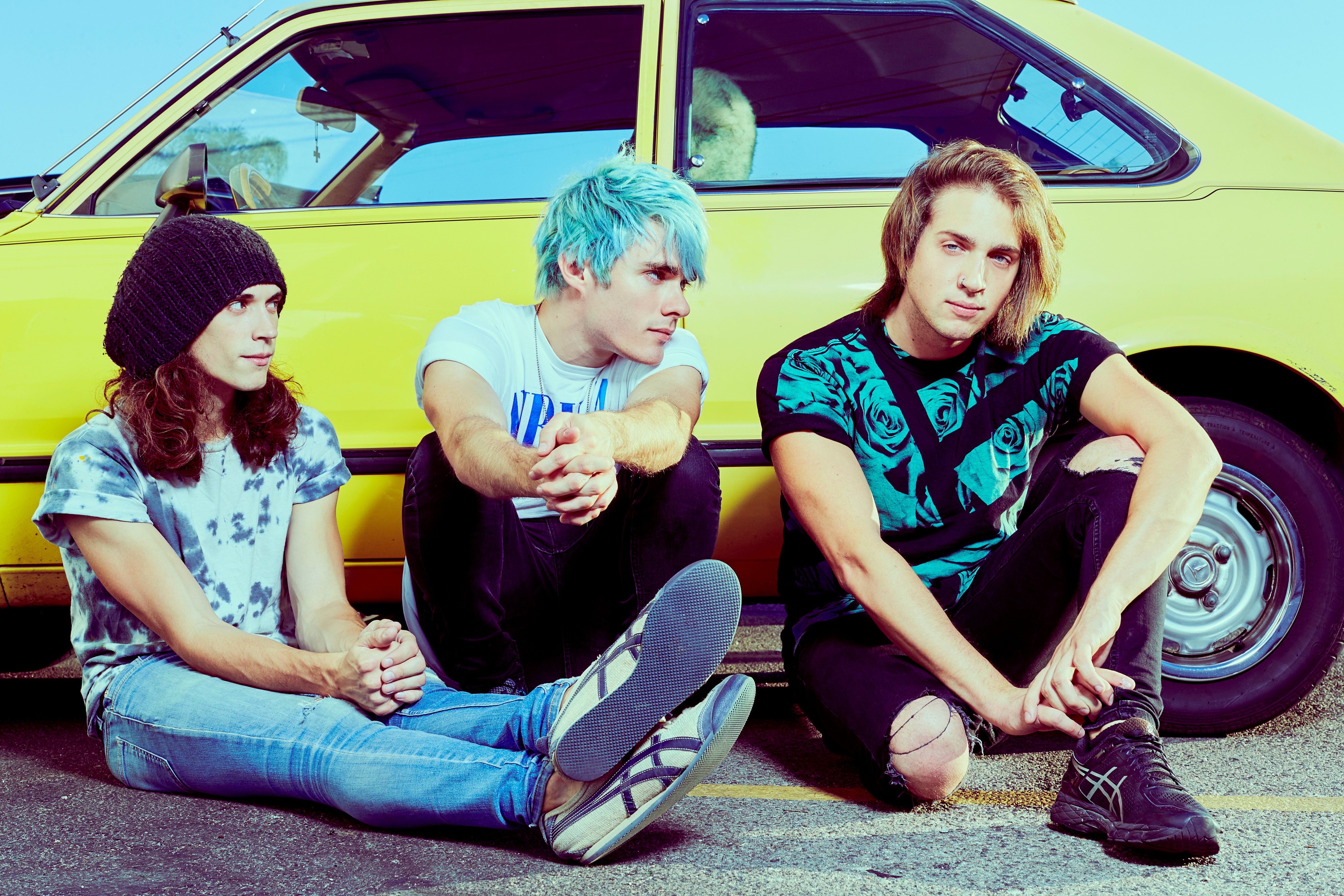 Wake up, sleepyhead, it's time to crawl out from that rock you've been napping under, because there's a new band you should've heard by now. A band that is putting the pop back into pop punk. A band that got the attention of Good Charlotte's Joel and Benji Madden. This band toured with some huge names and played Warped Tour—before their debut album even dropped. A band whose aforementioned debut album Double Dare became a favorite record for existing fans in the scene and new kids just starting out. Woah, you still haven't guessed it yet? That band is Waterparks. It's okay, we've got your back. We won't tell anyone about your pop punk faux-pas. Instead, settle in and take notes, because below you'll find everything you need to know to become a Waterparks fan in idobi's 101 starter pack. You're welcome.
THE BASICS
Formed: 2011
Hometown: Houston, TX
Genre: Pop punk
Latest release: Double Dare
In ten words or less: Pop punk that's way more fun than any (actual) Waterpark
Twitter: @waterparks
Instagram: @waterparks
Website: waterparksband.com
Must-buy merch:
IT STARTED AS A JOKE BUT WE WENT TOO FAR & NOW YOU CAN GET BODYPILLOWS W OUR NEW ALBUM HAHAH https://t.co/1SjdL2dHyX pic.twitter.com/eBbTlA1U6y

— WATERPARKS (@waterparks) October 1, 2016
So, now you've got the basics. You've listened to Double Dare, and realized long before the record was over that you're going to hit repeat for all eternity. You've stalked followed the band on socials, STARTED TYPING IN ALL CAPS JUST BECAUSE, and you've bought all their merch (yep, even the pillows). Well done grasshopper, you've officially become a level one beginner. Now it's time to get to know the band members—Awsten, Geoff, and Otto—idobi style. You ready?
GET TO KNOW THE BAND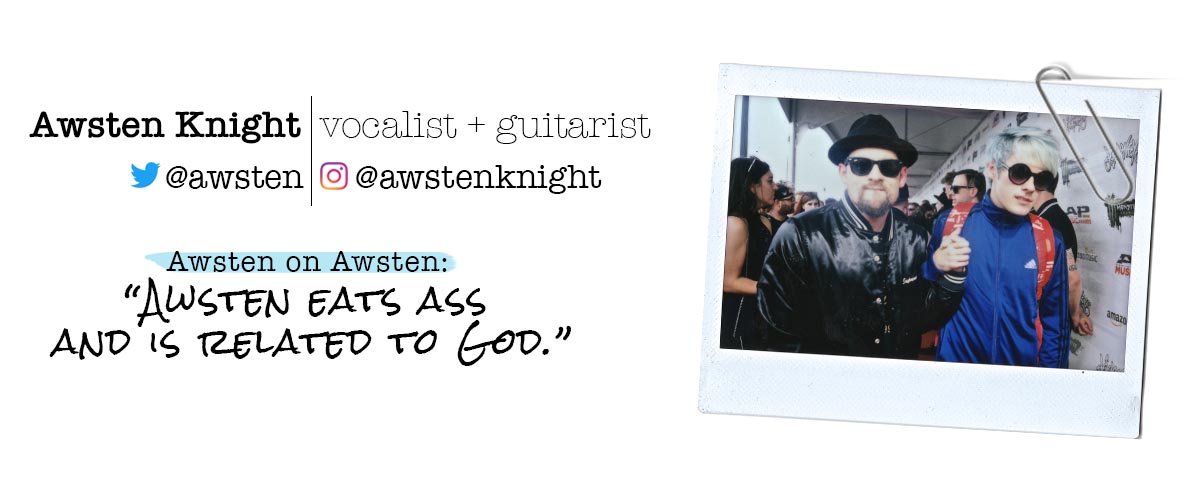 Need to know:
Is known to be a *diva* 
But has also been known to ask super deep and philosophical questions: 
Will 2017 be the year I become self-important enough to start grooming my big ass eyebrows? Find out next!

— Not Awsten Knight (@awsten) January 26, 2017
Is probably 80% orange juice:
SHOUT OUT TO THE GIRL THAT GOT ME A WHOLE FOODS GIFTCARD YESTERDAY, I CANT READ YOUR @ ON THE CARD BUT HEY I APPRECIATE YOU HARD ???????? pic.twitter.com/hFlqXqYjKc

— Not Awsten Knight (@awsten) December 3, 2016
Have. Mercy. On. My. Weak. Ass. Soul. pic.twitter.com/WEYD2NrBQk

— Not Awsten Knight (@awsten) January 14, 2017
—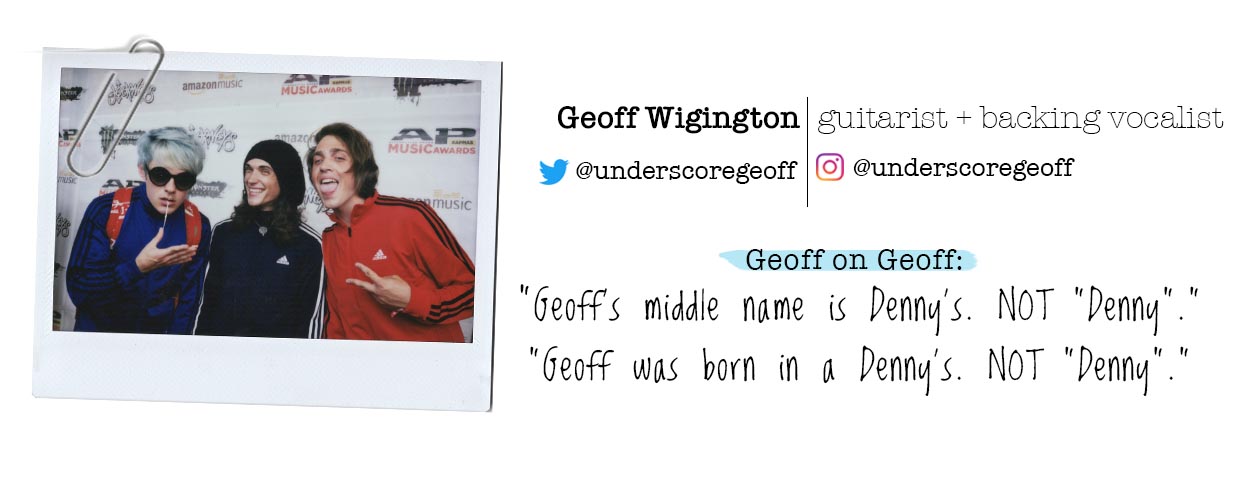 Need to know:
He watches parallel parking as a hobby:
Watching people try to parallel park is my favorite thing ????

— Geoff Wigington (@underscoregeoff) December 6, 2016
Shares his name with his father and a stuffed giraffe:
Hi Thursday! Here's a pic of Geoffrey (my father), Geoffrey (the giraffe), & new born Geoffrey. Weird stuff ???? pic.twitter.com/R3vPUExEHE

— Geoff Wigington (@underscoregeoff) November 17, 2016
Owner of famous cast:
Pretty much all the bands on warped signed my cast. Wonder how much it's worth????????

— Geoff Wigington (@underscoregeoff) August 15, 2016
—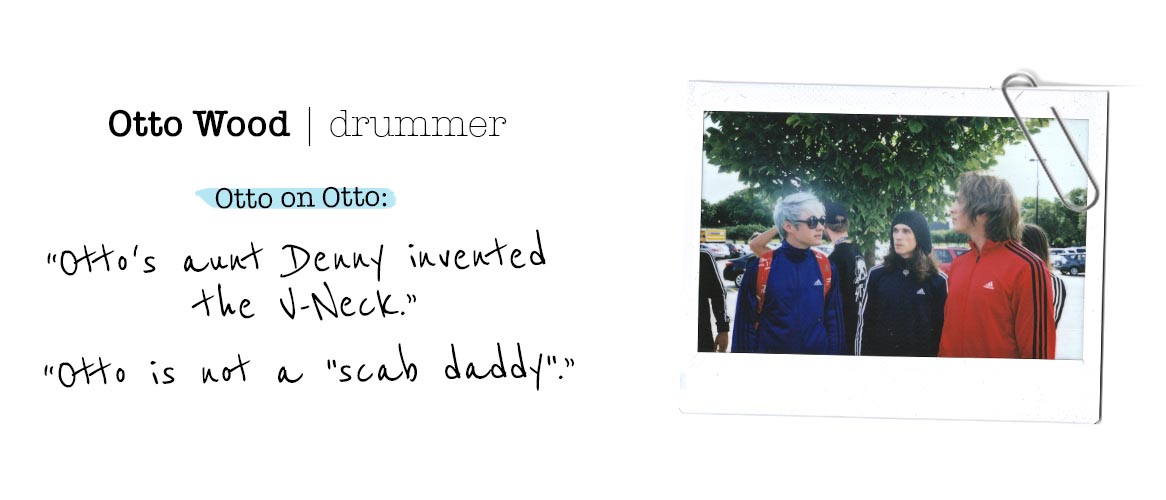 Need to Know:
Should not give up his day job:
Long story short Otto thinks it's funny to break in my house from the 2nd story when he comes over & now HERE WE ARE. HOUSTON COPS ARE FAST. pic.twitter.com/msVQ5tGMOT

— WATERPARKS (@waterparks) January 31, 2017
Doesn't get out much:
Otto has never seen water

— WATERPARKS (@waterparks) January 27, 2017
But knows how to prepare for the outside world if needed:
When times get tough, build a canoe -Otto

— Keaton Pierce (@KeatonPierce) February 9, 2017
Is so magical on the drums he can bend time and space:
WHAT'S NEXT?
Congrats, you can now hold your own with your fellow Gloom Boys on the interweb. Your walls are adorned with brightly-hued posters and you're feeling like this new era of pop punk couldn't get any sweeter. By now you know all the lyrics to "Take Her To The Moon", "Dizzy" is your go-to angsty anthem, and "21 Questions" is no longer just a game. The three guys feel like old friends and their music just "gets" you. So what's next? The only thing left to complete your orientation is to witness the Waterparks experience live.
So you go—you get your tickets, anxiously count down the days on your calendar, roadtrip with the friends you introduced to Waterparks along the way (obviously). You arrive at your local venue hours before doors, making friends in the queue behind you, taking it in turns to go to the nearest Starbucks for more coffee and snacks. The doors finally open and you rush in to take your place on the barrier where you belong. You already know you're in for a good time before the house lights go down and they bound onstage–
Pause.
Rewind.
We're getting a little ahead of ourselves, aren't we?
This is where you are now. We've taken you as far as we can; the live show is yours to experience. You're ready. What are you waiting for?
Find out how to win tickets to see Waterparks and Too Close To Touch and graduate from idobi's Waterparks 101 class with honors.
—
Polaroids credit: MDDN
Tags:
Too Close To Touch
,
waterparks