This week: Supergirl, The Flash, Brooklyn Nine Nine, DC's Legends of Tomorrow, This Is Us, Riverdale, Dynasty, Mr Robot, The Shannara Chronicles, Supernatural, Gotham, The Good Place, Arrow, Will & Grace, Crazy Ex-Girlfriend, Jane the Virgin, Dirk Gently, Star Trek: Discovery, Good Behavior
Supergirl
Girl of Steel – Season 3, Episode 1 – Mon Oct 9 – 8PM
On The CW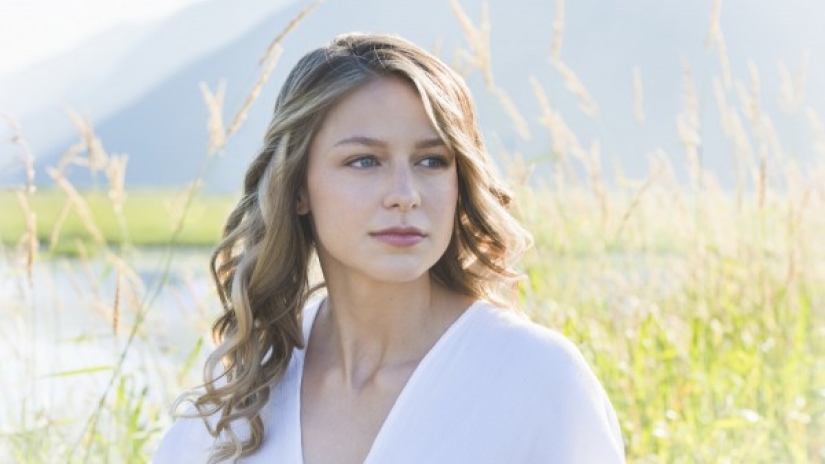 What happens when Kara becomes all Super but loses the human part of her, the girl part? Kara is a woman in mourning, she might still be able to save the world and be utterly badass while doing it, but expect some dark times ahead. Supergirl is about to dig deep.
From The CW:
DREAM A LITTLE DREAM OF YOU — Kara (Melissa Benoist) deals with the loss of Mon-El (Chris Wood) by focusing all her energy on being Supergirl and the mysterious new threat against National City. Alex (Chyler Leigh) confesses a secret to Maggie (guest star Floriana Lima) about their impending nuptials. A citizen of National City has a mysterious connection to Kara, and Lena (Katie McGrath) makes a bold move.
—
The Flash
The Flash Reborn – Season 4, Episode 1 – Tues Oct 10 – 8PM
On The CW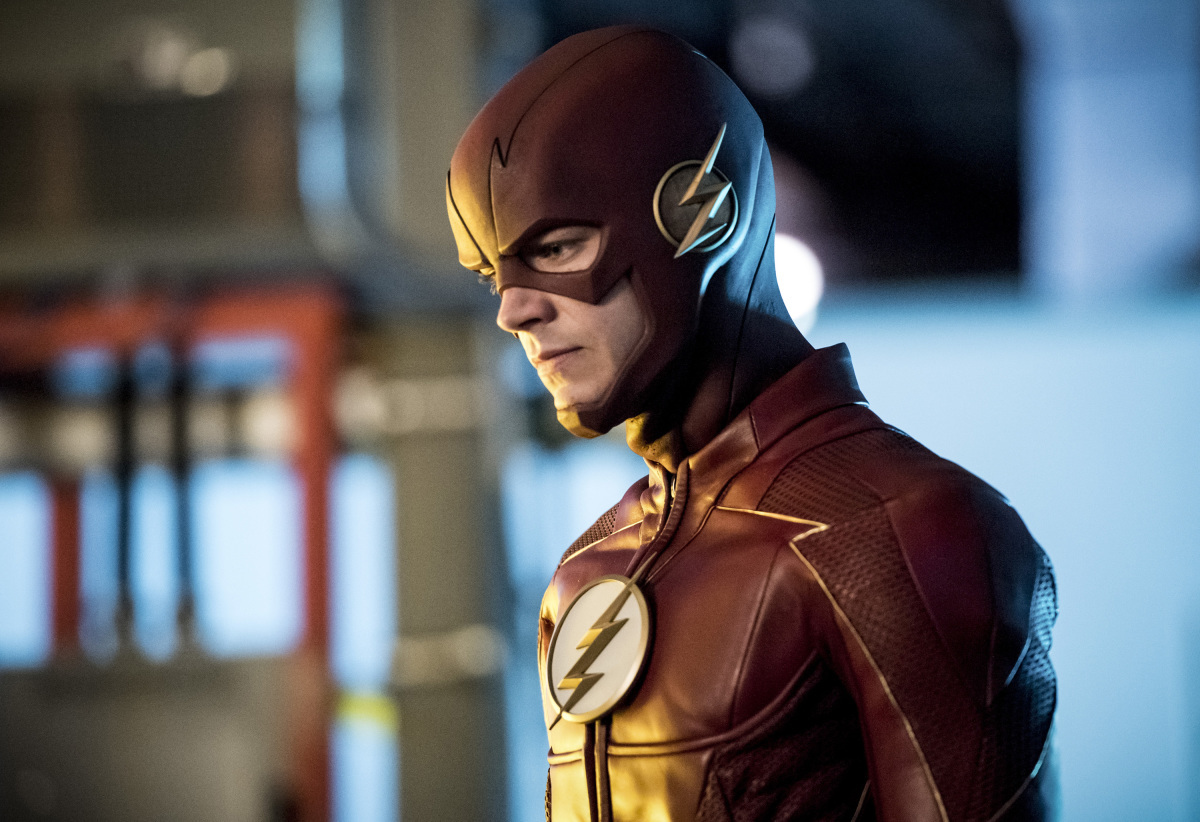 Boing, boing, boing, boing, boing…we're soooo excited. Like, so ramped up we're twitchy. Like racing around the room stoked. We're getting The Flash back, in more ways than one. Ooh, and Iris has risen to the role of leader like we always knew she would. And, and, we can't sit still 'cause we can't wait. We've got Cisco-fever. Look out because the #FlashRiot is going down tomorrow and it's gonna span the entire speedforce…so, um, legitimately, how fast can tomorrow get here?
From The CW:
COMING HOME — With Barry (Grant Gustin) in the speed force, Iris (Candice Patton), Kid Flash (Keiynan Lonsdale), Joe (Jesse L. Martin) and Vibe (Carlos Valdes) have taken over protecting Central City. However, when a powerful armored villain threatens to level the city if The Flash doesn't appear, Cisco makes a risky decision to break Barry out of the speed force. However, the Barry that comes out isn't the same Barry that went in.
—
Brooklyn Nine Nine
Kicks – Season 5, Episode 3 – Tues Oct 10 – 9:30PM
On FOX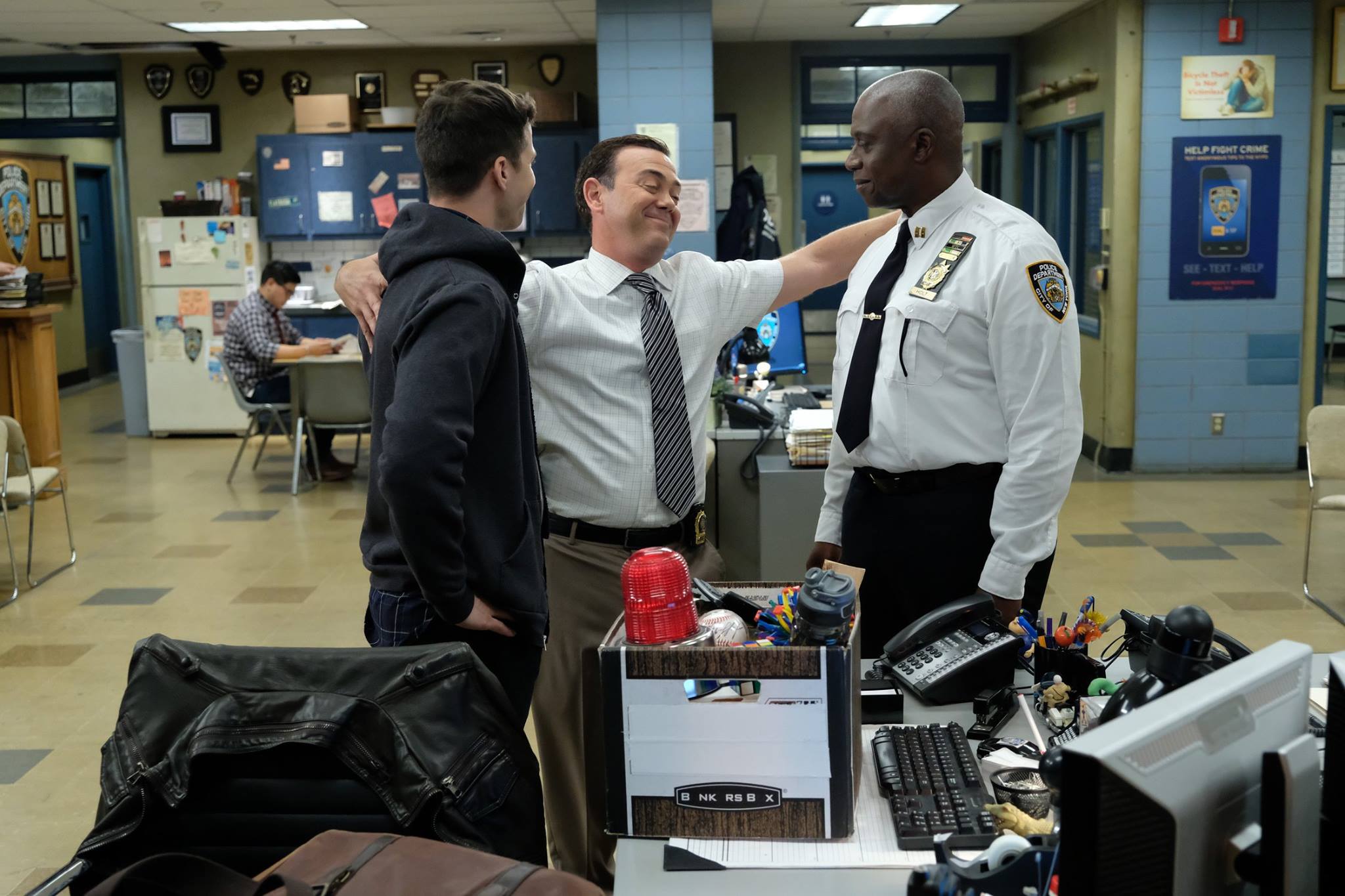 Now that Rosa and Jake are officially out of jail and the dirty Lt. Hawkins is the one behind bars, things should go back to normal for the Nine-Nine, right? Wrong! We know from the end of the last episode that Holt is now indebted to a notorious crime boss whose intel helped exonerate Jake and Rosa, and it's only a matter of time before that comes back to haunt him. Not to mention, our former jailbirds now have to re-adapt to life outside—and since the hilarious Jason Mantzoukas is set to make an appearance as Adrian Pimento, we know that for Rosa, at least, her prison stint may have put a strain on her relationship.
(Sam Devotta)
From IGN.com:
Now that he's officially back at the precinct and desperate to solve a real case, Jake finds a loophole to get out of his temporarily designated desk duty. Unfortunately, that loophole rests on his ability to pass an official evaluation performed by Holt. While Charles provides Jake with moral support, Terry and Amy help Rosa, who believes Pimento may be cheating on her.
DC's Legends of Tomorrow
Aruba-Con – Season 3, Episode 1 – Tues Oct 10 – 9PM
On The CW
"Guys…? I think we broke time." If you ever think you're having a bad day at work, believe us when we say the Legends are having a far worse one. How does one even break time? We guess that's up to the Legends to work out, and for us to sit back and watch in the season 3 premiere. The stakes are higher than ever, and that means the action is upped to the max. And since time is broken…there's your excuse to cancel all your evening plans so you can dissect every moment of the new episode.
From The CW:
THERE'S NO PLACE LIKE HOME — When the Legends realize that they broke the timeline, Rip Hunter (guest star Arthur Darvill) arrives with his new organization – the Time Bureau – to relieve them of duty. The Legends are thrilled to get a chance to put the team back together but a new threat arises when Rory (Dominic Purcell) spots Julius Caesar (guest star Simon Merrells) in Aruba. Sara (Caity Lotz), Nate (Nick Zano) and Ray (Brandon Routh) devise a plan to steal the Waverider back from the Time Bureau in order to try and stop Julius Caesar from conquering the modern world. Victor Garber, Maisie Richardson-Sellers and Franz Drameh also star.
—
This Is Us
Deja Vu – Season 2, Episode 3 – Tues Oct 10 – 9PM
On NBC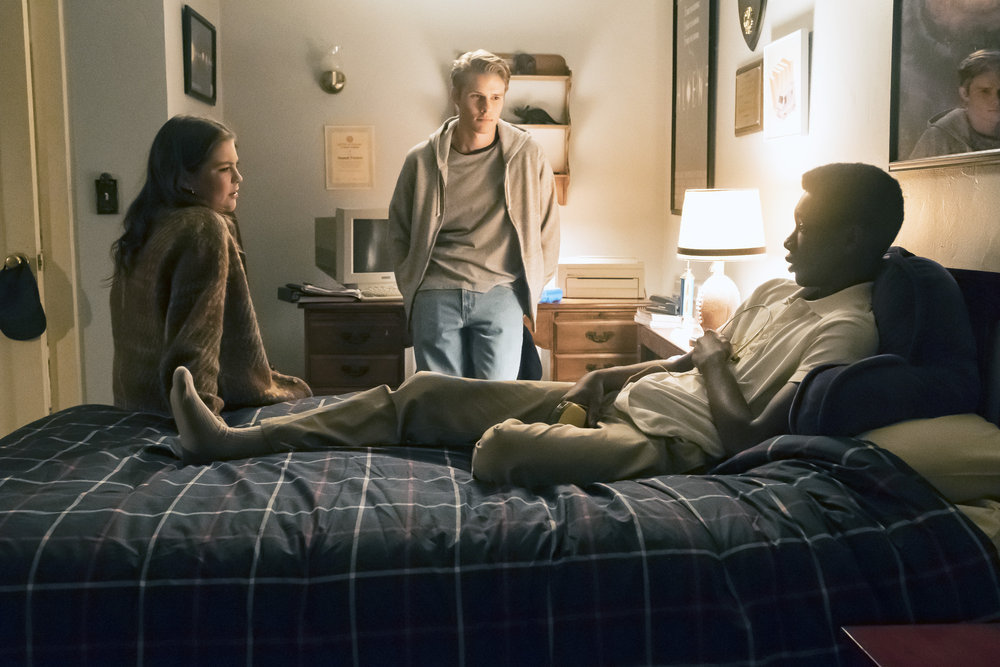 There's a "Frittata situation" on this week's This Is Us (aren't you glad we didn't say avocado toast?). Yup. This show perpetually does the unexpected and "Deja Vu" proves it. Sylvester Stallone shows up for a cameo (maybe more) and he and Kate are lovely together. Meanwhile, Kevin is having problems holding it together while face-to-face with his father's hero. And Randall is having problems getting it together as he and Beth welcome their foster daughter Deja. Flashbacks to William and Jack keep us smiling this week and the echoes of Parenthood feel far more like progression then homage. Y'all, we tried our best not to be corny but This Is Us ought to be sponsored by tissue—not any particular brand, not Kleenex or Puffs—just a big ole box of tissues because this show get us every time.
From NBC:
Kate visits Kevin on the set of his movie. Randall and Beth get exciting news. Rebecca tries to reconnect with Jack.
—
Riverdale
Chapter Fourteen: A Kiss Before Dying – Season 2, Episode 1 – Wed Oct 11 – 8PM
On The CW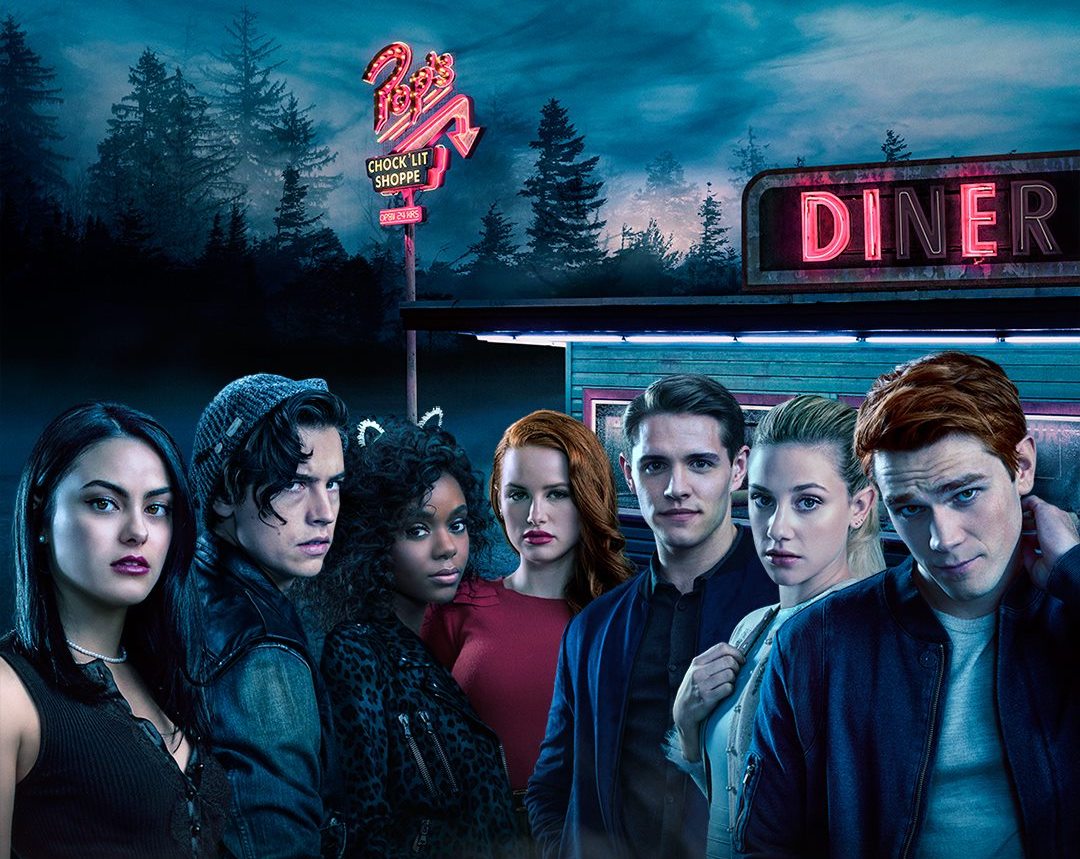 We've got an Archie ready for primetime (and a new Reggie too!)—cell phones and sex, drugs and drama. Riverdale starts with a bang, quite literally, and keeps its foot on the gas. The nicest thing? The writers give as much voice to the female characters as they do the men in this series. It isn't the ARCHIE SHOW; it truly is Riverdale! Every resident, every relationship—parents, lovers, friends, enemies. Everyone has a stake in Riverdale, everyone has an impact…and everyone has a secret.
(Renee Brown)
From The CW:
THE ANGEL OF DEATH — As Fred's (Luke Perry) life hangs in the balance following the shooting at Pop's diner, Archie (KJ Apa) struggles with the emotional aftermath of what he witnessed. Meanwhile, as Veronica (Camila Mendes) steps out of her comfort zone to support Archie, she learns that her father Hiram (Mark Consuelos) has arrived to Riverdale earlier than expected. Elsewhere, at Pop's diner, Pop Tate (guest star Alvin Sanders) recounts the chilling details of the shooting, which leaves Jughead (Cole Sprouse) and Betty (Lili Reinhart) questioning the gunman's true motives. Lastly, after running into Cheryl (Madelaine Petsch) at the hospital, Betty and Kevin (Casey Cott) are surprised to learn about the fire at Thornhill.
—
Dynasty
"I Hardly Recognized You" – Series pilot – Wed Oct 11 – 9PM
On The CW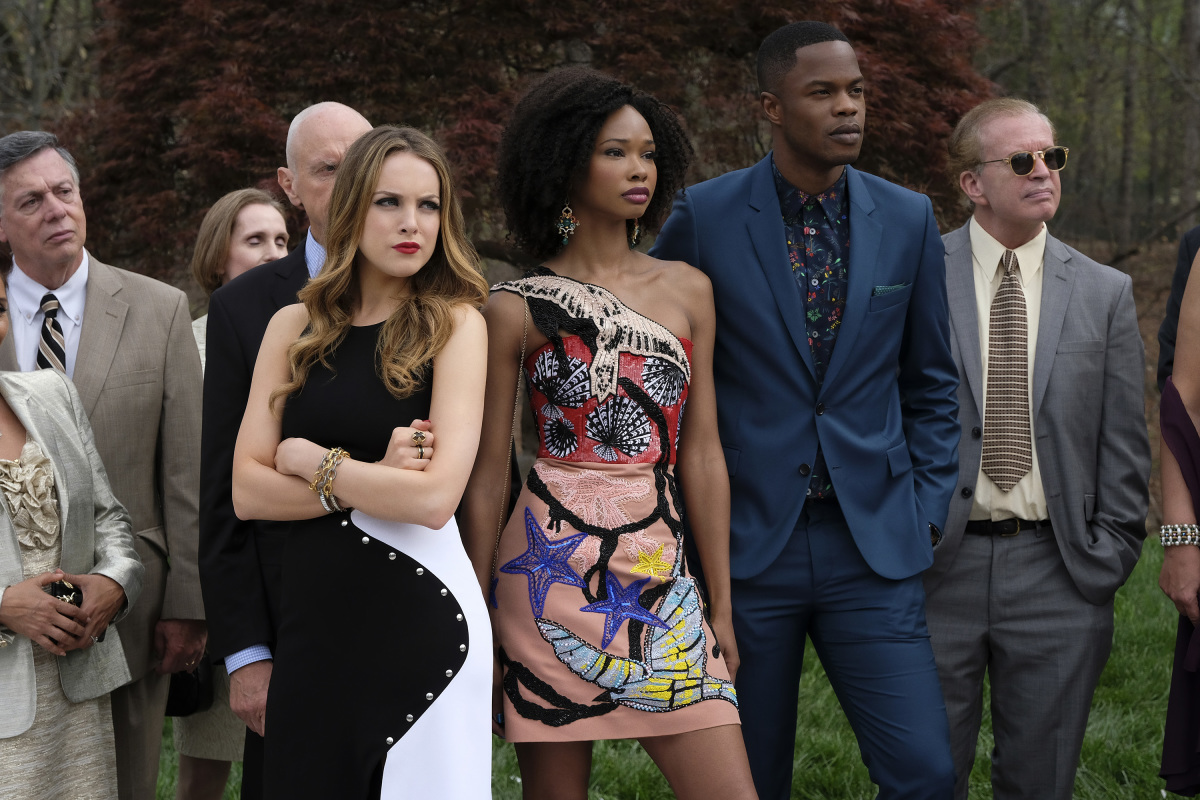 There's a song from an 80s band called Klymaxx with the line, "Alexis Carrington wouldn't give her love to Blake, without a warning sign…" Dynasty is completely embedded in pop culture and CW is giving us "drah-ma" for the millennials, baby. By the way, that song is called "Divas Need Love Too" and with this new Dynasty we have a feeling the divas are going to play hard.
From The CW:
SERIES PREMIERE — Fallon Carrington (Elizabeth Gillies) is charismatic, cunning, and poised to become the new COO of her father Blake's (Grant Show) global energy empire – or so she thinks. Along with her brother Steven, (James Mackay) Fallon is horrified to learn that they were called home not to announce her promotion – but rather to make the acquaintance of their stepmother-to-be, Cristal (Nathalie Kelley). When Blake chooses Cristal over his own daughter, Fallon sidles up to Blake's biggest rival, Jeff Colby (Sam Adegoke), to seek her revenge. Meanwhile, when Cristal's nephew Sammy Jo (Rafael de la Fuente) comes to town, her carefully concealed history could bring her future crashing down – and who knows who else she might take down with her. Alan Dale and Robert Christopher Riley also star.
—
Mr Robot
Eps3.0_Power-Saver-Mode.H – Season 3, Episode 1 – Wed Oct 11 – 10PM
On USA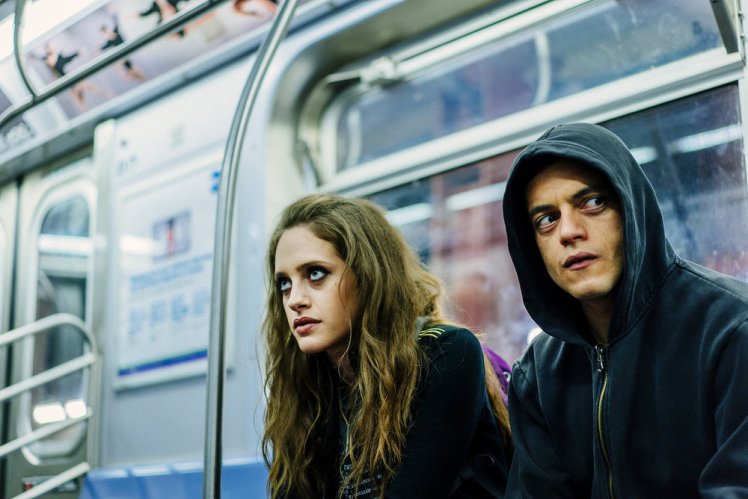 The first episode is aptly titled, because after watching the trailer for season 3, we feel like we need to go into power saver mode just to recover. Or at least, wrap ourselves up in a warm blanket and rock back and forth as we contemplate the horrendous parallels to real life. At least this is fiction, for now—keep telling yourself that. And boy, is it thrilling.
From TV Guide:
In the Season 3 premiere, Elliot gets woke and realizes that his mission needs help from Angela. In other events, Darlene freaks about them coming out clean.
—
The Shannara Chronicles
Druid – Season 2, Episode 1 – Wed Oct 11 – 10PM
On SPK
—
Supernatural
Lost and Found – Season 13 premiere – Thurs Oct 12 – 8PM
On The CW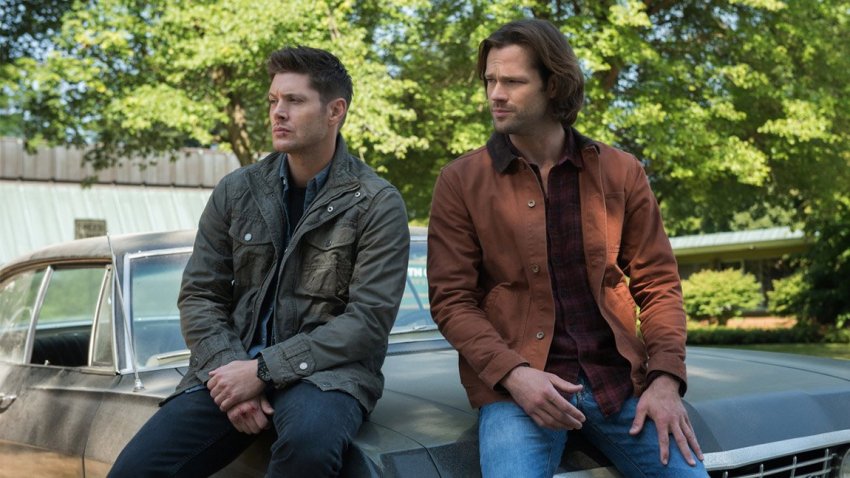 Dammit, those Winchester Boys are like Brokeback Mountain…we can't quit them. (What did you think we meant?) Bring it on for lucky number thirteen, Sam and Dean (and Cas and Crowley)!
From The CW:
THEY'RE BAAACKK… — Season 13 begins exactly where we left off, with Sam (Jared Padalecki) and Dean (Jensen Ackles) left to pick up the pieces after the loss of their mother, the demise of Crowley (Mark Sheppard) and the heartbreaking death of Castiel (Misha Collins). The birth of Jack (Alexander Calvert) leaves the Winchester brothers with differing opinions on how to deal with a Nephilim. After being dragged into the breach, Mary (Samantha Smith) must learn to survive Lucifer (Mark Pellegrino) and an apocalyptic world.
—
Gotham
A Dark Knight: The Demon's Head – Season 4, Episode 4 –Thurs Oct 12 – 8PM
On FOX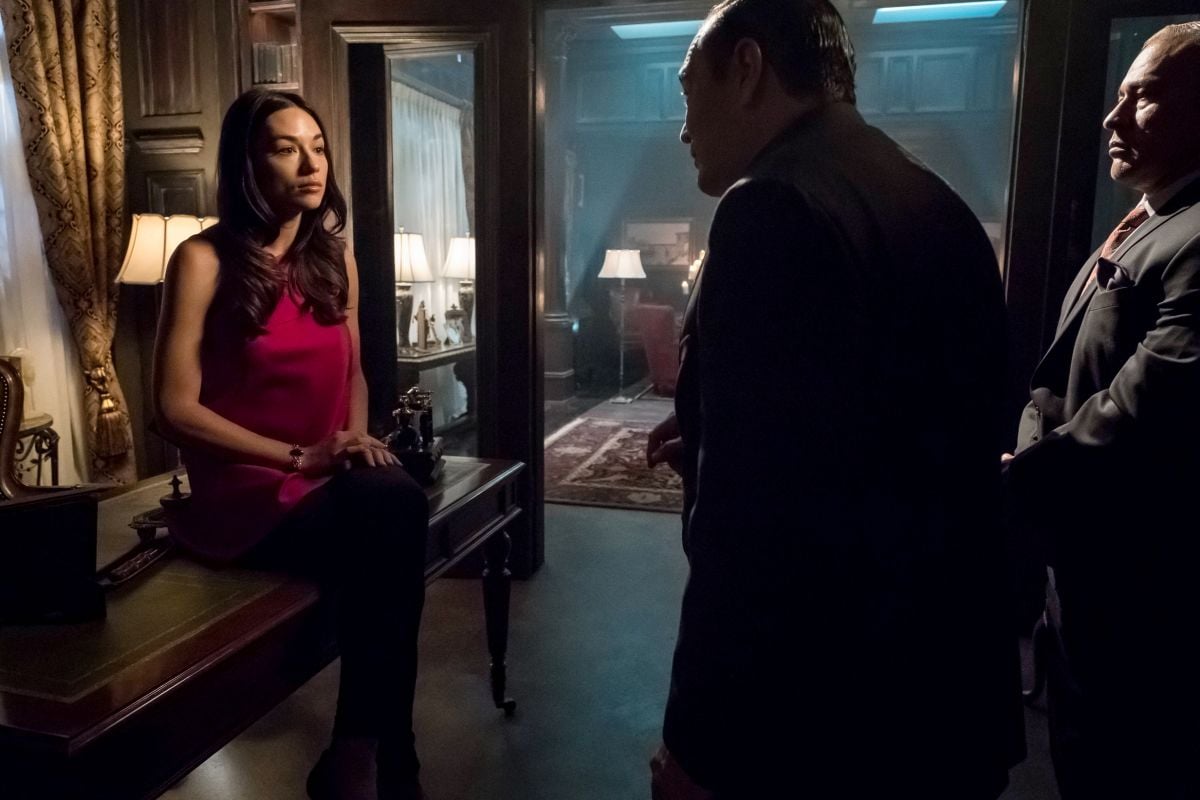 After last week's Miami trip to see Falcone for help in his latest crusade against Penguin, I'm wondering if we're really going to like Jim this season. Have you ever wondered why everyone simply hates Penguin? I do quite often. From his heart, he's simply trying to "Make Gotham Great Again". Now that the city has gone completely mad, government operating in a state of lawlessness, infrastructure ruined, and the stupid have exited thousands of dank basements and taken to the streets with sustainable garden lights, it's pandemic. Why does that sound familiar? Ahh yes, it's textbook Trump, wait  I mean Penguin. Refocusing…we're back.  
"The Demon's Head" promises some sparks. Ra's Al Ghul—who refuses to let go of this mystical knife thing—should make an appearance, and with Ed Nygma free from Penguin's ice entombment, things should finally return to burn in Gotham.  Yes, seeing Nygma all Happy Feet in a block of ice literally made me giggle, but the streets of Gotham have been dull without Nygma's brand of crazy.
Oh yeah, Falcone's mysterious "Wild Things" hot daughter Sofia, followed Gordon back to Gotham to take down Penguin and "reclaim" Gotham as her birthright. She should've just enjoyed sex on the beach with Gordon and left it there. But let's grab some snacks and wait  for coo-coo Barbara to get the news. She's resurrected and running guns to the Gotham underworld…yeah, that should be good.
(Wil Walker)
From TV Guide:
Bruce Wayne puts the lives of Gotham Natural History Museum historian Niles Winthrop and his grandson, Alex, in danger in an attempt to uncover the meaning behind his prized knife from the auction. Meanwhile, Ra's Al Ghul proves he'll take deadly measures to achieve what he wants. Also, Sofia Falcone is on a mission to win back Gotham from Penguin.
—
The Good Place
Season 2, Episode 5 – Thurs Oct 12 – 8:30 PM
On NBC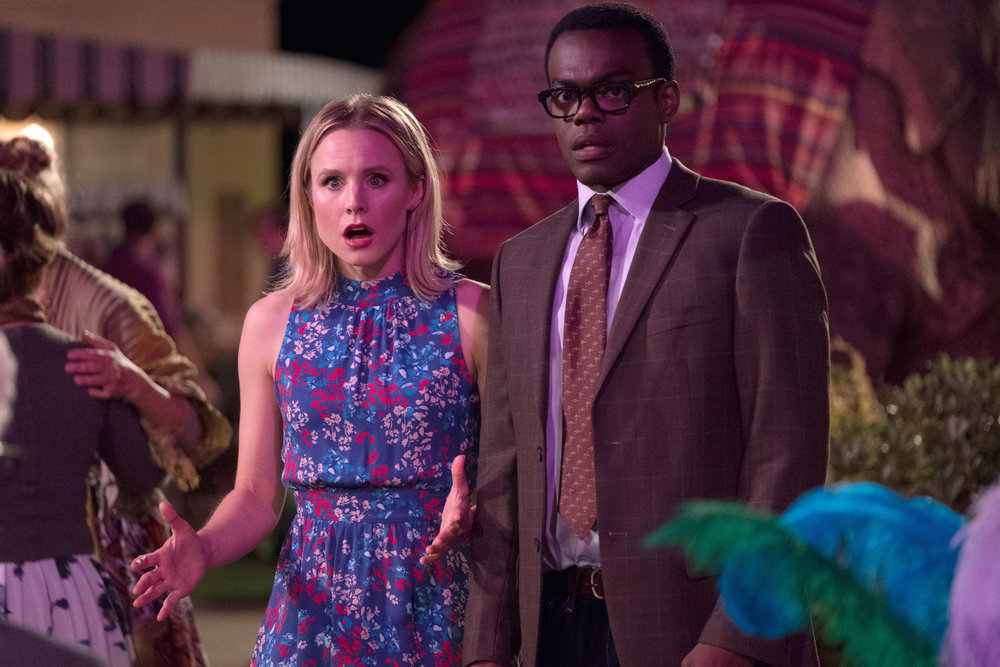 What does one do in times of crisis? Let them eat cake, of course. Tahani does what Tahani does best this week, and throws a dinner party. However, you'd have thought she'd have learned by now not to trust Eleanor and Jason (Jason! Of all people) to help. She's really set herself up for a loss here, and we can't wait to watch the whole thing go up in (what we hope are just) proverbial flames. Bon appetit, because The Good Place is serving up more delicious treats, and there's plenty for everyone.
From NBC:
EXISTENTIAL CRISIS
TAHANI TRIES TO SHINE AND MICHAEL HAS A REVELATION – Tahani (Jameela Jamil) throws a dinner party to impress. Eleanor (Kristen Bell) and Jason (Manny Jacinto) both have to lend a hand when things don't go as planned. Ted Danson, William Jackson Harper and D'Arcy Carden also star.
—
Arrow
Season premiere Thurs Oct 12 – 9PM
On The CW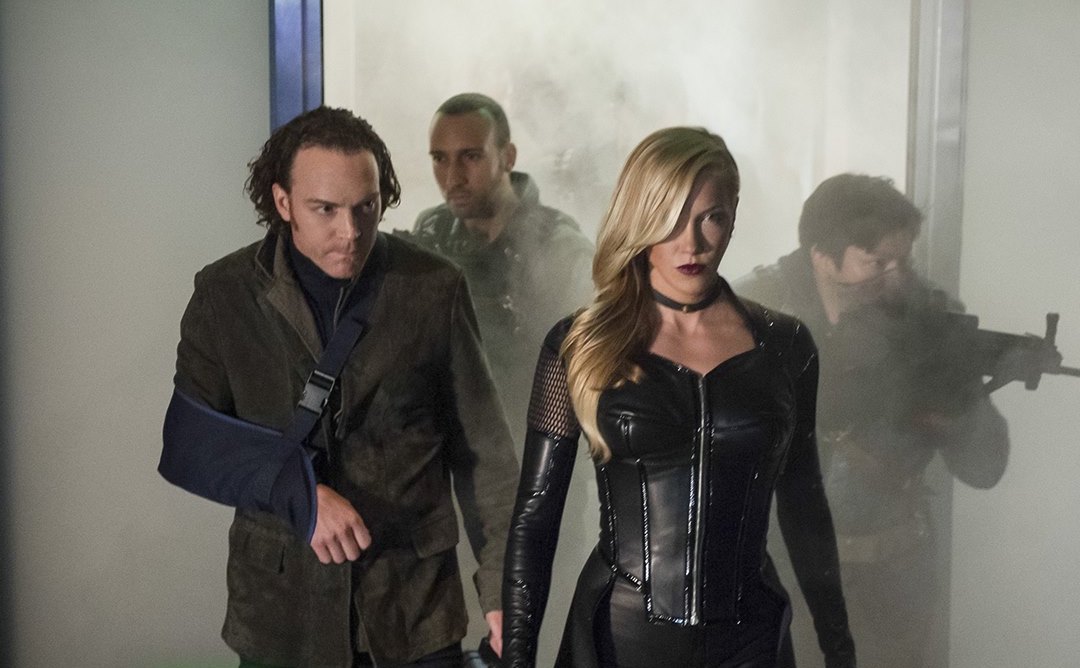 —
Will & Grace
Season 9, Episode 3 – Thurs Oct 12 – 9PM
On NBC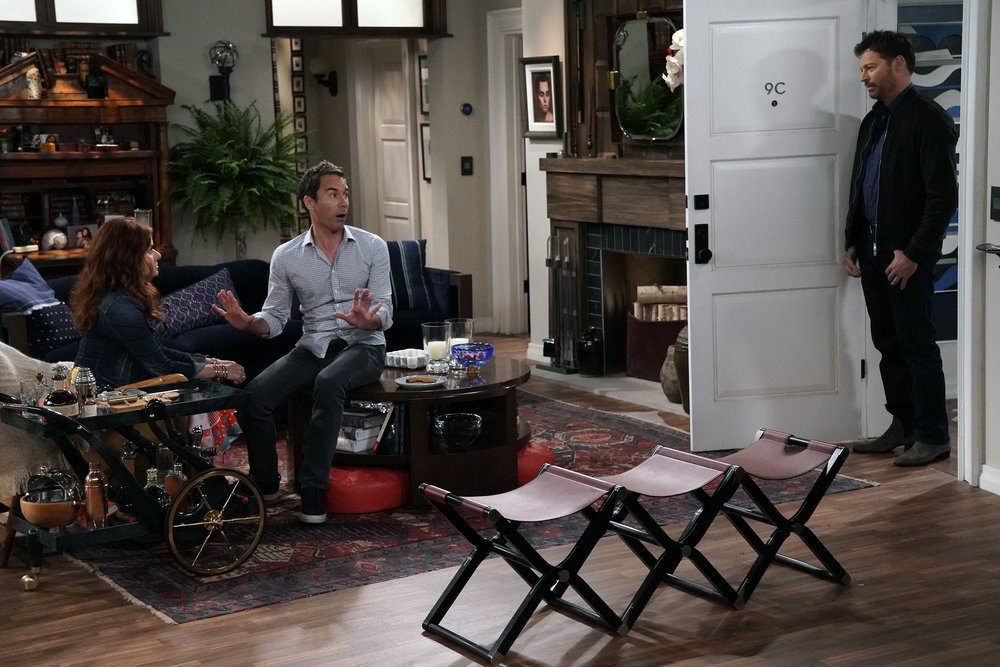 Will & Grace continues to slay the small screen, and doesn't show any signs of slowing down in the third episode. This week Grace gets some unexpected news, and reacts in, well, a very Grace way. But that news brings yet another familiar face back to the W&G screen—her ex-husband Leo (Harry Connick, Jr.). Y'know, we kinda really did miss him. The two always had a lot of back-and-forth tension and this time around it's got enough heat to pop all that popcorn you're gonna need while watching. Meanwhile, Jack finds a new job he loves, and Karen tags along for the ride—finding a worthy opponent for her quick-and-sharp wit in a 12 year old. Wait, what? It's Karen, what do you expect, honey. We'll have whatever she's having as we continue to raise a glass to this fabulous reunion.
From NBC:
EMERGENCY CONTACT
GRACE AND EX-HUSBAND LEO ARE REUNITED – HARRY CONNICK, JR. GUEST STARS: Grace (Debra Messing) is shocked to find that the emergency contact called by her doctor's office is ex-husband Leo (special guest star Harry Connick, Jr.), not Will (Eric McCormack). Jack (Sean Hayes) takes on a new job he never expected to love. Karen (Megan Mullally) befriends a 12-year-old girl in the Bronx, despite her best efforts.
—
Crazy Ex-Girlfriend
Season 3 premiere Fri Oct 13 – 8PM
On The CW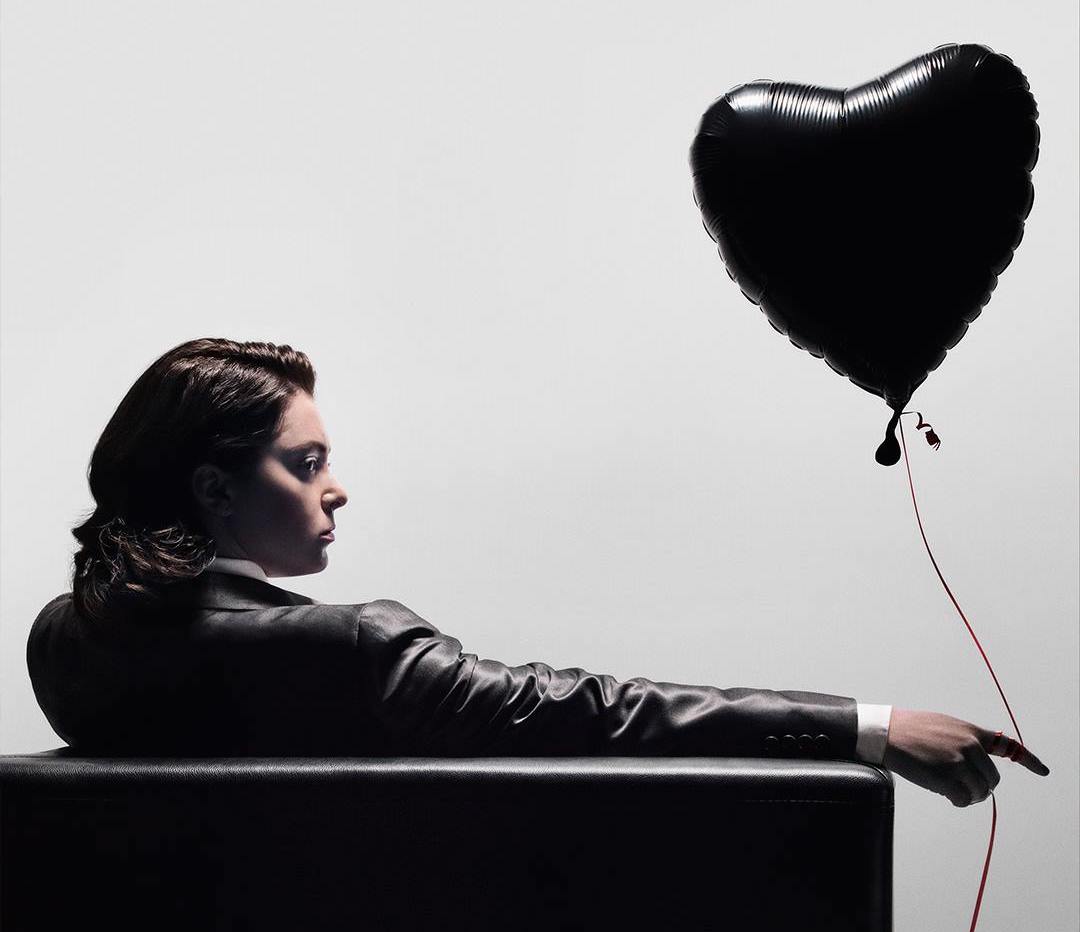 —
Jane the Virgin
Season premiere Fri Oct 13 – 9PM
On The CW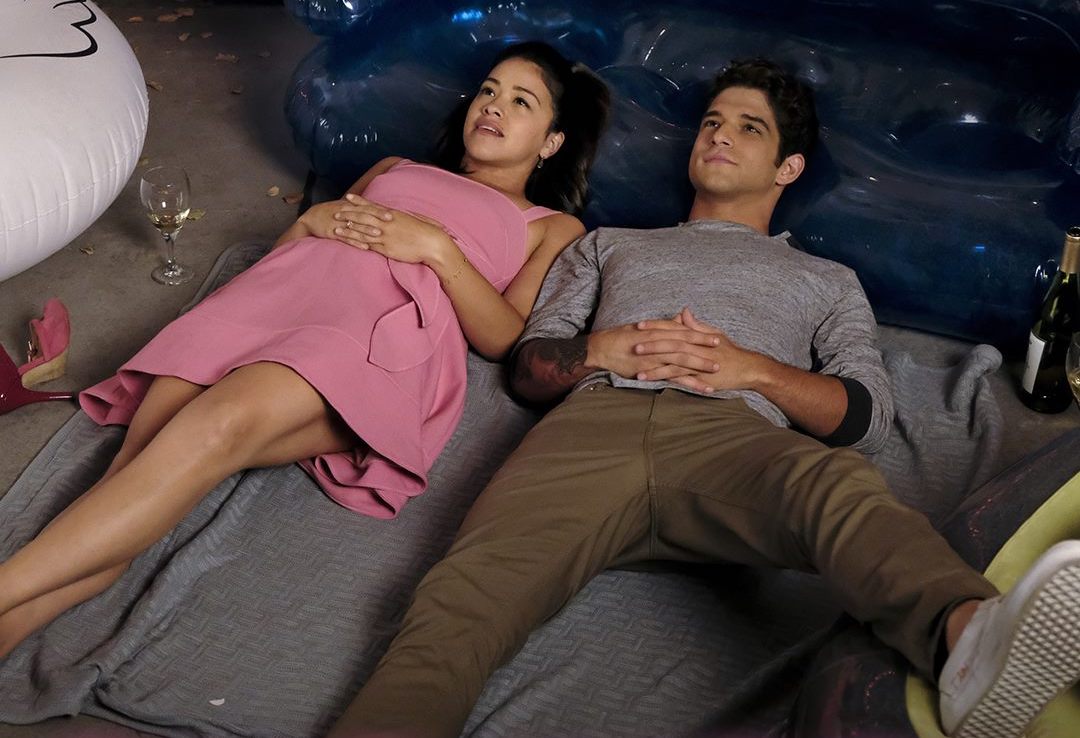 —
Dirk Gently
Space Rabbit – Season 2 premiere – Sat Oct 14 – 9PM
On BBC America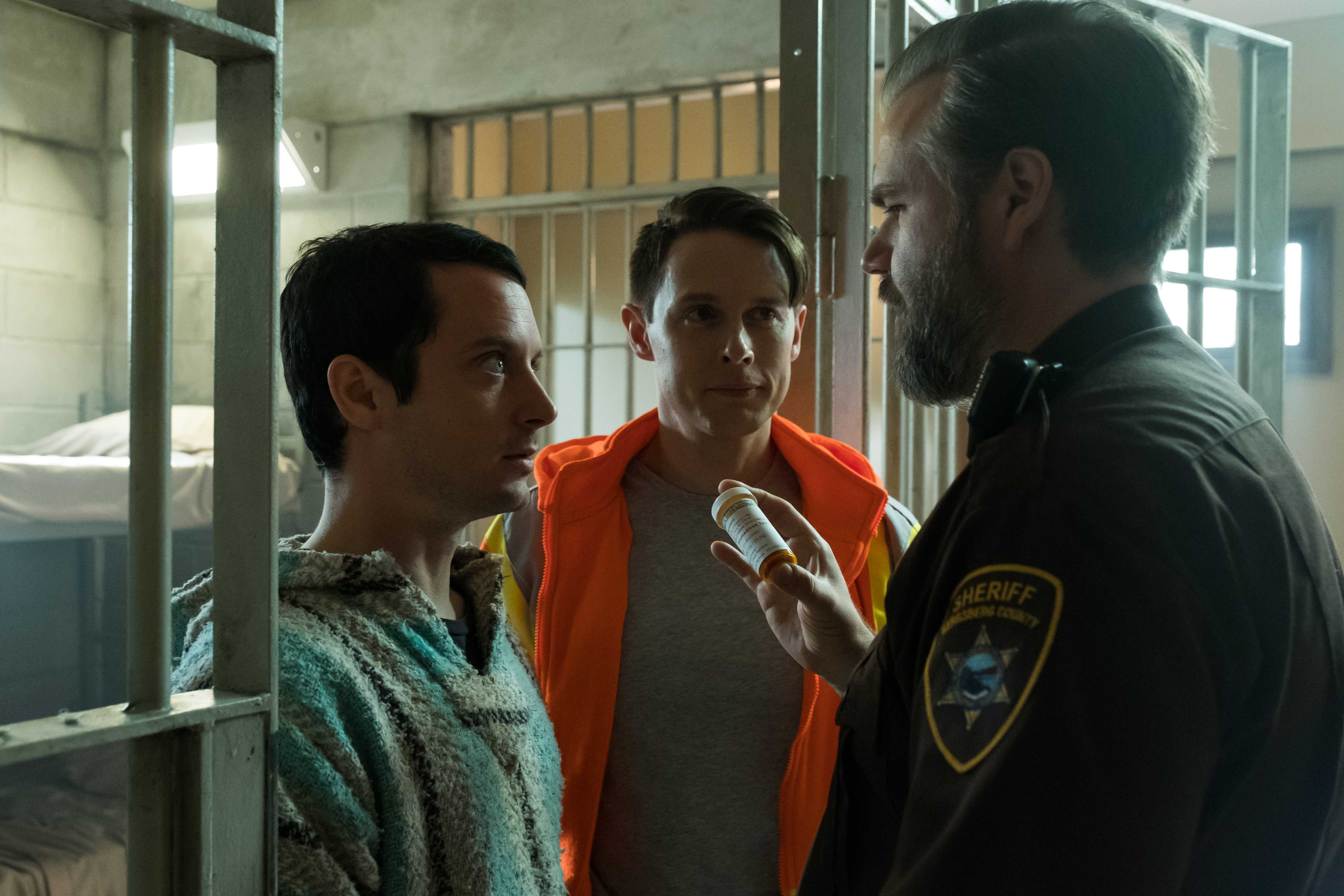 Dirk Gently absolutely believes six impossible things before breakfast. Afterwards he spends the day getting them done. Episode one of season two, "Space Rabbit", is serious down-the-rabbit hole-through-the-looking-glass Douglas Adams inspired, Max Landis written madness and we savor the insanity. Dirk is in a clandestine facility with punk rock vampires, Amanda is the boss as the fifth member of the Rowdy Three (the math works, don't question it), and Todd and Farrah are traveling together (oh my gosh, please let them kiss because that would definitely inspire world peace or at least get someone impeached—we're saying it'd be the good kind of magic). That's really all we can tell you without spoiling it for you. How about this? Close your eyes, grab our hands, and leap…whatever happens will be totally holistic and that means it's good for you.
From BBC America:
Todd and Farah are on the run from the law, heading to small town Bergsberg, Montana in search of Dirk. Mysteriously, Bart's search for Ken takes her to the same small town, where odd, unexplainable events are starting to take place.
—
Star Trek: Discovery
"Choose Your Pain" – Episode 5 – Sun Oct 15 – 8:30pm
On CBS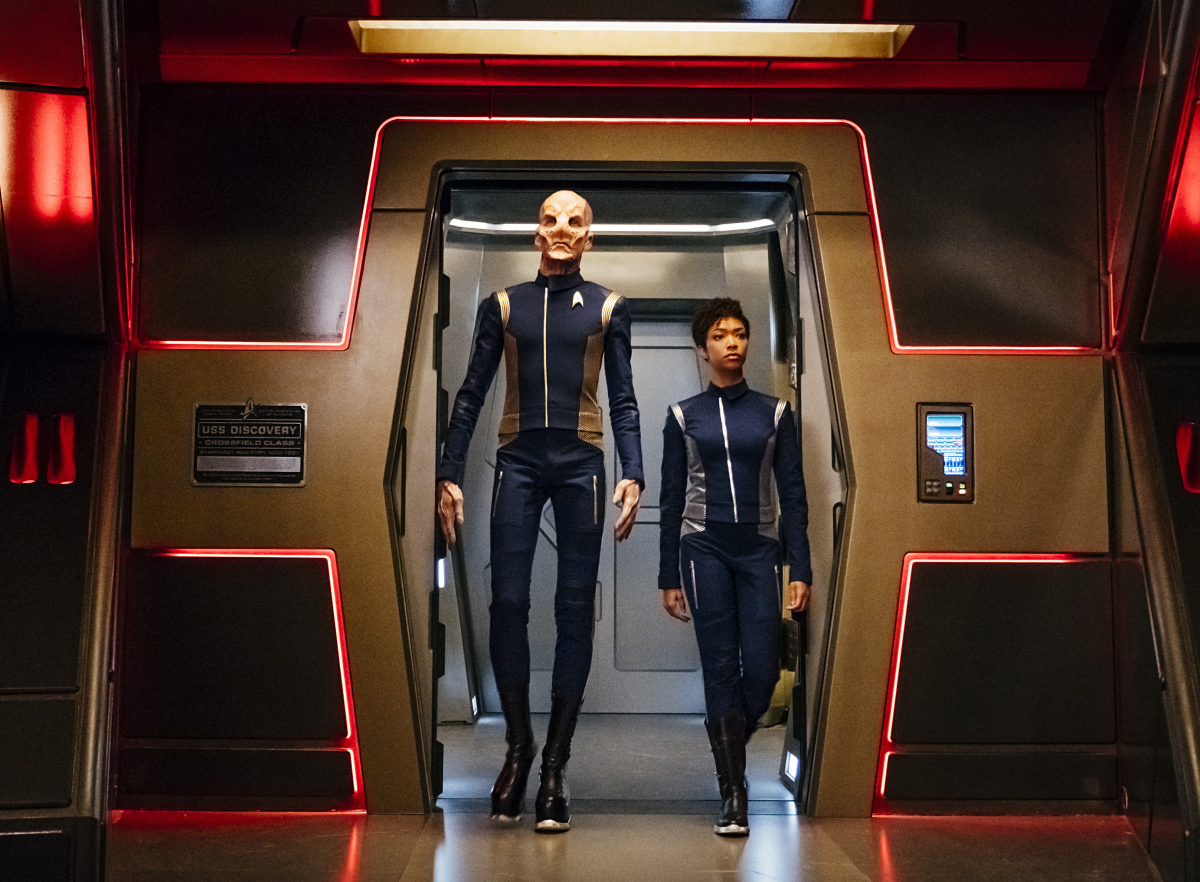 —
Good Behavior
"The Heart Attack is the Best Way" – Season 2 premiere – Sun Oct 15 – 10PM
On TNT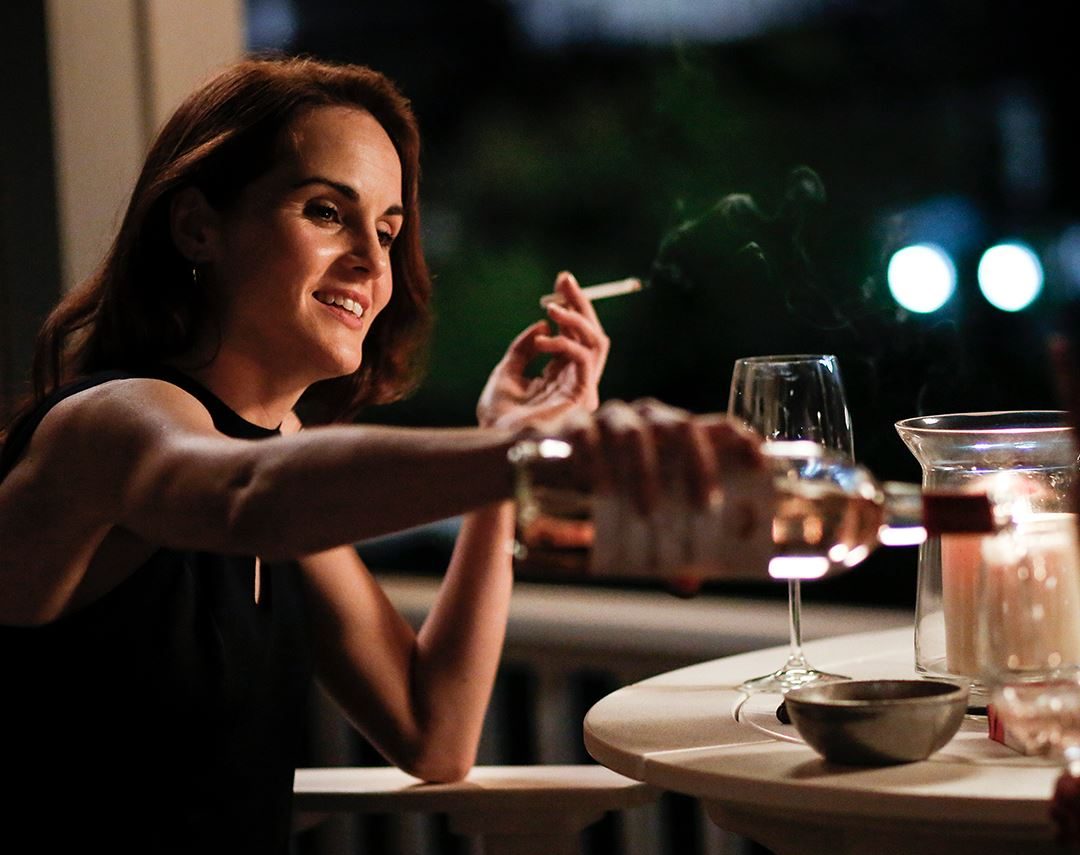 Tags:
Arrow
,
Brooklyn Nine-Nine
,
Crazy Ex-Girlfriend
,
DC's Legends of Tomorrow
,
Dirk Gently
,
Dynasty
,
Good Behavior
,
Gotham
,
Jane the Virgin
,
Mr Robot
,
Riverdale
,
Star Trek: Discovery
,
Supergirl
,
Supernatural
,
The Flash
,
The Good Place
,
The Shannara Chronicles
,
This Is Us
,
Watch This Week
,
Will & Grace
,
WTW