Fans, fanatics, enthusiasts, nuts, addicts, freaks, followers–no matter how you slice it, everyone is a 'fan' or something. We love to worship celebrities, including musicians, elevating them to an almost god-like level, treating them as if they were more than just people. And let's face it, sometimes we make it our life's work to get a selfie with our favorite lead singer. But when it comes to fan-artist interaction, where is the line? How much is too much?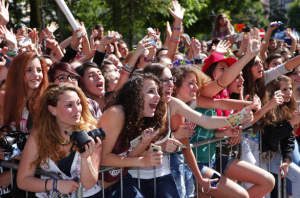 Last year at one of The Story So Far's gigs in Texas, a fan hopped up on stage and kissed frontman Parker Cannon on the lips. Obviously, he did not consent to the kiss, so her actions were a huge invasion of his personal boundaries. Some may consider it to be a form of sexual assault. To make matters even more uncomfortable, TSSF fans who have met Parker say he isn't keen on giving fans hugs and touching in general–possibly due to his pectus excavatum; if you aren't familiar with the condition, it means his chest is sunken in the middle, creating an indent on his torso. It's possible hugs cause him discomfort, so it's easy to see why he would refrain. But whatever his reasoning may be, Parker has the right to determine his own personal boundaries. And The Story So Far have never been opposed to fan interaction; they play shows without barricades so fans can jump up onstage and interact with the band. They give their fans plenty of opportunities to get personal in a way that's comfortable for everyone, keeping the fans' interests in mind. It'd be nice if fans showed them the same consideration and respect.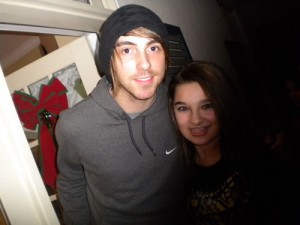 Live shows aren't the only place for artists to lose a sense a privacy; sometimes they can't find peace within their own homes. Back in 2010, two All Time Low fans stalked lead singer and guitarist Alex Gaskarth from the bushes outside his own house. Alexandra King and Charlotte Armstrong bought his address information from someone in the neighborhood (cue the creepy music) and waited in in his yard, taking pictures of the the home and Alex's dogs. When he and his girlfriend returned home, the girls hid in the bushes until eventually being caught by the man himself. As to be expected, Alex was furious at the incident, and posted multiple tweets (that have since been deleted) about how an artist's privacy should be respected, especially within their own homes.
If you have a job, you're familiar with etiquette in the workplace; you are expected to respect the privacy and personal space of your fellow employees. For a musician, a venue is their workplace, they should never feel unsafe there. Shouldn't being harassed by the fans they work so hard to entertain be the last thing they have to worry about?
Okay, we get it, part of being a musician requires artists to forfeit some aspects of their privacy; for example, they have to think twice before posting a tweet, as many times expressing their opinions upsets large sections of their followers. Or maybe they need to keep their dating life under wraps to protect their significant other from harsh fan criticism or even harassment. Back when Selena Gomez and Justin Bieber were dating, Gomez received death threats from Bieber's fans over social media on a regular basis. That's quite a scary situation, but for some artists like Bieber, it's the norm. They also have to work hard to watch what they say and do to avoid negative attention from tabloids or fans. Artists have earned the right to a little personal space, considering so much of their life is publicized.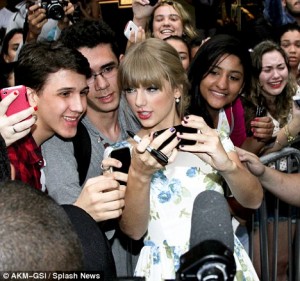 As fans, we are part of a band's career, not their personal lives. Unfortunately, some fans can't grasp that, and try to force themselves into an artist's life in any way possible. Earlier this year, Taylor Swift was granted a 3 year restraining order against a man who threatened to murder "any man that came between them." The man, Timothy Sweet, was obviously obsessed with Swift, and even believed they were married. He sent her multiple emails, tweets, and letters detailing his fixation with her, terrifying Swift to the point where a restraining order became necessary. Though this is an extreme case and Sweet is definitely an unstable person, artists risk being put in this scary situation just by doing their jobs.
There are plenty of ways to be a great fan rather than an obsessed fanatic. Buying music and merch is obviously a great way to show support, but musicians also love seeing fans come out to live shows. And you don't need jump up onstage and plant a kiss on the lead singer to show your love of the band; your presence shows all of that. Spreading the word about the band is a great way to help your favorite artist get recognized for their hard work, and can even help them succeed in the business.
We all learned the golden rule in kindergarten, "Treat others as you would want to be treated." Would you want someone making unwanted sexual advances towards you in your workplace? Or waiting in your bushes to catch a glimpse of you when you got home? An artist's life is their own, and they should have the right to choose how much of it they share with their fans. Just because they are expected to deal with the pitfalls of fame doesn't mean anyone has the right to swarm into their personal space.
Sometimes the line between fan x artist interaction can be blurred by our own desires to reach out to those we look up to most. But in the end, how you approach your favorite artist is really up to you. You can choose whether or not to harass a musician's family and friends over social media, or spread the word about their new album to your classmates. But, though it may not seem this way, you are affecting a real person with real feelings, just like anyone else.
There needs be a sense of peace between artists and fans, one without harassment, but with support and courtesy. Let's leave our obsessive natures at home, where the only thing wounded is our ego.
Tags:
All Time Low
,
Justin Bieber
,
Selena Gomez
,
Taylor Swift
,
The Story So Far