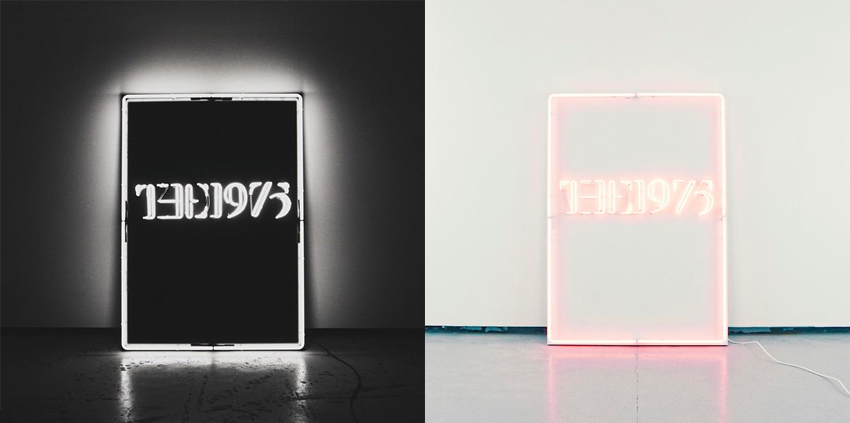 Months ago The 1975 went completely dark leaving fans to mourn in the band's strong, all-black aesthetic while they waited for answers from a band that couldn't possibly abandon their enormous potential. Sure enough, The 1975 reappeared in a scene comparable to when Ralphie came down the stairs in a shock of pink in "A Christmas Story". No bunny ears here though, just "easter eggs" (as frontman Matty Healy would call them) full of clues for those paying close attention. Whether you have been paying attention or not, the idobi staff is here to let you know what you are or aren't missing out on. We have pitched new songs against old in order to help you decide for yourself: Team Black or Pink? (Hannah Hines)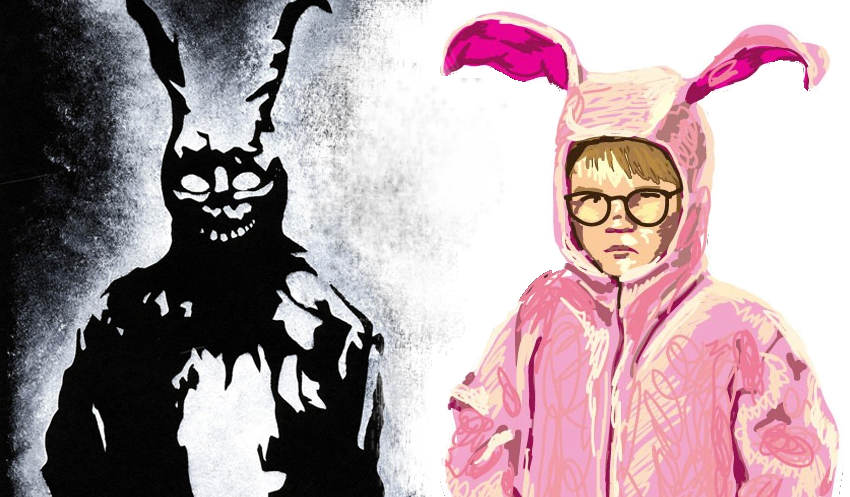 "The City"
vs.
"Love Me"
Tough choice here between the mirrored tracks that signal the start of each album from The 1975. On their self-titled album, "The City" is a good song, but "Love Me" from this new and insanely long-titled album is great. It has a high intensity that smacks you in the face with synthy richness, and possibly deep lyrics. I say possibly, as it seems to be a song about the vanity of internet culture. Yet it also seemingly cries out for attention in lines like, "You look famous, let's be friends. And portray we possess something important" and "we've just come to represent, decline in the standards are what we accept" closely followed by a hook of "Love me, if that's what you wanna do" each time. It's definitely a nod to celebrities who lack a reason for being famous, but it leaves me thinking there could be a deeper meaning of how relevant lyricist Matty Healy feels. I'm going with pink for this match-up. (Olivia Carpenter)
TKO: Pink
—
"M.O.N.E.Y."  

vs.

"UGH!"  
"M.O.N.E.Y." was a huge switch up in the stream The 1975's self titled release. It's the only song like it on the album. While "UGH!" is a fantastic song, the entire album I Like It When You Sleep, For You Are So Beautiful Yet So Unaware Of It is a revival of 90's pop influence that is sort of universal across the whole album. Meanwhile "M.O.N.E.Y." is a distinct song off of their self-titled release that was avant-garde for the time, and is catchy in the way that it plays with experimental electronics and rhythms. "M.O.N.E.Y." is the winner due to the dynamic nature of the track. When you first hear it, you may get this weird electronic and experimental vibe from the group, but it is so different compared to the rest of the album that the track compliments how versatile the band can be. "UGH!" has a similar sound to the rest of the songs on their newest release and is definitely not as much of a surprise as hearing "M.O.N.E.Y." for the first time. (Jake Lahah)
Winner By Decision: Black
—
"Chocolate"
vs.
"A Change of Heart"
The emo kid inside of me is upset that I'm saying this but team Pink! There is no denying that "Chocolate" was a peak of mainstream success for The 1975, which played over the radio as if it were any other pop song, but the track is best kept in the context of its album. "A Change Of Heart" is ironically a response to the band's previous release with lyrics such as, "You used to have a face straight out of a magazine / Now you just look like anyone". While the new album repeats themes and even lyrics like these, it's evident The 1975 liberated themselves before delving into this record. The result is songs such as "Change Of Heart" with slower, synthy atmospheres that Black-era listeners will find to be a pleasant surprise. (Come to the light side!) (Hannah Hines)
Bet On The Underdog: Pink
—
"Sex"

vs.

"She's American"  
Two songs that differ in almost every aspect lyrically have never been so similar in context. "Sex" from 2013 and "She's American" from only a few days ago both seem to have been written about girls you briefly get involved with after a long night; with one girl making more of an impact than the other. Unlike "Sex," whose explicit storytelling paints exactly its title, "She's American" delves deeper into getting tangled up in a not-quite-relationship. Appointing it as my favorite track wasn't hard. Being from New York, I immediately gravitated towards its 80's beat and opening line: "Big town, synthetic apparitions of not being lonely." Through its lyrics, frontman Matt Healy also talks about things like cultural differences between the British and Americans–a recurring theme on the new album. With its semi-disco, semi-funk vibe it transforms topical subjects ("And I think she's got a gun divinely decreed and custom made") into a catchy verse with an even more catchy hook. (Dana Reandelar)
Champion: Pink
—
"Heart Out"
vs.
"Lostmyhead"
Despite being five minutes in length, "Lostmyhead" is more like an interlude than a song–a chance to show off instruments, but there's not much going on in the vocal department. Still, not everyone can pack as much emotional punch into a couple of sentences like The 1975, such as "And you said I've lost my head. Can you see it?". It's a great line, but compared to the vibrancy (not to the mention the sexy saxophone solo) of, one of my personal faves "Heart Out", there's really no contest. "Lostmyhead" is something that can be lost in the shuffle, maybe even skipped if you were short for time, but I dare you not to bop around to the 80's beat that holds up "Heart Out" or shout along to the chorus at a live show (plus the video is adorable!). In this case, Black wins. (Sam Devotta)
The Ultimate Fighter: Black
—
"Robbers"
vs.
"Somebody Else"
Depressingly dark lyrics amongst cloudy pop vibes make up "Somebody Else", while indecipherable mumbling surrounded by a gloomy atmosphere and infectious beat create "Robbers". "Somebody Else" is a worthy contender for the best The 1975 song of all time, mostly because you can sing along to more than the last lyric ('cause babe you might look so cool, but we'd like to be able to scream your lyrics back at you). But at the end of the day, the unexplainable appeal of a cops and robbers storyline (I think?) and a badass leading chick, accompanied by the goth indie pop only The 1975 can create, is more appealing than anything else on my playlist. (Emillie Marvel)
Taking the Title: Black
—
"Girls"
vs.
"Loving Someone"
It's hard to pick a winner when two songs as diverse as "Loving Someone" and "Girls" go head to head. "Girls" is the kind of song you put on repeat all day long. With clear cut guitars and a damn catchy hook, this is one of the tracks that made me instantly adore The 1975 (after "Chocolate" of course). But "Loving Someone" is a whole different thing. It's way more chilled out, for one. It feels like a transitional song between the band's black and pink eras, but while you can totally relax with this song, it's not a skip-over track. Vocalist Matt Healy delivers poignant as well as pointed lyrics and critical social commentary on pop culture. What's especially intriguing to me is the latter of the song, which dives into pure poetry. The vocals get a little fuzzy, but the lyrics are a splendid burst of imagery, like in my favorite, final lines: "Between the spires and rolling roofs of the white city, that orange, English light casts only one, singular shadow, for you are not beside me, but within me." I'm pretty sure we can expect some pieces of this song to show up on some Tumblr aesthetic blogs in the near future (especially with the awesome neon single art released!). (Hannah Pierangelo)
Prize Fighter: Pink
—
"She Way Out"

vs.

"The Sound"  
It's not even officially spring yet, but The 1975 have already transported me to a world of bubblegum pastel summertime with "The Sound", featuring big and catchy synth hooks that are impossible to resist. The scattering of melodies at the beginning of the track gave me the chills, not unlike a cool ocean breeze rustling through palm fronds. The 1975 have created a world where declarations of moving on are chanted at the top of your lungs, where self actualization goes hand in hand with self-love, where a "simple Epicurean philosophy" is embraced. And perhaps it's something we all should adopt–the kind of ambition to focus on a happy and content life in the now. Is it the better version of #YOLO? Either way, "The Sound" is bound to be the next anthem of summer 2016, so until the weather starts warming up, feel free to turn up the volume, close your eyes, and let yourself be whisked away to a place where summer never ends. (Emily Yee)
Going the Distance: Pink
—
"Pressure"
vs.
"Paris"
This is the musical equivalent of having to pick a favorite child. "Pressure" was a highlight off The 1975's debut and up until last weekend this would have been a no-brainer, but today I'm going to have to go with "Paris", simply because I haven't shut up about it since the new album dropped. For me, "Paris" has a nostalgic and homely feel, for two reasons: one, as a Londoner the hometown references slipped in with a melancholy tone perfectly capture the loneliness of a big city; even if you have that deep-rooted insistence you'd never live anywhere else, you still dream of escaping sometimes. And two, having spent a lot of time in France, "how I'd love to go to Paris again" is a wish I know well, made stronger than ever with the escapism in this song. "Paris" bottles up the ache of missing something, and slowly pours it back into your soul with soothing tones and softly layered synthpop beats to give you not only a deep yearning to feel at home, but also a sense you can be there if you just close your eyes and sway to the music. (Alex Bear)
Top Dog: Pink
Tags:
I Like It When You Sleep for You Are So Beautiful Yet So Unaware of It
,
The 1975