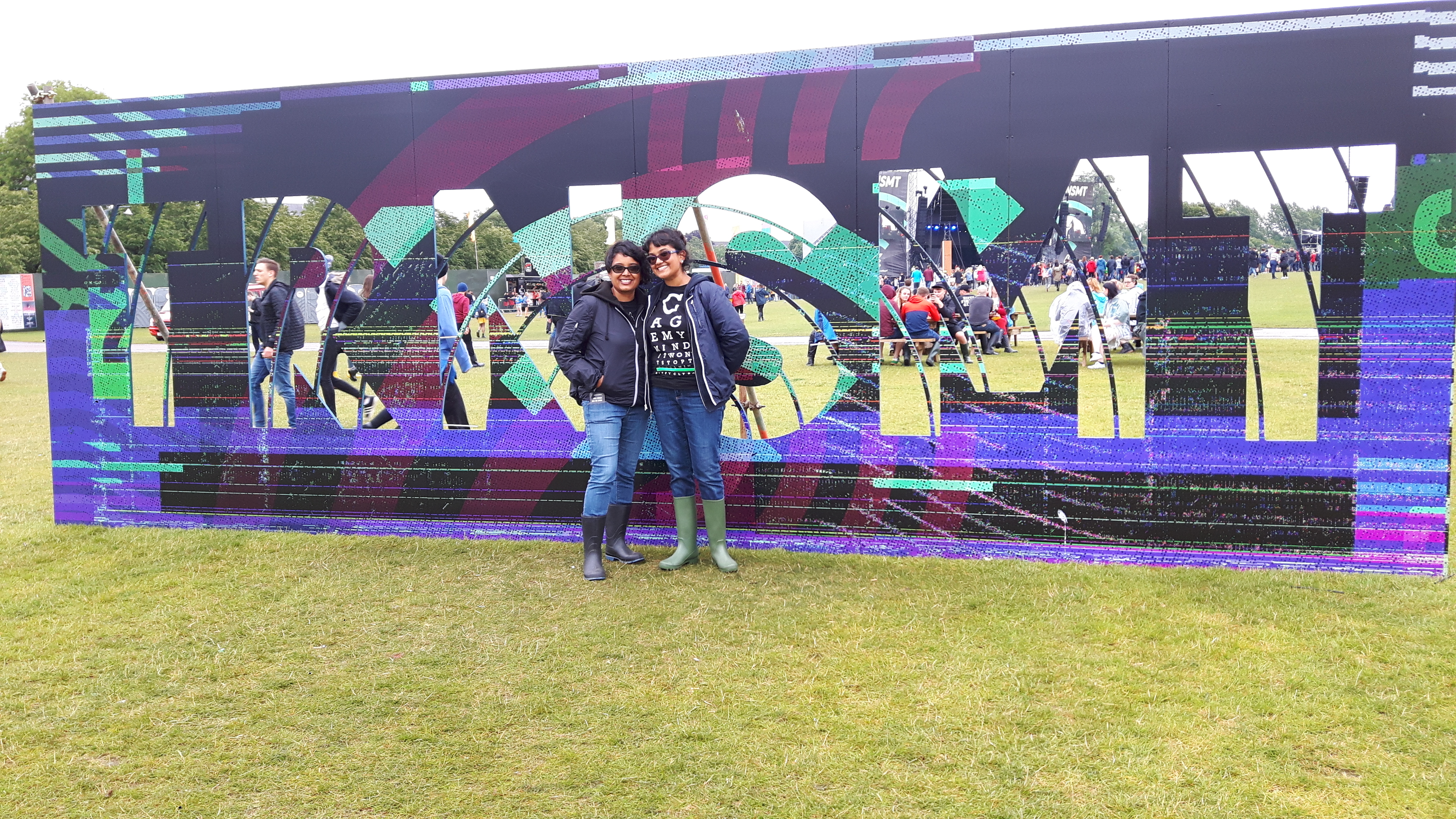 All photos by Sam Devotta.
Reading & Leeds. SlamDunk. Glastonbury. Download. If you're a connoisseur of the UK music scene like I am (despite not actually living in the UK), all those names will sound familiar. They're just some of the annual rock music festivals that take place across the pond every summer, and I've spent years dreaming of attending one in all their rainy, muddy, sweaty glory. And then this summer, I got the chance to cross an item off my bucket list when Scotland hosted the inaugural TRNSMT Festival.
Running from July 7-9 in the middle of Glasgow (no, literally: Glasgow Green is within walking distance of the city center), the festival's first line-up was a smorgasbord of UK artists. Biffy Clyro, The 1975, Twin Atlantic, Two Door Cinema Club…and those were just the ones playing the mainstage on Sunday! There were headlining sets from Radiohead on Friday and Kasabian on Saturday, supporting slots from London Grammar and Catfish & the Bottlemen, George Ezra and The Kooks, and many local up-and-comers who had their own small stage, sponsored by legendary Glasgow venue King Tut's Wah-Wah Hut (a place I desperately want to visit not just because of the great name, but because it's hosted so many huge bands before they made it big, from Coldplay and Paramore to Fiona Apple and Oasis).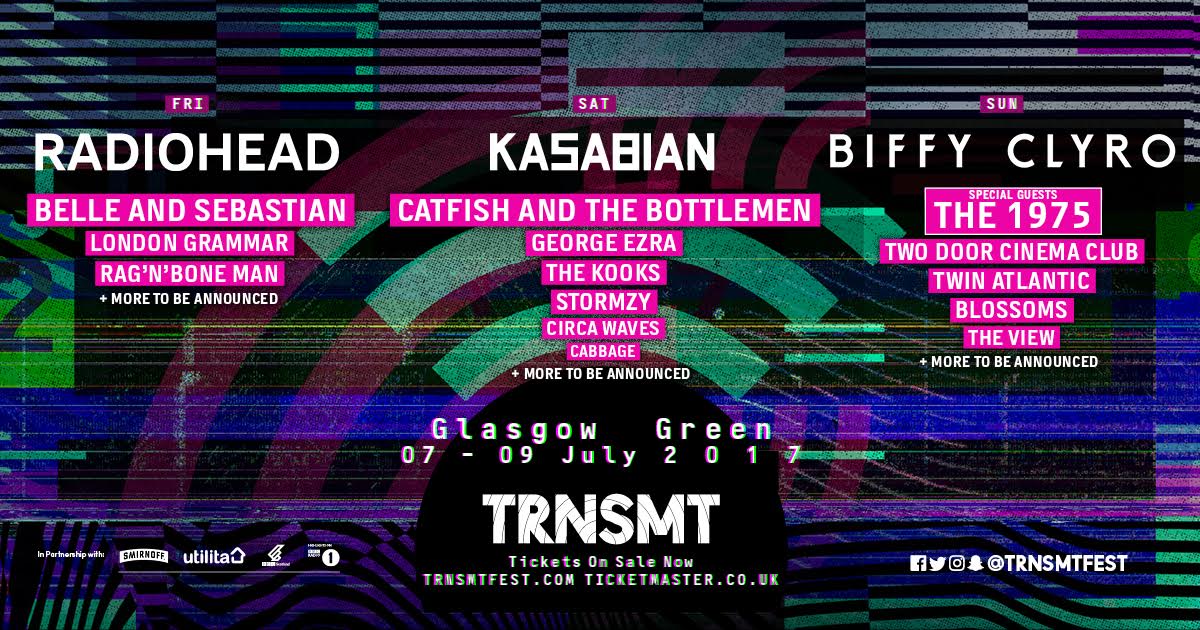 Poor me, I didn't get to Glasgow until Saturday, so while I'm sure Radiohead put on an entertaining show, I didn't see it for myself. Nor was I there for Kasabian's electrifying closing set, but since Saturday was bright and warm (for Scotland), festival-goers were probably thrilled to soak up the sun.
Sunday, on the other hand, dawned gloomy and grey. I felt overdressed as I followed the crowd of music fans along the River Clyde to Glasgow Green, clad in rubber boots and a raincoat while locals flounced around in shorts and crop tops, but I had the last laugh when the skies opened up halfway through the day.
I think at some point every music fan has thought "if I had my own festival, I would do (fill in the blank)". Well, I believe the brains behind TRNSMT are actually mind readers because they knew exactly what I wanted. Not only were they excellent at keeping ticket holders informed for weeks before the festival, sending out regular emails with updates, guidelines, and FAQs, but they also created a handy app where you could bookmarks the bands you wanted to see and get a reminder fifteen minutes before they went on stage. Despite not having an internet connection, the notifications still worked, which made planning the day a breeze.
What they lacked in WiFi, they made up for in a number of other amenities. There was a "tree" where you could plug in and charge your devices for free. The toilets were constantly maintained, making them the cleanest I've ever seen at an outdoor venue. There was a huge map of the grounds to make navigation easy, and free water refill stations (which should be mandatory at all concerts) and, oh, the food options! Sure, you could get regular old pizza and hamburgers if you wanted, but you could also get haggis (a Scottish delicacy!), and churros, and pasta, and Chinese takeaway!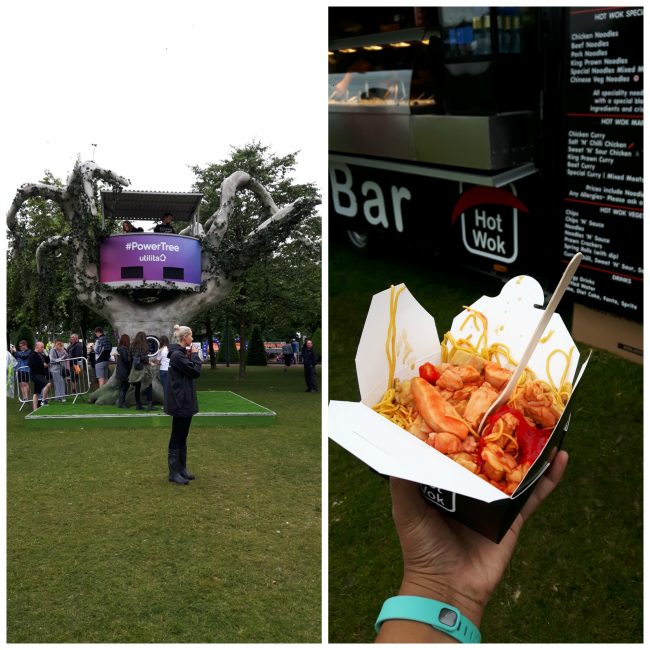 The lineup was, as far as I could tell, exclusively bands from England, Scotland, and Ireland. I had a great time discovering acts like Blossoms and The Amazons, and dancing to Two Door Cinema Club's set in the rain. But there were three bands that absolutely stole the show on Sunday.
If you haven't yet experienced the joy of Sam McTrusty's Glaswegian vocals, here's a convenient link to my favorite Twin Atlantic song (you're welcome). The hometown heroes started their set with a bang as blue and white confetti exploded off the stage to the strains of their opening song "Whispers".
For a band who named their latest album GLA as a tribute to their home, it must have been thrilling to play such a huge event and they were visibly excited. McTrusty even sounded emotional when he explained that they regularly write and record a few blocks away from Glasgow Green. The crowd loved them, bellowing along to every song from "Yes I Was Drunk" to "Heart and Soul"—there was so much hometown love for them, they could have been elevated to main support to really drive home the Scottish pride, but I have no doubt that they will one day headline TRNSMT.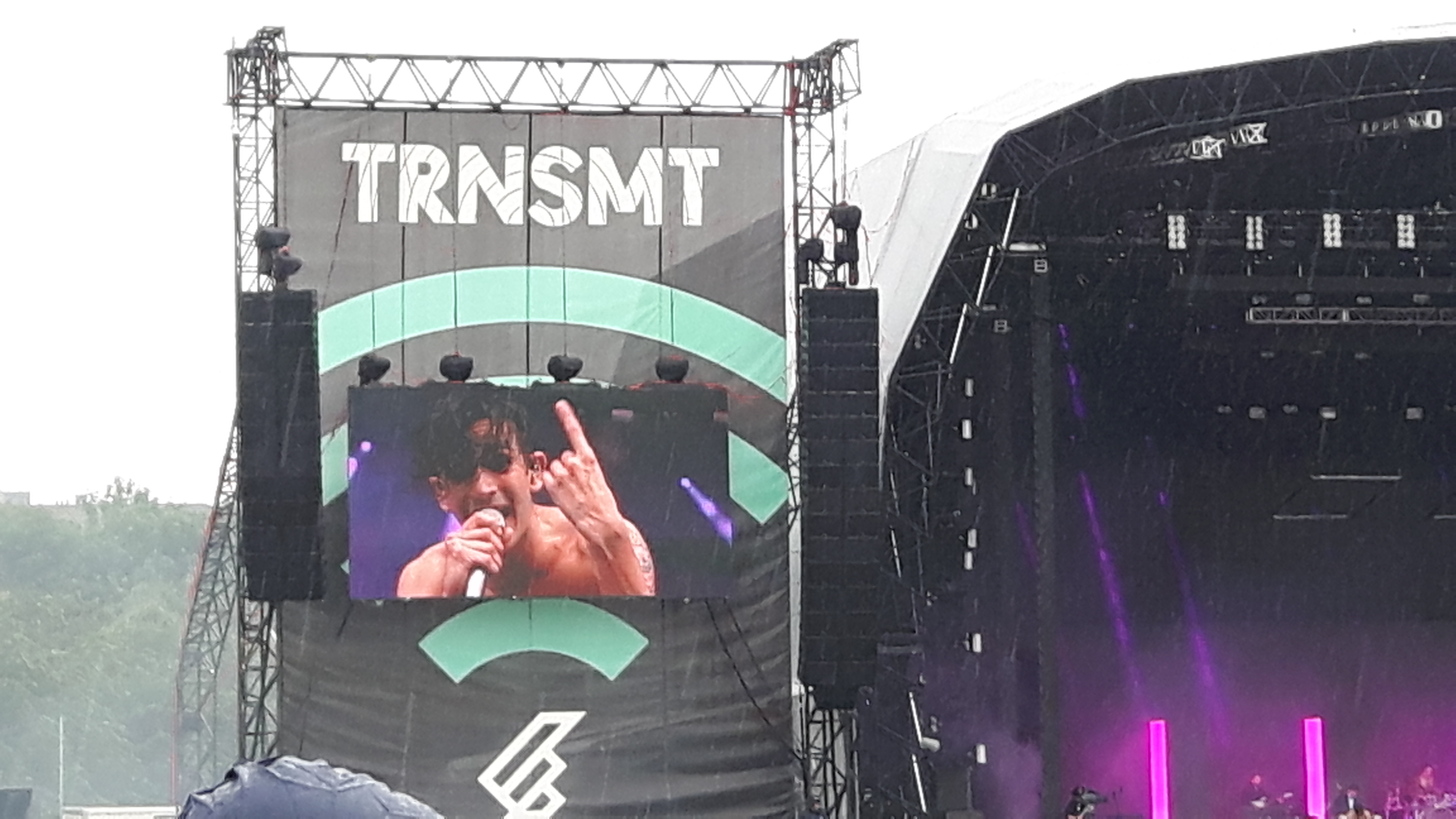 The main support on Sunday came from The 1975. I found out later that it was their penultimate show for their I Like It When You Sleep… cycle, but they were just as enthusiastic as they always are, by which I mean Matty Healy swaggered onto the stage, his makeup already dripping from the downpour, and threw himself into "Love Me" with aplomb. Energetic and charismatic to the end, Healy pranced and pouted his way through the setlist—nearly identical to the one they played during their recent arena tour, minus the instrumental interludes—preaching love and acceptance (before "Loving Someone") and leading an impromptu [Jeremy] Corbyn chant. The audience seemed split, half of us sobbing through "Robbers" and screaming along to "Chocolate", while the other half made snide remarks and rolled their eyes, especially when Healy encouraged us to give it up for "everyone's favorite band", The 1975, before ending with an exuberant rendition of "The Sound".
With praises coming from both Twin Atlantic and The 1975, and a reputation for being one of the biggest rock bands in the UK right now, it was little wonder that Biffy Clyro drew a massive crowd for the festival's final performance. Hailing from nearby Kilmarnock, Glasgow is basically the trio's home turf, and they made sure they put on a hell of a show. I've waxed poetic over Biffy Clyro before, and this performance was just as polished and entertaining as expected, whether it was the explosive opener "Wolves of Winter", fan-favorite "Bubbles", or slower songs like "Folding Stars" and "Re-Arrange".
Their final song, "Stingin Belle", was accompanied by a dazzling display of fireworks, shooting up from behind the main stage to light up the sky. It was a triumphant way to mark the ending of a festival that, with any luck, will be around long enough to gain worldwide recognition (they've already announced next year's dates), and was a more than thrilling experience for me.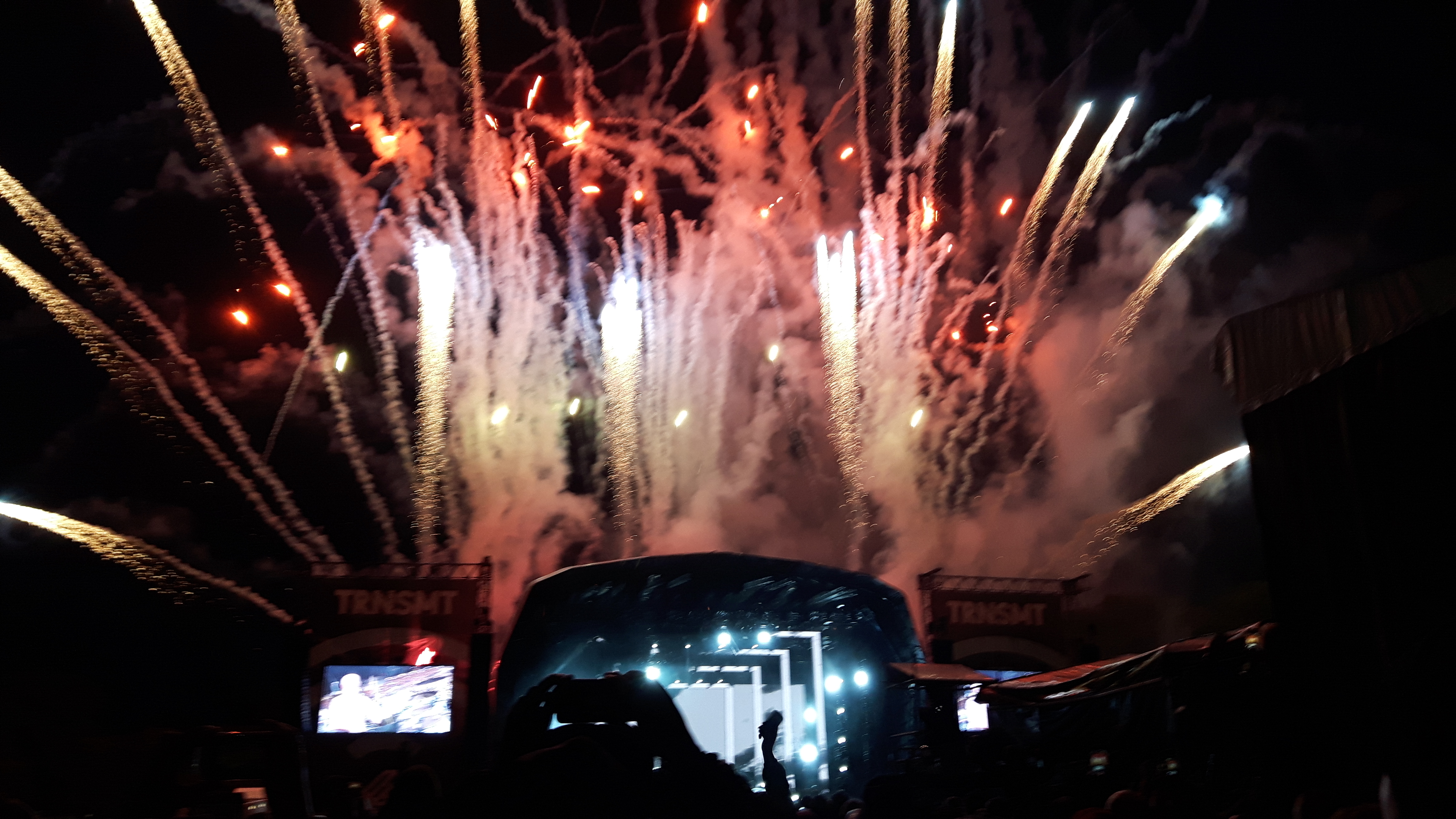 Tags:
Biffy Clyro
,
Show Review
,
The 1975
,
TRNSMT Festival
,
Twin Atlantic