by Kat Bittner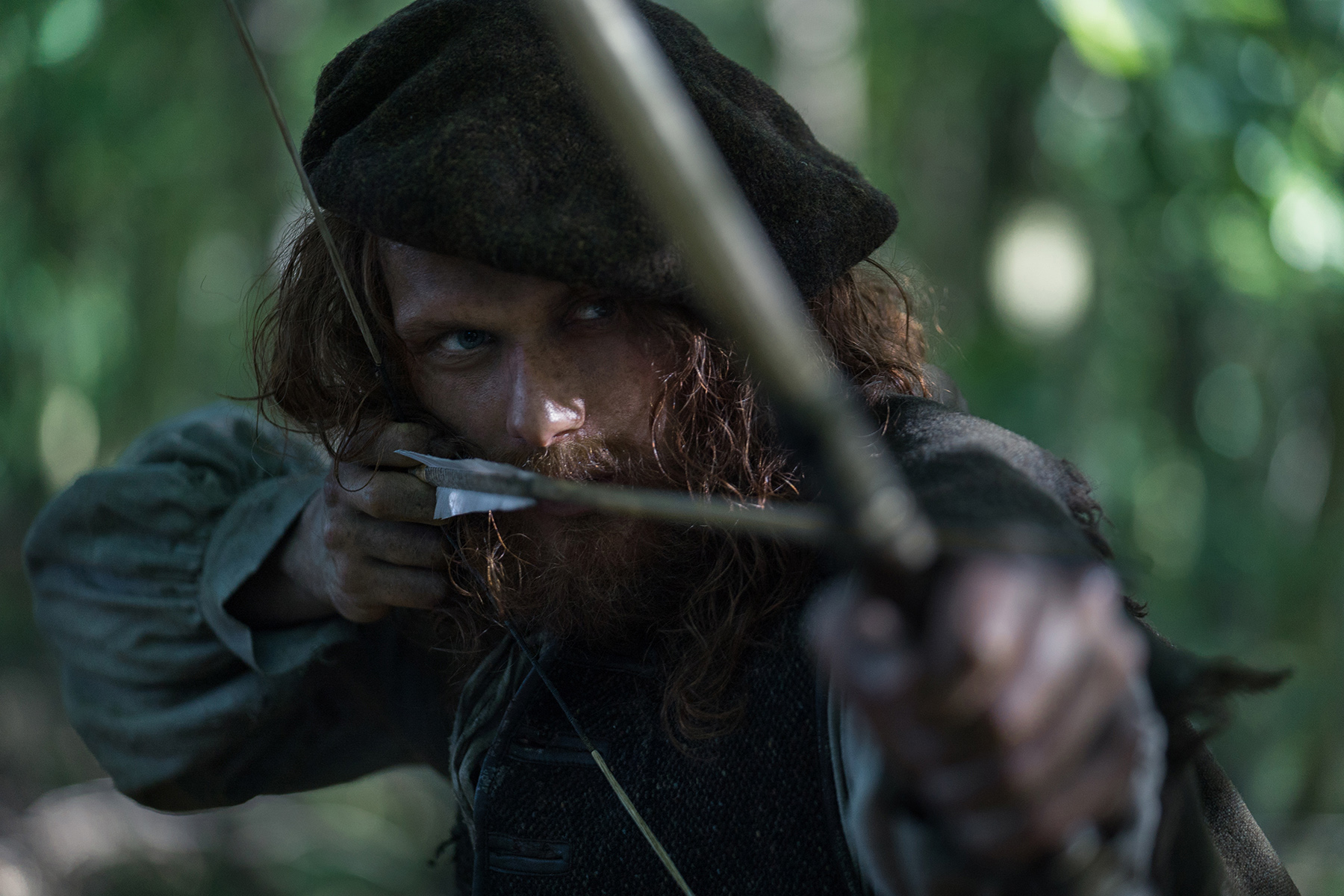 Basically: Surrender your clothes, but don't give your heart away!
If the season premiere was about the internal struggle to move, episode two is Claire and Jamie's first tentative step back into the world through family, burgeoning friendships and career.
If the season premiere was about the internal struggle to move, episode two is Claire and Jamie's first tentative step back into the world through family, burgeoning friendships and career.
The redcoats are looking for a bearded man with a gigantic cap, called Dunbonnet, who has been making trouble for them in the countryside and gaining followers among those left after the rebellion. No matter how many times the redcoats search Lallybroch (held in custody by his brother-in-law, Ian) they cannot find Jamie or his infamous alter ego Dunbonnet. We find that Jamie is hiding out in a cave on his family's land after his sister, Jenny, and brother in law give a convincing show of not knowing where the prodigal brother has gone.
The last we saw Fergus, French pickpocket and adopted son of Claire and Jamie, was just before the Battle of Culloden. He is with two other boys exploring in the woods when they come across a gun. Fergus is confident that he would have been capable of fighting during the rebellion if he didn't have to get the deed to Lallybroch to Jenny.
Fergus is eager to prove to himself to Jamie. However, Jamie has just been through a war and is aware of how easily circumstances can turn with redcoats patrolling the region. When Jenny is in labor the boys notice ravens flying near their home. Since ravens are believed to be harbingers of death Fergus shoots them and catches the attention of the redcoats who were earlier interrogating the family. If it wasn't for the quick thinking of kitchen maid Mary, drawing the blame to herself for shooting the raven out of superstition, Fergus would have enjoyed English hospitality.
Cut to 1948, where we see Claire attempting to move on with Frank. Just as Jamie is still haunted by visions of Claire—whenever he sees a woman—Jamie is the man Claire reaches out for in her dreams. (That gives us  a new image of our favorite Highlander for Thirsty Thursdays!)
Claire and Frank try the usual married couple dates, like having dinner with the neighbors. Despite the complaints about her husband's lack of adventure with dinner in the previous episode we find that Frank makes up for it in other domestic duties. Inspired by this display of passion at their dinner table Claire and Frank try warm up their relationship in front of the fireplace…the spark is NOT there. Frustrated, Frank tells Claire, "When I'm with you. I'm with you, but you're with him".
Back in Lallybroch Ian returns. Fergus is leading the redcoats around in circles; taunting the bully of the group—a Scotsman working for the English. The Scotsman cuts off Fergus' hand while Jamie hides in the trees. Jamie is tormented by his inaction, but his sister assures him if he did show himself they would have killed him, Fergus, and the family for harboring a traitor.
Jamie visits Fergus. They talk about their time in Paris together and reaffirm their loyalty to each other. Jaime finds someone to live for in the lad. Later, finding  his family coat of arms ripped apart is another blow to Jamie. He makes a deal with his sister and brother-in-law to "sell him out" to the redcoats, so their family will have peace.
Jaime tells Mary how impressed he was by her quick thinking with the redcoats earlier. She gives him a close shave… and gets handsy. Although Jaime initially fights her advances he gives in.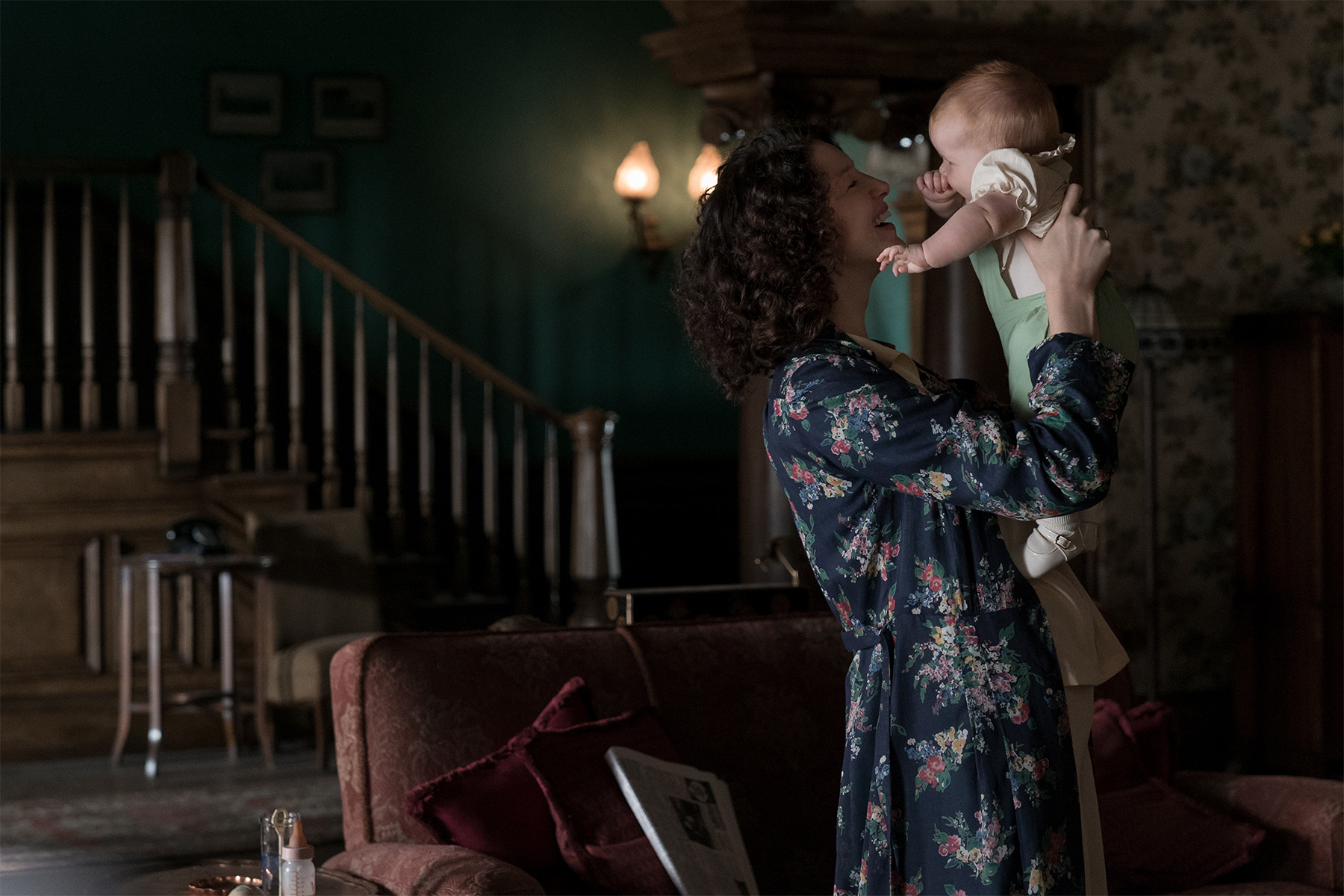 Jump forward to the future, Claire is settling into motherhood. Without a doubt she loves Brianna, but Claire feels the need to be a part of something bigger than herself. She begins medical school and meets Joe Abernathy, an African American student, at her first lecture. Neither of them are welcomed by the professor or the other classmates. Even in her own time Claire is still a trailblazer.
The episode closes with Jaime "coming home" to his sister and the redcoats arresting him. She is tearful in her denunciation of his unforgivable sin being a traitor. The English have gotten what they wanted.
In a final glimpse, while walking to class Claire passes a bagpiper.
In a nutshell: No matter where Claire goes, Jamie will be there with her.
Follow "Outlander" Online:
Twitter: @Outlander_STARZ
Facebook: https://www.facebook.com/OutlanderTVSeries.starz/
Instagram: https://www.instagram.com/outlander_starz/?hl=en
Join the conversation with #Outlander and #STARZ.
**NEXT WEEK**
OUTLANDER 303: "ALL DEBTS PAID"
Airdate: September 24th at 8 PM ET/PT on STARZ, the STARZ app and STARZ On Demand
In prison, Jamie discovers that an old foe has become the warden – and now has the power to make his life a living hell. Over the years, Claire and Frank both put their best foot forward to share a harmonious marriage, but an uninvited guest shatters this illusion, bringing their differences to light.
"Outlander" airs on Sundays at 8PM ET/PT on STARZ.
Tags:
Episode 2
,
Geek Girl Riot
,
GGR
,
Kat Bittner
,
Outlander
,
Recap
,
Season 3