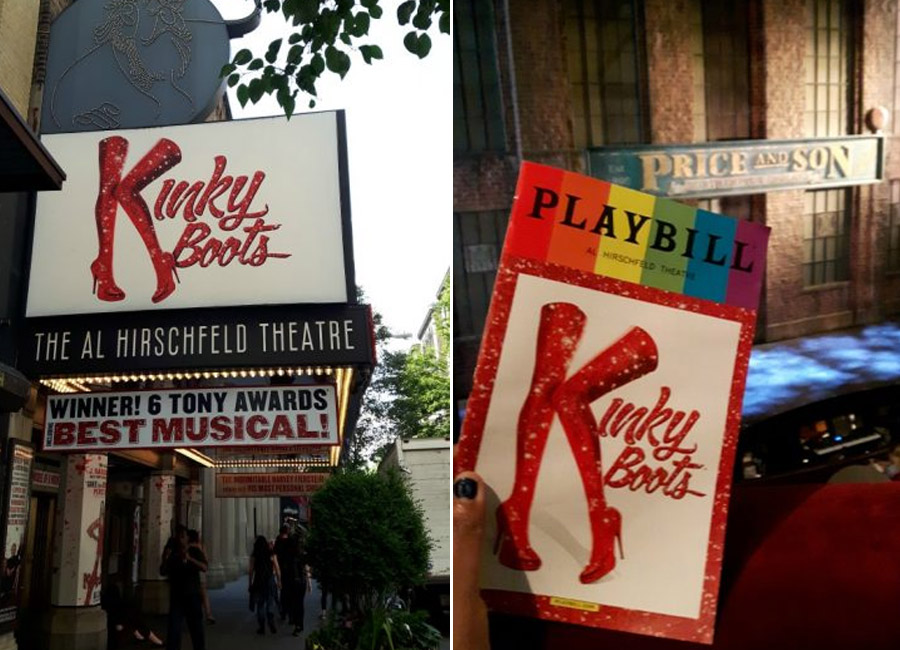 New York City in the summer is a sight to behold. Thousands of tourists milling around Times Square, gawking at the Empire State Building, and of course catching a show on Broadway. This summer though, it's one Broadway show in particular that's bringing in hundreds: Kinky Boots starring Panic! at the Disco's Brendon Urie, in a short run.
Saturday evening, an hour before the curtain, there's already a line outside the Al Hirschfield theatre on West 45th Street. Fans chatter excitedly and crane their necks in the hopes of catching a glimpse of Urie heading into the theatre. He's probably already inside though—Panic!'s longtime bodyguard Zack Hall is standing in front of the stage door, equal parts menacing and happy to pose for photos. Other theatre-goers—those who weren't aware of Urie's rockstar status when they bought tickets—are surprised to find a crowd but join the line anyway.
As soon as the doors are opened, there's a mad rush as half the line storms up the stairs leading to the mezzanine where a secondary merch table holds the limited edition Panic! x Kinky Boots t-shirts. At $55, it's seems a little pricy but it's worth it for a die-hard fan (even if I probably won't wear it; I'm thinking it'll make a nice framed piece on my wall).
Because it's June and therefore Pride Month, the Playbills have replaced their traditional yellow border with a rainbow, which is particularly fitting for this show. Kinky Boots is, after all, a musical about acceptance and drag queens.
The musical, adapted by Harvey Fierstein and Cyndi Lauper from a 2005 movie of the same name, is a sweet one. Charlie Price (Urie) reluctantly takes over his father's failing shoe factory, despite his dreams of getting out of Northampton and into the big city of London. A chance encounter with a drag queen named Lola (flawlessly portrayed by J. Harrison Ghee) opens Charlie's eyes to an untapped end of the shoe market: Stiletto heels that can bear the weight of a man. Charlie and Lola team up to produce these "kinky boots", and, since it's a musical, everything turns out hunky-dory. But it's not all smooth sailing; both characters have to fight stereotypes and expectations in order to be accepted—Charlie, as a worthy successor to his father, and Lola, whose fabulous appearance perplexes the small town.
Urie doesn't make an appearance on stage until close to the end of the first song. His entrance involves a splash of blink-and-you'll-miss-it theatre magic, but even if you don't catch the exact moment he steps out, the screams from the audience will give you a clue. The excitement reaches a new height with his first speaking line ("It's a tad posh for life in Northampton, wouldn't you say?") because guys, he has an English accent in this show (cue all the fangirls turning into human versions of the heart-eyes emoji…I know I do).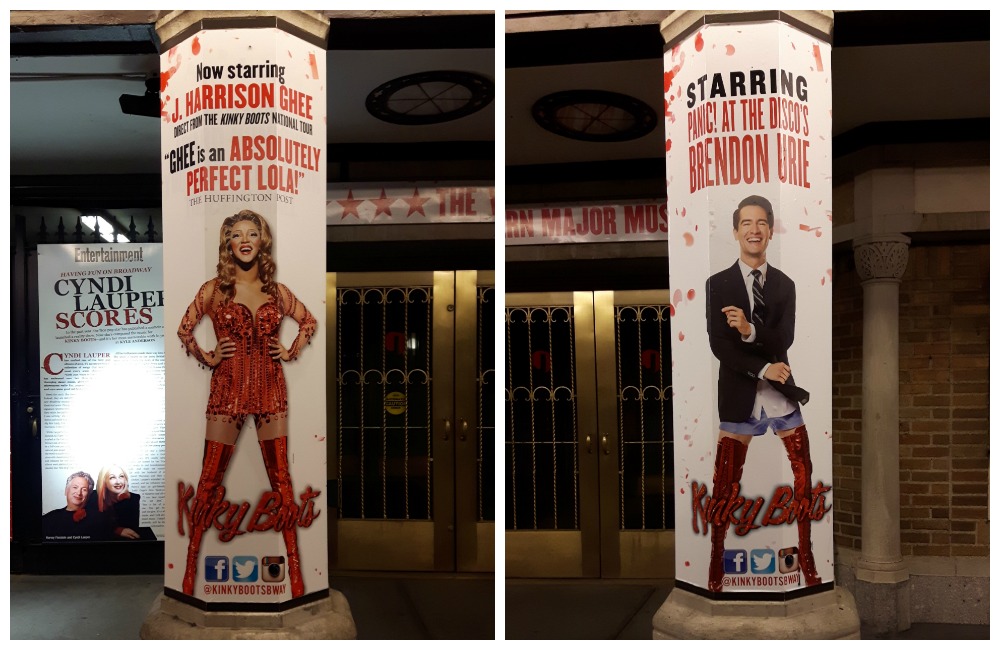 If you've watched any Panic! video or caught a live show, you'll already know Urie is a fine actor and has incredible stage presence. But this show proves just how flexible (and believable) he can be. There's a post-intermission scene that has even the most devoted of Panic! fans (including myself and the two rows around me) tsking and shaking our heads in frustration as Charlie and Lola get into a heated argument.
I'll admit that Urie was the reason I went to the show in the first place, but twenty minutes in, I was singing Lola'a praises. Ghee—who made his Broadway debut with the show earlier this year after playing the same role on the national tour—is phenomenal. Whether he's strutting across the stage in six inch stilettos and full makeup as Lola or suiting up as his birth identity Simon, he commands your attention with his charisma and impressive voice. Together, he and Urie are a beautiful pair; their friendship feels so real that their argument cuts deep and you'll eagerly await their reconciliation.
The rest of the cast is spot on as well. Taylor Louderman is quirky and hilarious as Lauren, one of the factory workers who, despite her better judgement, develops a crush on Charlie. Her solo song "The History of Wrong Guys" gets some of the biggest laughs of the night as she gripes and grimaces her way across the stage. Other standouts are Marcus Neville as George, the factory manager, and Don (Daniel Stewart Sherman), another worker, who foolishly challenges Lola to a fist fight because her appearance makes him uncomfortable, unaware that her father was a prize boxer. And let's not forget Lola's back-up dancers, the Angels. Six fierce drag queens whose makeup and costumes are so on point, I can only dream of looking like them.
Since he announced his role, just about every media outlet has alluded to Brendon Urie making these high heels work (I'm not judging, I did too) so naturally the moment everyone was waiting for—Charlie Price prancing around the stage in thigh-high red boots—was one of the very last scenes. But it was completely worth the wait and the final number, "Raise You Up / Just Be" was one of the most fun and uplifting sequences I've ever seen in a theatre, possibly only beaten by the pre-intermission group performance of "Everybody Say Yeah". If you're not smiling through the cast bows, it's probably because you're still crying from the back-to-back solo ballads, Charlie's gorgeous "Soul of a Man" (which lets Urie unleash his full vocal range) and Lola's tear-jerking "Hold Me In Your Heart".
In case you can't tell, I loved both the cast and the music. Penned by Lauper, each song is just as catchy and hook-filled as you'd expect from the woman behind the anthemic "Girls Just Wanna Have Fun". And judging from the standing ovation, the rest of the audience was just as enthralled.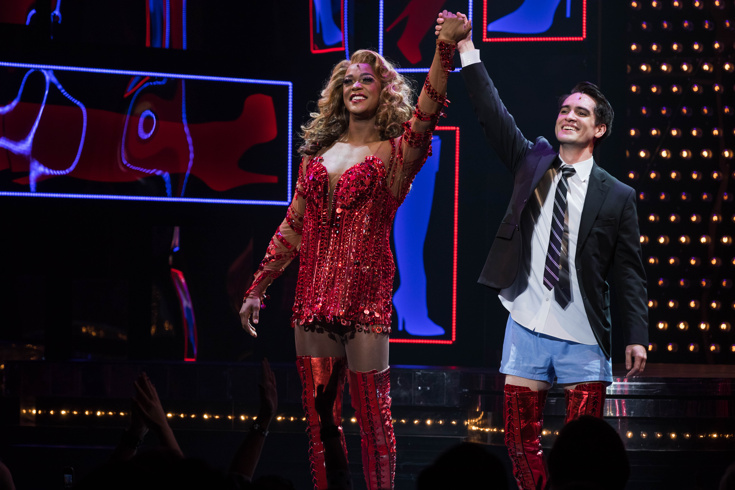 For a man who regularly preaches "love is not a choice", Brendon Urie did a wonderful job of fully embodying the clean-cut Charlie who learns the valuable lesson "you can change the world if you change your mind". His acceptance of Lola and the subsequent acceptance from his colleagues is brought about naturally, without feeling heavy-handed or awkward.
In the end: come for Brendon Urie, stay for the feel-good story of accepting and celebrating people's differences.
Tags:
brendon urie
,
Broadway
,
Kinky Boots
,
Panic! At The Disco
,
Show Review