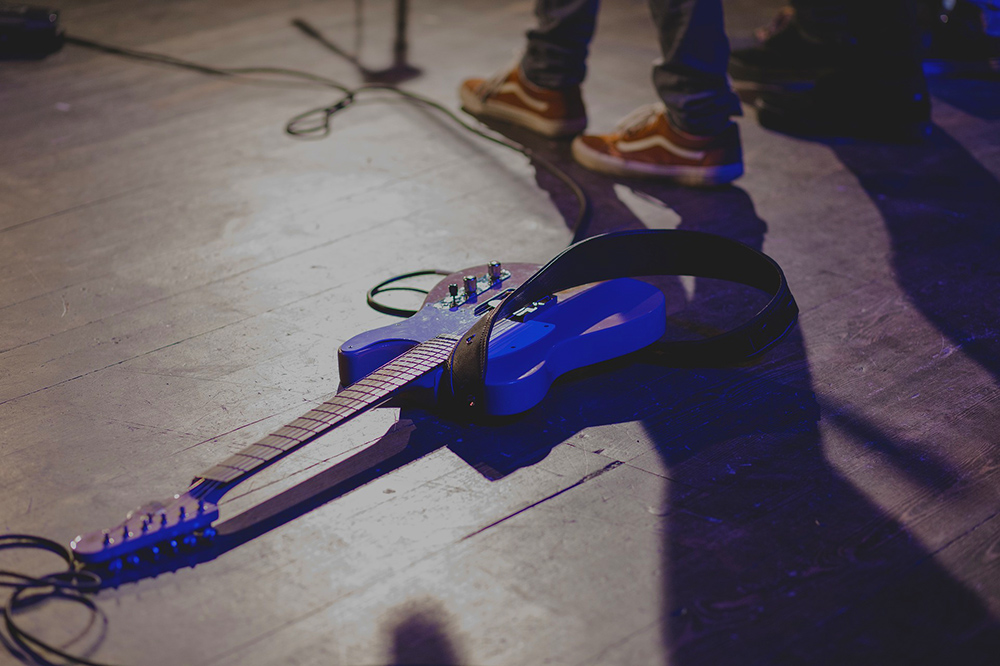 What better way to kick off a weekend than with new music? Fridays are always chock full of the latest songs and albums ready to be the soundtrack to everyone's antics, and here you'll find some of the week's standout releases. Whether you're ready to spin an anticipated song from a favorite artist or just taking a look at what's out there, there's a whole lot of tunes to dive right into. Who knows—maybe you'll find your next obsession.
David Bowie – "Let's Dance" (Demo)
In honor of what would have been the 71st birthday of legend David Bowie, a demo of his  classic "Let's Dance" has been unveiled to celebrate his legacy. This demo is much more simplistic than the final product ends up being; Bowie's vocals are the sure-fire highlight. Here's hoping that more unreleased goodness gets freed from the vault over the years—no question that it'll be as special as this is, showcasing Bowie's raw talent before getting glitzed up with production.
Flor – "Rely"
It says a lot about a band's ambition when new material comes out instantly after a new album. The four piece Fueled By Ramen band Flor released their debut album only a few months ago but a fresh track has already surfaced. "Rely" is featured on the upcoming deluxe edition of their latest full-length and the atmospheric, guitar-heavy number brings their alt-pop to another level.
Bohnes – My Friends (Remixes)
Bohnes has ended up releasing more acoustic versions and remixes of songs than actual original ones. This is a good thing though—as he prepares for his debut full-length—it shows his tenacity as an artist, that he's willing to create outside the box. His latest single gets the remix EP treatment, "My Friends" features five mixes ranging from all kinds of tempos. Plus, one track is done by musician Chantry Johnson, the former guitarist of Bohnes' previous band The Cab. Kind of adorable.
Senses Fail – "Gold Jacket, Green Jacket"
Whether heading back to their pop-punk roots or rocking out with something harder, we'll take any new Senses Fail as it comes. The two songs we've heard from their current era definitely call back to those pop-punk days. The youthful "Gold Jacket, Green Jacket" turns back the clock a good ten years for a carefree jam, and it looks like this is a route their upcoming record will be going down often.
Owl City – "Lucid Dream"
One thing that's remained constant in Owl City's music over the years has been his ability to weave a narrative in between electro-pop instrumentals. Those melodies and hooks are what grasp the attention, sure, but the lyrics underneath are some of the most engaging that a pop writer has to offer. Owl City's new album, Cinematic, has a ton of those story-focused songs and we're getting another taste of one: The aptly-titled "Lucid Dream." Written about life itself being like a dream, the whimsical lyrical content can put a smile on your face…until the realization there's still another five months 'til the album drops.
Milo Gore – "Towel On the Door"
Rising singer/songwriter Milo Gore sports a name that sounds like the stage name for an 80's hair metal band but his sound is as delicate as can be. His new single "Towel on the Door" is a lo-fi acoustic treat that features soul-baring vocals, which turns the track into a wonderfully concocted piece that'll be worth a fair amount of repeats.
Hailee Steinfeld – "Capital Letters"
No matter what sound you throw at Hailee Steinfeld, the girl's got a knack for making everything her own. Between her sugary pop on her EP Haiz to collabs with DJs and country acts, there's nothing she can't handle. In fact, the more "out there" the combination the better it ends up being. Steinfeld's next venture is a collab with future-superstar producer BloodPop as the two craft a track for the upcoming Fifty Shades Freed soundtrack. "Capital Letters" is summer inside of a song—and already a front runner for best pop tune released so far in 2018 (well…at least in its first 12 days).
—
Camila Cabello – Camila
Taking a look at the charts, it's no surprise to see Camila Cabello sitting on top at number one with her hit "Havana." Before she even left Fifth Harmony, a little over a year ago, a solo prowess oozed out of her—her success now just makes sense. Cabello's debut record, Camila, went through an identity crisis, album title changes, and release date switcheroos, but at the end of the day the finished product is a marvelous example of a woman born to be star.
Fall Out Boy – "Wilson (Expensive Mistakes)"
Fall Out Boy continue to outdo themselves with new material off their upcoming album Mania. The songs released thus far are easily some of the most eclectic sounding tunes in their catalog but they still have that Fall Out Boy DNA that reminds the listener exactly who they're listening to. Big vocals and a radio-ready chorus are the highlights for Mania's "Wilson (Expensive Mistakes)." The song doesn't just remind the listener that it's Fall Out Boy, it makes sure they'll never forget it.
—
Eminem – "Chloraseptic" (Remix)
Just two weeks since releasing his latest full-length, Eminem is back to the drawing board with a remix of his Revival track, "Chloraseptic." Really, it's an entirely new song: 2 Chainz drops a verse, and it features all new bars from Slim. He fires back at Revival critics with his signature mocking voice on lines like "Revival's wack, I don't like the 'Zombie' track / Or when he's talkin' that garbage psychotic crap / Where's your content at?" Ultimately, it's the kind of aggression that Revival was missing and we can't help but think that there's more where that came from.
Ansel Elgort – "Supernova"
Ansel Elgort has always had a way of impacting the silver screen, but the actor is making serious moves to your headphones now, too. His first single of the year, "Supernova" finds Elgort crooning around a trap-style beat with a singing-rap hybrid vocal. Plain and simple, you won't find a fault in this star.
—
Other new releases:
Tonight Alive – Underworld
Black Veil Brides – Vale / "Wake Up"
Dan + Shay – "Tequila"
Hayley Kiyoko – "Curious"
Troye Sivan – "My My My!"
The Hunna – "Flickin' Your Hair"
BØRNS – "We Don't Care"
The Neighbourhood – "Compass" / To Imagine EP
Jack White – "Connected By Love"
Ansel Elgort – "Supernova"
Marshmello & Lil Peep – "Spotlight"
Carrie Underwood – "The Champion"
Matt and Kim – "Forever"
Vance Joy – "We're Going Home"
Enrique Iglesias feat. Bad Bunny – "EL BAÑO"
The XCERTS – "Drive Me Wild"
The Black Eyed Peas – "STREET LIVIN'"
Franz Ferdinand – "Feel The Love Go"
Fetty Wap & KDL – "With You"
Hunter Hayes – "This Girl"
Skott – Stay Off My Mind EP
Craig David feat. GoldLink – "Live in the Moment"
Towkio feat. Teddy Jackson – "Symphony"
Jay Rock (with Kendrick Lamar & Future) – "King's Dead"
Denny White – "Torn Up"
Nina Nesbitt – "Somebody Special"
Tags:
Bohnes
,
Camilo Cabello
,
David Bowie
,
Eminem
,
Fall Out Boy
,
flor
,
FOB
,
Fresh Pressed
,
Hailee Steinfeld
,
Joe DeAndrea
,
Milo Gore
,
new music
,
New Music Friday
,
Owl City
,
Senses Fail