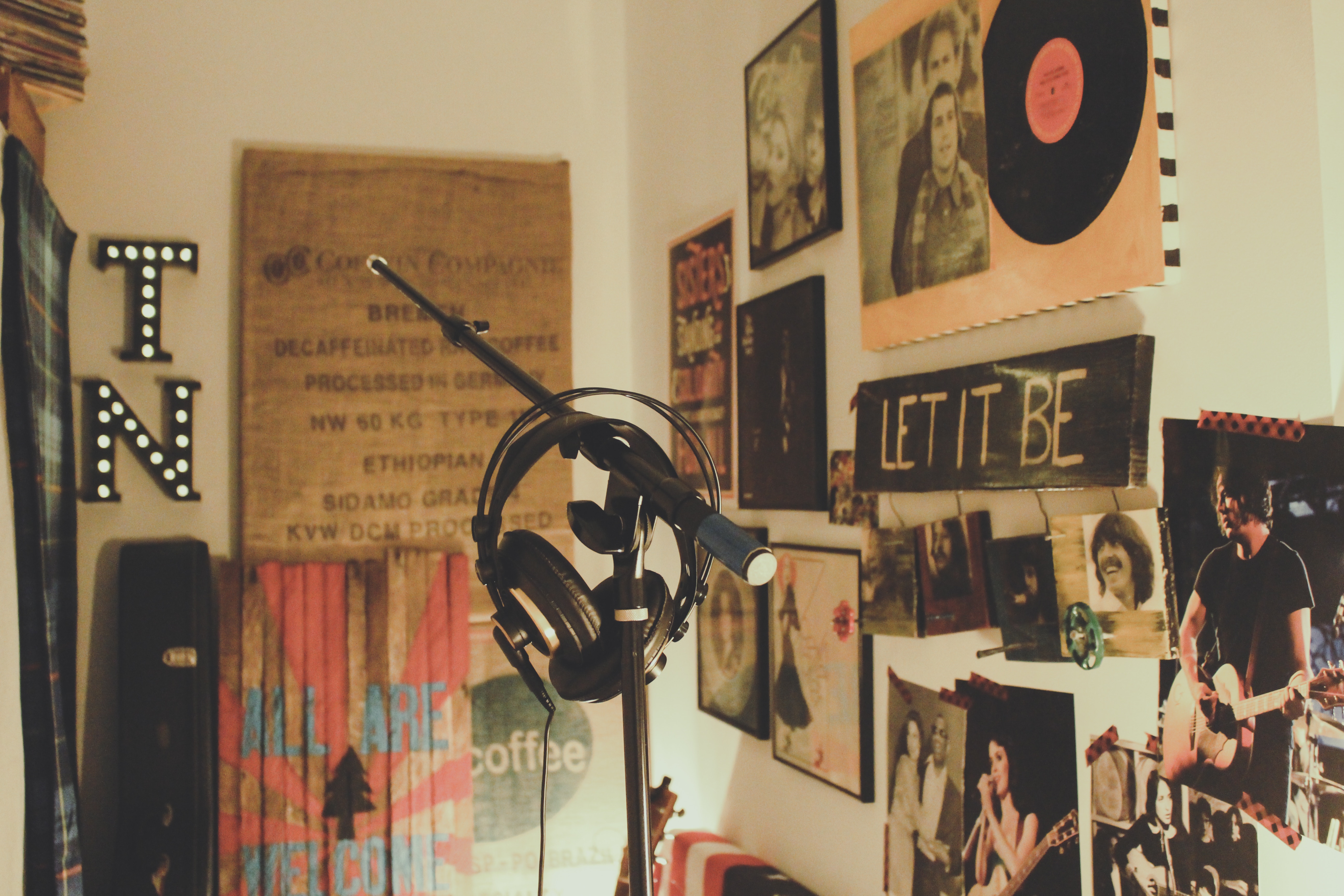 What better way to kick off a weekend than with new music? Fridays are always chock full of the latest songs and albums ready to be the soundtrack to everyone's antics, and here you'll find some of the week's standout releases. Whether you're ready to spin an anticipated song from a favorite artist or just taking a look at what's out there, there's a whole lot of tunes to dive right into. Who knows—maybe you'll find your next obsession.
Maroon 5 – Red Pill Blues
It's a running joke that Maroon 5 is really just The Adam Levine Experience—a reference to the group's foray into producer-driven pop—but Red Pill Blues shows that Maroon 5 is very much still a band. Between the album's cover art featuring each member, to songs having the most instrument-driven feel in years, Maroon 5 is here in its entirety for LP number six, and they've never sounded better.
Owl City – "All My Friends"
Adam Young may have kept things quiet on the Owl City side of things lately, but he's been heavily involved in music. Over the past year, he's spent his time crafting film score-style instrumental records under his own name, and it's undoubtedly helped to inspire the next era in Owl City. Titled Cinematic, Young's next City record arrives in June, but we'll be hearing half of the 18 song record before then. Between now and then, three three-song EPs will be released with songs from the new album; "All My Friends" is one of the first tracks we're getting. Owl City heads down a rock road for something playful and fun—think "Good Time" on steroids.
Taylor Swift – "Call It What You Want"
With her Reputation era, Taylor Swift is earning the reputation of outdoing herself on each song she's come out with from her new record. Now four songs deep, what "Call It What You Want" delivers is something we haven't really seen from Swift before—an impactful, but no-frills pop powerhouse of a song. No pseudo-rapping is found here, and hell, it barely even has a chorus. But great lyrics coupled with an urgency in her voice is out on full display, proving that Swift can still kill it even without a showstopping hook.
N.E.R.D & Rihanna – "Lemon"
We all needed new N.E.R.D music—we just didn't realize how badly until they dropped their new song, "Lemon." The bouncy hip-hop track marks the first N.E.R.D material in seven years, and they're back with a bang with assistance from a Rihanna feature. Feature, however, is a disservice—Rihanna takes control of the track with her own bars throughout, but that's a surprise to nobody.
Sleep On It – Overexposed
Pop-punk is at an all-time high with Knuckle Puck, Neck Deep, and WSTR running the pack, but the best part about it is that every solid act that's come through brings something new to the table. Chicago's Sleep on It is one to watch now with their debut full-length, Overexposed, showcasing that the genre isn't slowing down anytime soon. Raw and emotional vocals surround pop-friendly melodies for a record that would make most pop-punk acts jealous.
Sam Smith – The Thrill of It All
Disclaimer: You don't have to be going through a breakup to enjoy the new Sam Smith album. Of course, The Thrill of It All will pull on the heartstrings regardless of one's relationship status—"Too Good At Goodbyes" is Smith's finest single to date, while "Baby, You Make Me Crazy" delights with its toe-tapping tendencies. Laugh or cry, Smith's new record basically has it all.
Sparks The Rescue – When It Thunders
There are some singers that could just sing the phonebook and you'd be interested—Sparks the Rescue is blessed with one of those vocalists. Frontman Alex Roy's pipes are interesting to say the least, but what stands out is the fact that no matter what kind of music Sparks the Rescue makes, Roy's voice fits in effortlessly. On their When It Thunders EP, the band mixes their pop sensibilities with crunchy guitar lines, and the vocals are just the icing on the cake.
Anti-Flag – American Fall
Anti-Flag's American Fall is here, and you have to guess that deep down, the title isn't referring to autumn in the United States. Given all the political craziness over the past few years, the legendary punk band naturally is going to have a couple things to say. Produced by Good Charlotte's Benji Madden, Anti-Flag are the opposite of subtle on tracks like "Racists" and "Liar," resulting in an honest and melodic album.
Sia – "Santa's Coming For Us"
While most of us are busy putting away our fake blood and masks for the year, Sia is already hanging up the stockings. Today, the powerhouse croonster gets into the Christmas spirit with the lead single off her upcoming Christmas album, Everyday Is Christmas. Titled "Santa's Coming For Us," the track has more of a contemporary pop feel than a full-blown Christmas one, but that'll just make it all the more suitable to play all year long.
new.wav – "Go Long Dad"
Best known for covers of The 1975 and Fall Out Boy, new.wav are back to embed some of their DNA in a Four Year Strong classic. Comprised of Cameron Hurley from We Are The In Crowd, new.wav's charm revolves around what his covers have that the originals don't—like his clever rendition of The 1975's "Girls" done in the style of Blink-182. For Four Year Strong's "Go Long Dad," the cover recreates the fire of the original, but packs a bit more polish that the pop-punk band did without.
Other new releases:
Max – "Meteor"
BANNERS – Empires On Fire
Converge – The Dusk In Us
Portugal. The Man – Feel It Still (The Remixes)
Gorilliaz (feat. Little Simz) – Garage Palace
Miguel – "Told You So"
Shawn Mendes – MTV Unplugged
Kygo feat. Oliver Nelson, Bonnie McKee – "Shotgun" / Kygo – Kids in Love
Blackbear – "santa monica & la brea"
U2 – "Get Out Of Your Own Way" (feat. Kendrick Lamar)
Big Sean feat. Metro Boomin, 21 Savage – "Pull Up N Wreck"
David Guetta & Afrojack – "Dirty Sexy Money (feat. Charli XCX & French Montana)"
Allie X – "Casanova (feat. VÉRITÉ)"
Andy Grammer – "Smoke Clears"
Blake Shelton – Texoma Shore / "Hangover Due"
Bad Bunny, Prince Royce, J Blavin – "Sensualidad"
Kelsea Ballerini – "End of the World"
Madison Bear – "Say It To My Face"
Tags:
Anti Flag
,
Fresh Pressed
,
Maroon 5
,
N.E.R.D.
,
new music
,
New Music Friday
,
new.wav
,
Owl City
,
Rihanna
,
Sam Smith
,
sia
,
Sleep On It
,
Sparks The Rescue
,
Taylor Swift