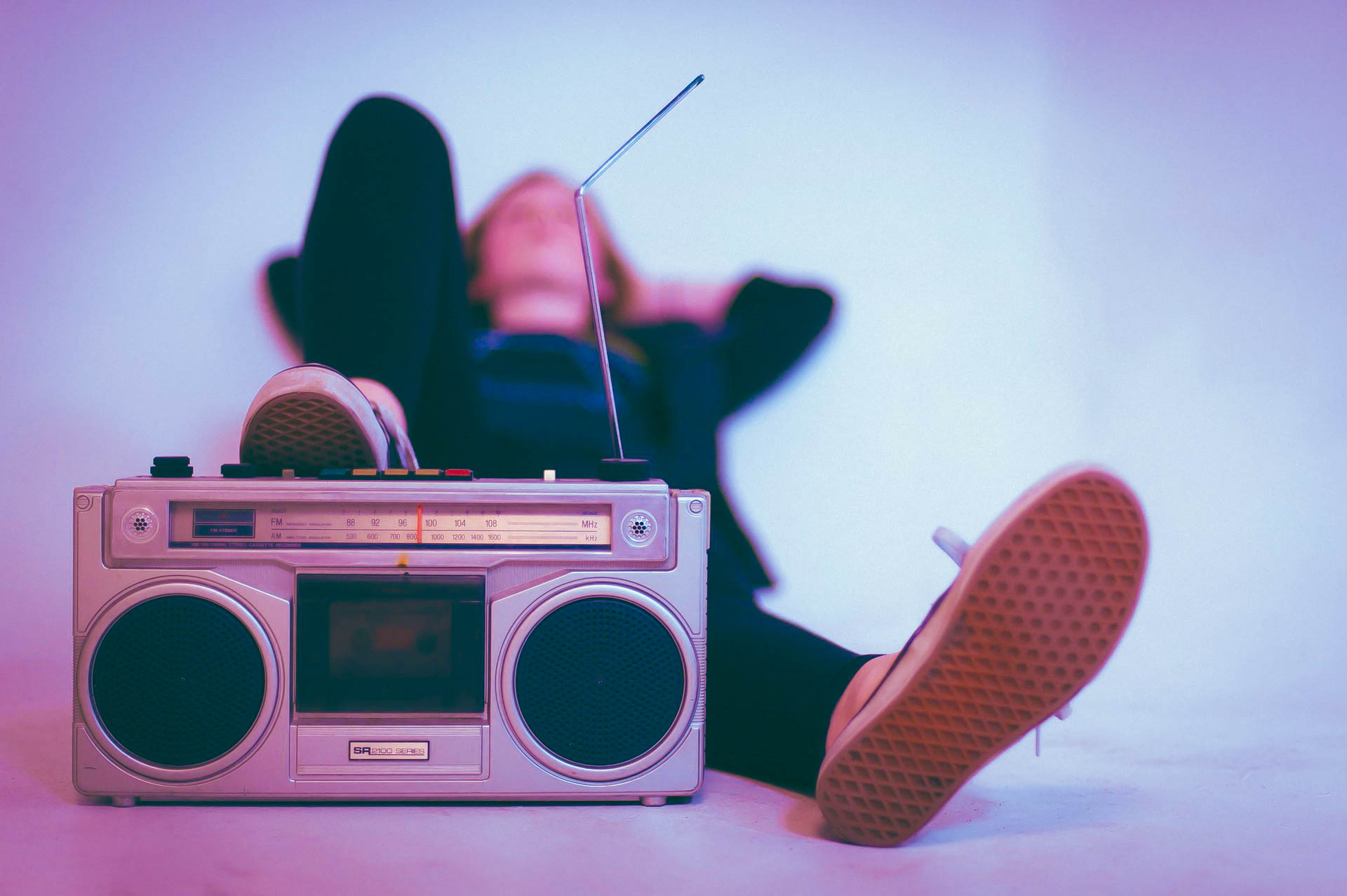 What better way to kick off a weekend than with new music? Fridays are always chock full of the latest songs and albums ready to be the soundtrack to everyone's antics, and here you'll find some of the week's standout releases. Whether you're ready to spin an anticipated song from a favorite artist or just taking a look at what's out there, there's a whole lot of tunes to dive right into. Who knows—maybe you'll find your next obsession.
Fall Out Boy – "The Last of the Real Ones"
It's a major bummer that Fall Out Boy pushed back their upcoming album, M A  N   I    A, to early next year, but at least that gives them some time to head back and polish songs to their best potential. Now, we might be getting our first taste of what they kept us waiting for with "The Last of the Real Ones," the third track we're hearing from the ten song album. It's easily their poppiest since "Alone Together," and they've seemingly thrown their weird, experimental-pop to the wayside on this one—it's straight-up hooks with pulsating keys, making the wait for January that much harder.
Knuckle Puck – "Double Helix"
"Double Helix" is Knuckle Puck's way of telling the world that they aren't messing around. For their second full-length, Shapeshifter, they've seemed to've grabbed pop-punk by the throat with an urgency we haven't seen in awhile. Of course, their debut, Copacetic, was the reason everyone got on board with them in the first place—but "Double Helix" along with the previously released "Gone" are a shot of adrenaline in Knuckle Puck's ever-expansive soundscape.
The Story So Far – "Out of It"
After one listen to The Story So Far's new song, "Out of It," you can just tell that it's the start of something new for the pop-punk powerhouses. While it ends abruptly, it also leaves you wanting more, making it the perfect candidate for an opener to an eventual new album. Parker Cannon & Co. go all out here, but the lack of raw aggression is actually interesting to hear. Still, it's a Story So Far song through and through—fast, catchy, and begging to be played over and over.
Seaway – Vacation
Seaway closes out the summer with one of the most aptly titled albums of the year: Vacation. The best part is, it doesn't necessarily have to be a summer vacation—just getting away is good enough for this record to become your soundtrack. Between the teen movie-esque "Something Wonderful" to the anthemic "Curse Me Out," Vacation's got enough meat on its bones to keep you satisfied all year long.
Circa Survive – "Premonition of the Hex"
Circa Survive has always had a knack for having a consistent theme throughout their records while making sure each song has its own identity—things don't change here with The Amulet and their new single, "Premonition of the Hex." As the fourth track released thus far, "Premonition" is strong with its instrumentation while dialing it back vocally. Frontman Anthony Green doesn't flex those pipes like he normally does, but he doesn't need to for a Circa song to remain effective.
Weezer – "Beach Boys"
It's not a coincidence: Weezer calling their latest song "Beach Boys" was a calculated effort. Featured on their upcoming album, Pacific Daydream, it's only natural that a track with this title pays homage to the Beach Boys themselves. Breezy melodies and laid back guitars set the stage for yet another solid new Weezer tune, and fans can't help but to be thrilled with their quality lately.
Stand Atlantic – Sidewinder
Stand Atlantic are bursting onto the scene with something to prove as they release their debut EP, Sidewinder. Locked and loaded with five songs of pop goodness, it's hard to believe this Australian pop-punk trio aren't bigger than they are. "Coffee At Midnight" is an easy standout with relatable lyrics, but it's really the cohesiveness of the collection as a whole that makes Stand Atlantic one of the most promising bands around.
Want more from Stand Atlantic? Check out our premiere of the band's lyric video "Mess I Made"!
Galantis – The Aviary
The most important thing an EDM act can do is make sure that there's never a dull moment in their career, because the genre can move pretty quickly—it's easy to get left behind. Fortunately, Swedish duo Galantis only know how to outdo themselves, and they've definitely done so with their new album, The Aviary. Featuring previously released tracks that have already charted well on the U.S. Dance charts ("No Money," "Love on Me"), they separate themselves in the electronic scene for the collabs they've done with ROZES in "Girls on Boys" and Wrabel in "Written in the Scars."
Foo Fighters – Concrete and Gold
Concrete and Gold might go down as one of the weirdest Foo Fighters records to date, but hearing it in its entirety, everything just makes sense. For instance, you've got cameos here from Justin Timberlake and Paul McCartney, and then there's Sia's main co-writer Greg Kurstin taking over production duties. Underneath it all, however, it results in some of their best material, proving that the band is still incredibly relevant to rock music even after all of these years.
Against the Current – "Legends Never Die"
The League of Legends World Championship is a big deal. The yearly tournament for the addictive PC game gets larger every year, and this time the prize pool comes in at well over $2 million. So, for something as epic as this, you need the right theme song—this is where Against the Current come in. These pop-rock maestros are actually huge fans of the game, so you know they must be pumped to be able to create the official song. "Legends Never Die" is rightfully full of intensity as the band delivers a massive arena rock anthem.
Enter Shikari – "Rabble Rouser"
UK rock band Enter Shikari are gearing up to release their fifth studio album, but before they drop it in its entirety, they've unveiled another song for our listening pleasure. "Rabble Rouser" is dynamic in all aspects as it shape-shifts from moody verses until picking up the pace with a groovy chorus. Their record, The Spark, is out on September 22nd.
Other new releases:
Lights – "New Fears"
Our Last Night – "Look What You Made Me Do"
The Killers – "Some Kind of Love"
Lorde – "Homemade Dynamite (Feat. Khalid, Post Malone & SZA) REMIX"
Sia – "Rainbow"
Marilyn Manson – "WE KNOW WHERE YOU FUCKING LIVE"
Niall Horan – "Too Much to Ask"
Nick Jonas – "Find You"
Sara Bareilles – "If I Dare"
Post Malone – "Rockstar"
Labrinth – "Misbehaving"
Superfruit – "How Are Your Feeling?"
Björk – "The Gate"
Sara Bareilles – "If I Dare (from Battle of the Sexes)"
Shoffy – "Flags (feat. Yuna)"
Toulouse – Extended Plea
U2 vs. Kygo – "You're The Best Thing About Me"
Tags:
Against The Current
,
ATC
,
Circa Survive
,
Enter Shikari
,
Fall Out Boy
,
FOB
,
Foo Fighters
,
Fresh Pressed
,
Galantis
,
Knuckle Puck
,
new music
,
New Music Friday
,
Seaway
,
Stand Stlantic
,
The Story So Far
,
TSSF
,
Weezer