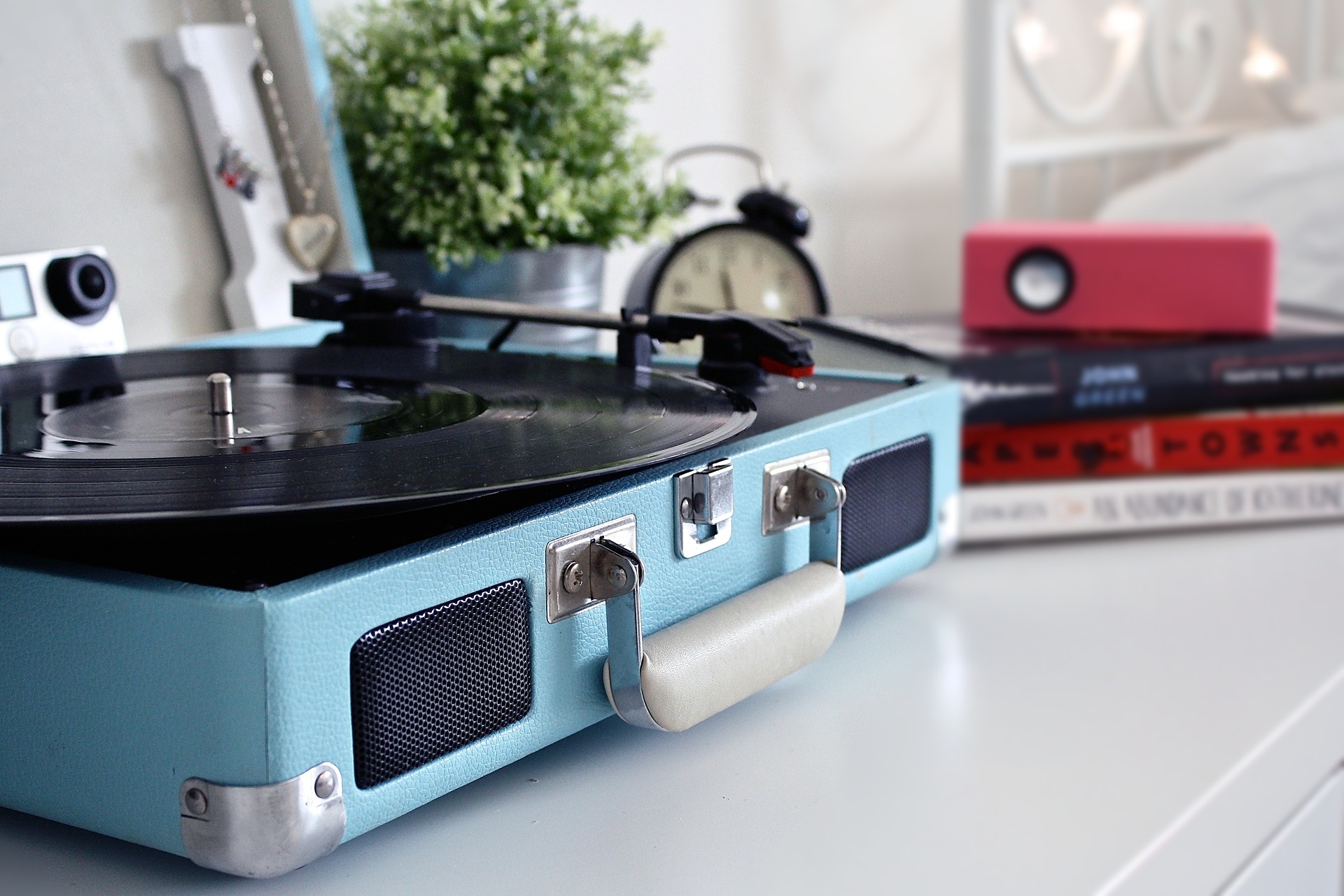 What better way to kick off a weekend than with new music? Fridays are always chock full of the latest songs and albums ready to be the soundtrack to everyone's antics, and here you'll find some of the week's standout releases. Whether you're ready to spin an anticipated song from a favorite artist or just taking a look at what's out there, there's a whole lot of tunes to dive right into. Who knows—maybe you'll find your next obsession.
Four Year Strong – Some of You Will Like This,
Some of You Won't
Throughout their 15 year-ish career, Four Year Strong has done more with their sound than you could ever believe. Bursting onto the scene in 2007 with their debut, Rise or Die Trying, their easycore brand of pop-punk made the record an instant classic, even if they may have hit a few bumps in the road later on (2011's In Some Way, Shape, or Form). Still, their entire discography has more than enough gems in it, and that's why their new unplugged/rarities album, Some of You Will Like This, Some of You Won't, makes perfect sense. Spanning across all records, this 12-song compilation is the perfect accompaniment to your Four Year Strong collection.
Taylor Swift – "…Ready For It?"
The old Taylor really is dead, especially after everyone hears her latest Reputation track, "…Ready For It?" similarly polarizing to her lead (and now number one) single, "Look What You Made Me Do," this track is even more surprising. Quasi-rap vocals flood the verses in yet another dark and brooding song until, ironically enough, a classic Taylor Swift-chorus emerges in crazy catchy fashion. Co-written by mastermind Max Martin, you can file this in the "mega hit" cabinet, and surely there will be more where that came from.
Mark Hoppus – "Not Every Dog Goes To Heaven
(National Lampoon's Vacation)"
You read that right—Blink-182's Mark Hoppus goes it alone for his first solo track in a long, long time. Featured on the compilation, Dog Songs, all proceeds from the record will be donated to ASPCA to help dogs that were affected by Hurricane Harvey. The song itself is a firecracker—arguably one of the "punkest" songs Hoppus has been involved with in years—you can easily imagine it as a Blink track. You might not want to hold your breath though if you're hoping new Blink will sound anything like this in the future.
Kelly Clarkson – "Love So Soft" / "Move You"
Kelly Clarkson is giving her best effort to reign supreme as America's idol with two comeback tracks in "Love So Soft" and "Move You." The former, which is Clarkson's official radio single, finds the vocal powerhouse treading into soul-pop territory with a chorus that's got a whole lot of attitude. Meanwhile, "Move You" slows down the tempo and attacks the heartstrings (rather than the heartbeat). These tracks aren't quite the foot stomping lead singles she's had in the past, but the effect of them remains the same.
Sleep On It – "Distant"
Debut albums are important, especially when it comes from a band who aren't exactly brand new. Sleep On It has been in the pop-punk game for a couple years now, and with three EPs under their belt, they're finally gearing up to unveil their first ever full-length, Overexposed, out on November 3rd. Lead single "Distant" is proof that the proper LP should set their sound apart from what we've heard on their previous releases—an undeniable hook leads the charge on the three-minute number, and it might be a good idea to throw Sleep On It on your "bands to watch" list if they aren't there already.
The Used – "Over and Over Again"
After a three and a half year wait, The Used are back in action and ready to drop their seventh full-length album. Titled The Canyon, the record's got an astounding 17 tracks on it with virtually all of them clocking in at over four minutes (some over five). It's incredibly ambitious and borderline mysterious, but can the band manage to pull it off? With the first single "Over and Over Again," The Used deliver one of their best songs since their Lies for the Liars era—it's got addictive guitar riffs, an experimental bridge, and vocalist Bert McCracken sounds fresher than ever. Who knows what else The Canyon has in store—or what it's even really about—but it's off to a great start.
Zayn – "Dusk Till Dawn" (feat. Sia)
Zayn has a simple game plan: Collaborate with massive artists and churn out gigantic tunes in the process. We've seen it play out perfectly with his Taylor Swift-assisted hit, "I Don't Wanna Live Forever" and the trop-pop jam "Still Got Time" featuring PartyNextDoor—both songs pushed Zayn's creative boundaries, but his latest track isn't showing any allegiance to a specific genre either. This time, he enlists Sia for her writing and vocal prowess on his new single, "Dusk Till Dawn," easily surpassing its two predecessors in quality. While Zayn and Sia's pipes mesh together wonderfully, there's no question that it's all Sia's stage once the chorus hits.
U2 – "You're The Best Thing About Me"
U2's upcoming album, Songs of Experience, has a similar name to their previous LP, Songs of Innocence—but the main difference is that this new one probably won't randomly show up in your iTunes library against your will. Luckily, if you were into that record, you'll be pleased to know that their latest single, "You're The Best Thing About Me," follows up Innocence's tone nicely. A love song at its core, the track soars with its stadium-rock qualities as the Irish rock legends go big with another anthem.
Sam Smith – "Too Good at Goodbyes"
Sam Smith is trying to pick up where he left off in 2014, when his career catapulted into superstardom thanks to his smooth voice and heart wrenching lyrics. He doesn't switch things up too much with his comeback single, "Too Good at Goodbyes," but why fix what isn't broken? A gospel-infused chorus is the foundation for the track, but production from hit-maker Stargate helps make the song accessible enough for it to make an impact on radio.
Michael Jackson – "Blood On The Dance Floor
x Dangerous (The White Panda Mash-Up)"
The King of Pop has another posthumous album on the horizon, but don't get too excited—it's basically just a Greatest Hits compilation. Titled Scream and out on September 29th, the good news is that there's at least one piece of new music. Producer/remix duo The White Panda gives a Michael Jackson mash-up a go, and the result is actually pretty cool—infusing five of his songs in one, it's far more cohesive than you'd think.
Other new releases:
Sleeping With Sirens – "Trouble"
The Front Bottoms – "Vacation Town"
Linkin Park x Steve Aoki – "Darker Than The Light That Never Bleeds (Chester Forever Steve Aoki Remix)"
Nothing But Thieves – "Particles"
St. Vincent – "Los Angeles"
Foo Fighters – "The Line"
Beck – "Up All Night"
EXO – "Power"
Demi Lovato – "You Don't Do It For Me Anymore"
Hailee Steinfeld & Alesso – "Let Me Go feat. Florida Georgia Line & watt"
Phoebe Ryan – "Be Real"
Superfruit – "Hurry Up!"
MuteMath – Play Dead
ODESZA – "Falls (Feat. Sasha Sloan)"
SZA – "Quicksand"
R3hab & Quintino – "I Just Can't"
Miguel – "Shockandawe"
Blake Shelton – "I'll Name the Dogs"
Aquilo – "I Could Fight On a Wall"
Tags:
Four Year Strong
,
Fresh Pressed
,
Kelly Clarkson
,
Mark Hoppus
,
Michael Jackson
,
new music
,
New Music Friday
,
Sam Smith
,
sia
,
Sleep On It
,
Taylor Swift
,
The Used
,
The White Panda
,
U2
,
ZAYN