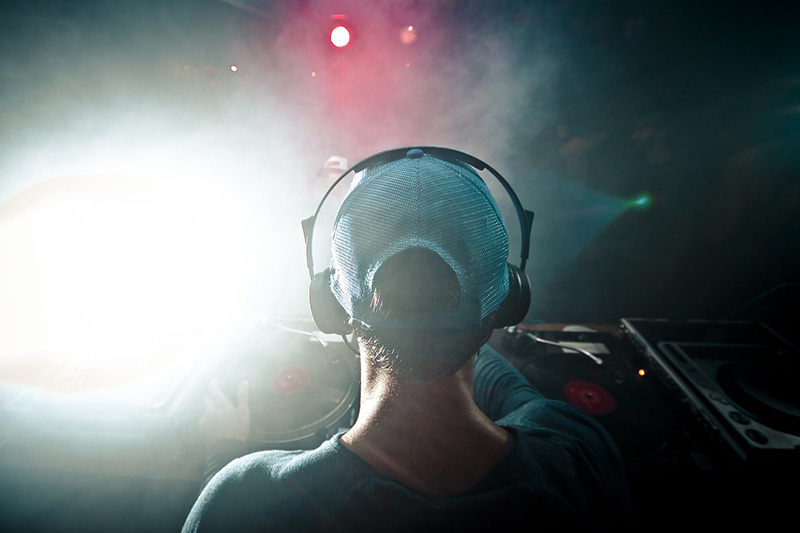 What better way to kick off a weekend than with new music? Fridays are always chock full of the latest songs and albums ready to be the soundtrack to everyone's antics, and here you'll find some of the week's standout releases. Whether you're ready to spin an anticipated song from a favorite artist or just taking a look at what's out there, there's a whole lot of tunes to dive right into. Who knows—maybe you'll find your next obsession.
Jay-Z – 4:44*
The Jay-Z hype-train has no brakes, but why would you want it to stop in the first place? The (brief) wait is finally over for his thirteenth studio album, 4:44, and it's arguably one of his most ambitious projects we've seen to date. It's also the shortest project we've gotten from him: 4:44 is only ten tracks in length with a running time of 36 minutes, but the honest lyricism coupled with features from Damian Marley and Frank Ocean make it a sure-fire highlight in his legendary history.
Calvin Harris – Funk Wav Bounces Vol. 1
We don't know how many volumes Calvin Harris is planning with his Funk Wav Bounces saga, and he might even be pulling our leg with these assumed sequels in the first place. But what matters most is making sure that volume one is even worth a sequel in the first place…and, well, it is. Packed with guests, Harris makes sure that his ten song, 22-guest record isn't log jammed or dumbed down in any way. Each guest matters, and each track is a certified summer banger.
Desiigner – "Liife"
The life of Desiigner is a wild one, and it comes across perfectly in his music, too. After taking over the world with his hit, "Panda," the young rap phenom has been a little quiet, but it seems like things are starting to finally ramp up. With his new track, "Liife," he's hellbent on showing that he's no flash in the pan. Gucci Mane helps out by lending a verse, and the catchy track lives and dies by Desiigner's signature ad-libs. "Liife" is expected to be off his debut album—presumably titled The Life of Desiigner —out later this year.
Future – "Pie" (feat. Chris Brown)
It's all Kanye West's fault, he essentially started the trend of "patching" records—his last record, The Life of Pablo, saw numerous updates post-release such as song alterations and even track listing additions. It opened the door wide for other artists to follow suit, and we're seeing it now with Future and his album HNDRXX. Future definitely doesn't need to beef up his albums, with two full-lengths out this year, we've got enough tunes to last a while. However, it's not stopping him from tacking on a new cut called "Pie" to the end of HNDRXX, and it instantly becomes one of the best songs featured on it. Luckily, Chris Brown's feature doesn't overshadow what Future brings to the table—massive hooks and an upbeat attitude. There's not much more you can ask for when Future brings out the inner-pop star in him.
I Set My Friends On Fire
– "The Vision and Scarlet Witch"
As alumni of the MySpace era, I Set My Friends On Fire have somehow kept their relevancy, even after all these years. Even more incredible: They haven't released an album since 2011. That all changes on July 21st, when the post-hardcore-electro-tinged quartet drops their new album, Caterpillar Sex. Yes, it is actually called that. "The Vision and Scarlet Witch" is its lead single, and it's taking a route that the group explored heavily with an older song—perhaps one of their best—"Things That Rhyme With Orange." With the lack of screaming here, you have to wonder just how this record is going to take shape, but for now it's off to a good start.
SAINTE – Smile, and Wave
We Are The In Crowd aren't technically broken up, but SAINTE is making it hard to be too heartbroken over their absence. Featuring WATIC sans Jordan Eckes and Rob Chianelli, frontwoman Tay Jardine is leading this poppier project with ease. Their debut EP, Smile, and Wave, cements SAINTE as a powerhouse in the genre already, and singles "Eyes Are Open" and "With Or Without You" have enough DNA from their history to make the new music feel delightfully familiar.
Steve Aoki – "Without U" (feat. 2 Chainz)
With playlists overflowing from tracks by DJs like The Chainsmokers, Calvin Harris, DJ Khaled, and more, it may feel like Steve Aoki is the odd one out here, but he deserves the spotlight just as much as the rest of them do. His new album, Kolony, lands next month, and it's loaded with guests like Lil Yachty, Migos, and T-Pain, but for now, "Without U" is the latest drop that'll further prove why the collection is going to be worth listening to. Joining Aoki is rapper 2 Chainz, who adds his flair to the intense house jam.
TLC – TLC
TLC is bringing nostalgia to another level with their new, self-titled album. The follow-up to 2002's 3D marks the first collection of material since the death of original member Lisa "Left Eye" Lopes. Instead of replacing her, the surviving members decided to carry on as a duo, and the result is a serviceable LP that calls back to their heyday. Aside from multiple references to older songs in the lyrics, the deluxe edition actually features re-mastered versions of some of their biggest hits. TLC also has its fair share of hits, too; singles "Way Back" and "American Gold" are simply 90's pop at its finest.
Envy on the Coast – Ritual
The new-look Envy on the Coast may not be the same exact version that everyone's used to, but they're hardly lacking anything when it comes to quality. In fact, their return is probably one of the best band comebacks in the past couple of years. Founding members Ryan Hunter and Brian Byrne revive their alt-rock project with their new EP, Ritual, dishing out six songs (with standouts in "Inhaler" and "Virginia Girls") that refuse to miss a beat.
Other new releases:
Halsey feat. R3HAB – "Now or Never – R3HAB remix"
OneRepublic – "Truth to Power"
Foster the People – "Loyal Like Sid and Nancy"
Arcade Fire – "Signs of Life"
Stone Sour – Hydrograd
Broken Social Scene – "Stay Happy"
The National – "Guilty Party"
St. Vincent – "New York"
LANY – LANY
Bruno Mars vs. David Guetta – "Versace on the Dance Floor (Bruno Mars vs. David Guetta)"
Adam Lambert – "Two Fux"
Baio – Man of the World
Transviolet – Kaleidoscopes
Liam Gallagher – "Chinatown"
Rudimental, James Arthur – "Sun Comes Up"
Tyler, The Creator – "Who Dat Boy" / "911/Mr. Lonely (feat. Frank Ocean)"
R3HAB, Little Daylight – "Truth or Dare"
Mura Masa – "Second 2 None (feat. Christine and the Queens)"
Superfruit – Future Friends – Part One
Shakey Graves – Shakey Graves and the Horse He Rode in On…
Klyne – Klyne
Seven Lions – Where I Won't Be Found
Youngr – "'93"
Rick Ross, Anthony Hamilton – "Glory of War"
Whethan – "Good Nights (feat. Mascolo)"
Tags:
Calvin Harris
,
Desiigner
,
Envy on the Coast
,
Fresh Pressed
,
Future
,
I Set My Friends On Fire
,
Jay-Z
,
new music
,
New Music Friday
,
SAINTE
,
Steve Aoki
,
TLC