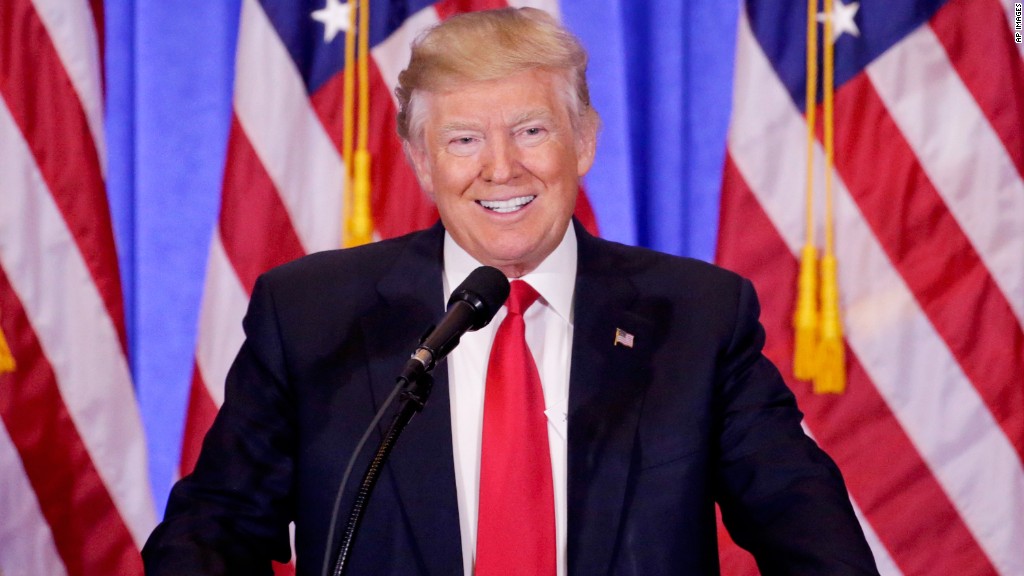 Eve of Destruction…
I'm writing this column on the eve of now-President Trump's Inauguration. By the time you read this, we will officially have a new president, and the country will have shifted to such a degree that who knows how much damage is about to be done. President Obama just wished the White House press corp "good luck" and basically peace'd out. Trump hates the mainstream media and will likely spend the next four years (at least, if he lasts a full term without impeachment) doing all he can to restrict the press' access. His recent exchange with a CNN reporter during a press conference was stark proof of that. "Your organization's terrible," he said, ignoring the question offered.
On one hand, I am personally sick to death of talking about Trump, and his reign of terror has only just gotten started. The campaign was ugly and miserable. The result disheartening for more than half of the voters. And everything that has come out of Trump's mouth or Twitter account since the election has done nothing but confirm the fears of the decent. People can continue to argue about whether or not Trump is a racist and xenophobe (he is), a misogynist (he is), and a homophobe (he certainly ain't helping). But one thing that is absolutely beyond debate is that he's a petulant child. He's a bully.
For years, he's proudly waved his expensive team of lawyers around like an old world Wild West cowboy waved his shooter. That scene with the CNN reporter is telling, and we should get used to that break in the flow of information. As his supporters have repeatedly informed the rest of us, Trump isn't a politician, he's a businessman. While there's a Constitutional right to "freedom of the press" (First Amendment), Trump probably already has people on his payroll working on ways around that. He can at least be stubborn and difficult. Again, like a child.
This should upset everyone, and those Trump supporters shouting about how much they hate the press have no idea just how much they're shooting themselves in the faces. Allow me to assure you all: There are many, many great journalists, men and women who have built a career on intelligent, incisive and honest writing, retaining their integrity throughout, at publications such as the New York Times, Washington Post, LA Times, Detroit Free Press, Wall Street Journal, and many more. In general, I consider myself an entertainment journalist, but that latter part of that informal title I hold very dear. I'm proud to belong to this industry.
—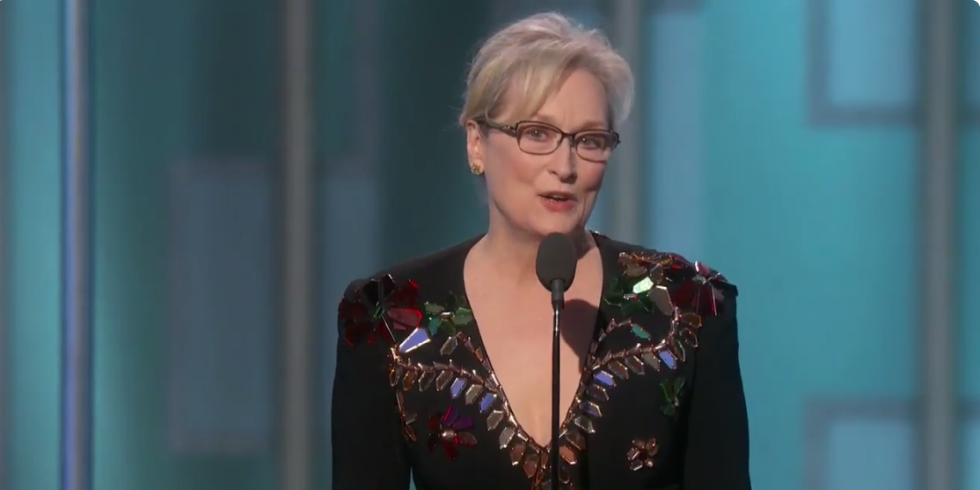 All praise Meryl Streep…
There are people out there still willing to be a voice for what is good and decent. Thank God for Meryl Streep, who used her "Lifetime Achievement" award acceptance speech at this year's Golden Globes to remind the world that Trump once mocked a disabled reporter, much to the apparent annoyance of Mel Gibson and Vince Vaughn. And let's just knock off the "he didn't mock the guy" bullshit. He did. It's as clear as day. Yes, he's made similar gestures before but this time he exaggerated it. He mocked the guy and it's on video. Denying it is nonsensical.
Yes, we should point out that, in 2003, Meryl Streep stood as part of a standing ovation for Roman Polanski, as we were reminded in the meme that went round immediately after her speech. Polanski has charges pending for sexual assault on a girl of 13, and that's disgusting. Clearly. So for the sake of fair play, we have to say that was a terrible error of judgement on Streep's part. For that matter, Harrison Ford, Johnny Depp, Hugh Grant, Kristen Scott Thomas, Sigourney Weaver, Ben Kingsley, Ewan McGregor, Pierce Brosnan, Kim Cattrall, Jodie Foster, Kate Winslet, John C. Reilly, and Helena Bonham Carter, among many others, shouldn't have accepted roles in Polanski movies post-charges. But one thing has nothing to do with the other.
Streep was wrong to stand, along with the room full of people. That doesn't change the fact that she was right when she made her speech. Journalists are going to need support, and we don't have to accept that sort of bullying, not even from the president.
One other thing on this subject. The charges against Polanski are heinous and should never be downplayed. Defending anything close to that sort of sickening criminal activity is unthinkable and unforgivable. Let's not forget though, Polanski isn't the President of the United States. So had another actor or a director mocked a disabled person, Streep might not have mentioned it in her speech. When the President does it, on the campaign trail no less and during official business (as opposed to behind closed doors, which still wouldn't have been great, but it would have been different), he's saying that this is acceptable behavior. We should never forget that it isn't. Tell the kids.
—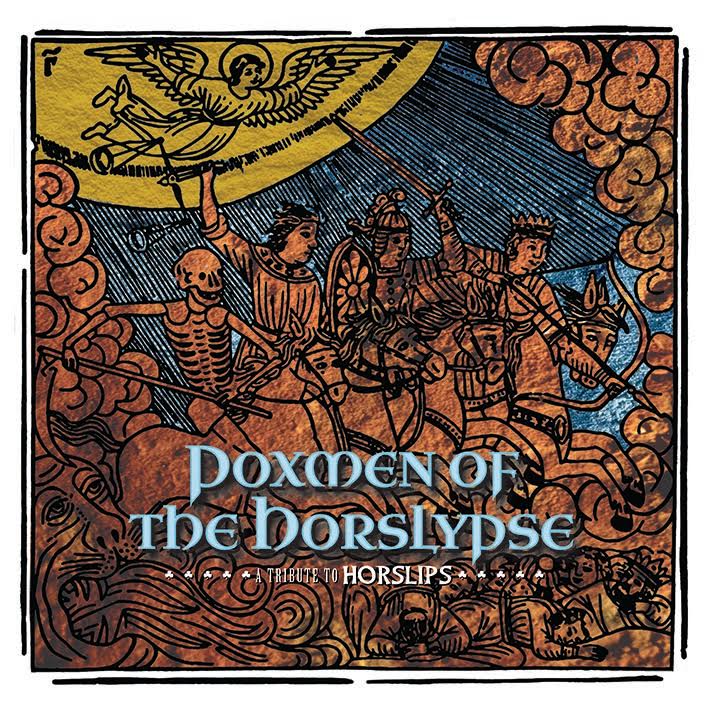 Horslips, Nile Projects, and Willodean…
As is so often the case at times like this, music is the great soother. Outside of big, publicized releases, I received an awesome tribute album to . Despite the fact that the band has been active since 1970, I wasn't familiar before receiving this, but I wish I was. Jake Burns of punk band the Stiff Little Fingers appears on a heartfelt rendition of "Warm Sweet Breath of Love," while other highlights include The Radiators From Space's "The Lady Wrestler," and Detroit band Bill Grogan's Goat's "Dearg Doom."
Meanwhile, the world needs The Nile Project right now. More than a band, these musicians come from Burundi, Egypt, Ethiopia,, Kenya, Rwanda, Sudan and Uganda, and this latest Jinja album proves what is possible when different cultures but their creative heads together to create something beautiful. The record is "world music" in the truest sense.
LA trio Willodean is more conventional indie rock and power-pop that in turn recalls early U2, Cheap Trick, and even later Bon Jovi. It's very commercial and polished, but songs like "Oh Well," the opener on this Awesome Life Decisions EP, are big and catchy enough to forgive them for that.
—
"Callwood at the Cooler" is a new bi-weekly column which will see me waxing lyrical about events in the news, pop culture and the etc. Sometimes it'll be light, other times not-so when the rant/monolog demands. The subject matter will vary dramatically so expect anything and keep coming back.
Tags:
Bill Grogan's Goat
,
Callwood at the Cooler
,
Donald Trump
,
Meryl Streep
,
Stiff Little Fingers
,
The Horslips
,
The Nile Project
,
The Radiators From Space
,
Willodean