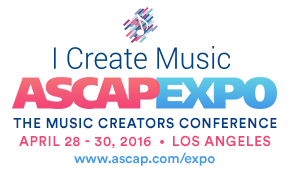 The 2016 ASCAP "I Create Music" EXPO is prepped and ready to bring you panels and performances from the brightest talents in the music industry. If you don't have tickets to the Los Angeles event, never fear, because we'll fix that for you. You can enter to win two three day passes (a $900 value) below!
From Nate Reuss (fun.) to Rob Thomas (Matchbox Twenty) to Timbaland to Pat Benetar, producer/manager Jeffery David (Echosmith) to A&R rep Nick Hausling (Razor & Tie) to News Director/Music Editor Shirley Halperin (Billboard/The Hollywood Reporter), this year's event has a seemingly endless list of industry professionals with advice and insight into the careers that build this community.
The 2016 ASCAP "I Create Music" EXPO takes place from April 28th to 30th at the Loews Hollywood Hotel.
Now in its 11th year, ASCAP's "I Create Music" EXPO is the premier conference for songwriters, composers, artists and producers in all music genres. Participants can attend creative and business-focused panels, workshops, master classes, keynotes, one-on-one sessions, networking events, state-of-the-art technology demonstrations and performances. The ASCAP EXPO provides music creators with an unforgettable and authentic experience — real knowledge, tools, connections and a community of support and guidance they can't find anywhere else.
For more information on the #ASCAPEXPO, please visit:  http://www.ascap.com/expo, and watch their EPK at  http://bit.ly/ASCAPEXPO2016.
Enter for your chance to win two 3 day passes to the #ASCAPEXPO below!
2016 ascap i create music expo
,
billboard
,
Echosmith
,
Fun.
,
matchbox twenty
,
nate ruess
,
pat benetar
,
razor and tie
,
rob thomas