Geek Girl Riot
Geek Girl Riot - #092: Women in Deep Freeze Chat, Riverdale Review + 60s-Secret
By Alex Bear | July 19, 2017 at 6:30 PM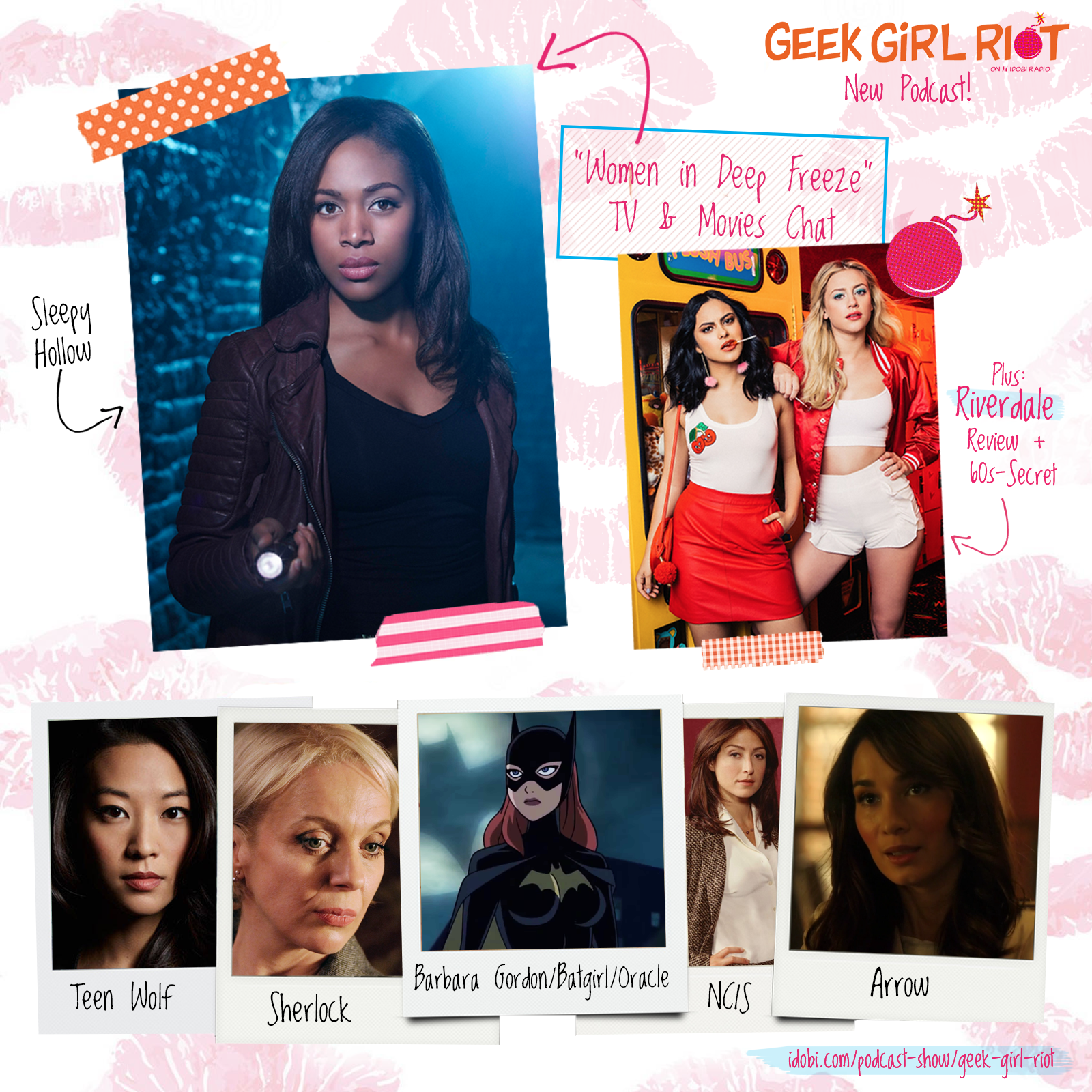 This week on Geek Girl Riot we're heading to Riverdale! This is a show we're absolutely loving, based on the wonderful world of Archie comics. Hear Renee's eyebrow-raising take on the CW show, followed by a 60-second Secret(s) from Day about the history behind some of the Easter eggs, and the story behind Jughead's t-shirt.
Brr. Did you notice that? The temperature just dropped sub-zero. That's because on this episode, we're taking a trip to the fridge—not just to cool off after a very heated rant, but because our main topic lives there. The refrigeration of female characters has been happening ever since storytelling was born, and yet here we are in modern day, forced to ask: Why, oh why is this still relevant? Sparked by an essay and list from Gail Simone called 'Women in Refrigerators', today's conversation digs into all the times female characters have been tossed aside in TV shows and movies (and by tossed aside, we're talking brutally murdered, raped, attacked, and generally mistreated), for no reason other than to further the journey of the male protagonist. Put on an extra sweater and buckle up folks, because Sherin, Day, Erin, and Soma are serving up some cold hard truths and it's about to get real chilly in here.
If you haven't heard, Geek Girl Riot is now on idobi Radio! Tune in every Tuesday at midnight (aka Wednesday morning) for your dose of late-night geekery from our team of rioters. For now, you can find Day's 60-second Secret transcript below.
Transcript:
Hi, this is Day with your 60 Second Secret.
Today, I want to talk about the television series "Riverdale." For those not familiar, it stars the cast of one of the longest running comics – Archie Comics.   We get Archie and Veronica, Betty and Judghead and Moose.  All of them and more.
Roberto Aguirre-Sacasa, who led development on Riverdale, did a lot of work not only on updating the comic, but making sure this series has some great legs. He created a very enticing variant: Afterlife with Archie which has a much darker tone.
Although not zombie-filled and supernaturally linked, Riverdale, definitely has a darker and more intense feeling, though the original Archie comics characters are still evident, just updated for a modern audience.  
I love love love the Twin Peaks feel of it. In fact, there even is a similar sign as you enter Riverdale, just as from Twin Peaks.  "Welcome to Riverdale, the town with Pep!"  In addition, Aguirre-Sacasa has made no mystery out of the fact that Lynch's Twin Peaks inspired Riverdale.
Now, if you're wondering about the "Town with Pep" language, that is an easter egg relating to the comic. Archie Andrews would make his debut as a lead character in Pep Comics #22, in 1941.
Cool eh? But there is one more Secret that I want to share. With so many folks just coming to the show who might not know the history, I wanted to give you this:
Jughead is a great character. We know about his eating, his hat, his dog "Hot dog" and, in this version, his t-shirt with the letter "S."  It's also on his laptop.
Now officially, the 'S' is never explained in the comics. BUT according to Archie creator artist Bob Montana, the S refers to Skunk Hill in Massachusetts where he went to school, which he turned into Squirrel Hill. And then combined it with his elementary school athletic team called the Tigers. The S stands for "'Squirrel Hill Independent Tigers.' " I guess he didn't want jughead to have SHIT on his sweater
And that's it for this week's Sixty Second Secret. I'm your host Day Al-Mohamed for Geek Girl Riot.
Podcast: Play in new window | Download