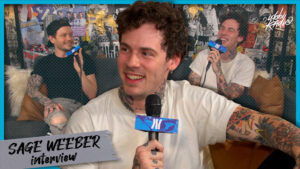 Ever since he was a kid, there's one thing Sage Weeber has always loved: drumming.

At just 16, he was already playing on Warped Tour, and his career quickly expanded from playing with bands in the alternative music scene like Black Veil Brides to performing with artists including rapper Ty Dolla $ign and televised appearances on Ellen, The Late Late Show with James Corden alongside Nessa Barrett and Benson Boone.
I first chatted with Sage in March 2021 via Zoom during the pandemic. It was an interview that dove into his backstory, and you can check it out here. But an in-person conversation has been a long time coming, and watching his career grow in the two-and-a-half years since has been incredible.
2023 started off strong for Weeber—first touring with his band Point North, followed by Nessa Barrett, and then hopping on drums for Landon Barker [son of Travis Barker] during his run of shows on blink-182's US tour. But it was a late-night phone call from producer Zakk Cervini (blink-182, 5 Seconds Of Summer) that would put him in a position that even had me texting him with excitement the moment I saw; last-minute filling in on drums for Bring Me The Horizon on their tour with Fall Out Boy.
What makes it all the wilder is that less than 24 hours after receiving the call, Weeber was on stage in front of 25,000 people playing 11 songs, many for the first time, that he learned on the flight over.

In this interview, we chatted about Point North's brand new sophomore album Prepare For Despair (out now via Hopeless Records), the worst injuries Weeber has sustained, which included a broken femur as a child after slipping in a sandbox and, of course, the phone call that put him on tour with Bring Me The Horizon.

Below is an excerpt from that moment of our chat, and you can watch the full video version of our interview right here.
It seems like overnight, you were playing drums and Landon Barker, and then, suddenly, it was announced that you were hitting the road with Bring Me The Horizon.
So, that situation was kind of crazy. I was literally at 4100 in LA with a bunch of friends.
Frankie's (my dog) favorite bar to go to, by the way!
Oh, it's the best. I saw you were there the other night.
Yeah, we went there two days in a row.
She's a local now.
She loved it. So what happened when you were out there?
I had a couple of drinks, it was like 11:30 at night. I got a text from Zakk Cervini, who is a producer/mixer in LA.
Yeah, he's been doing Bring Me's stuff.
He did Bring Me, blink, and 5 Seconds of Summer. But he texted me and goes, "Hey, I know you're super busy, but what what are you doing this month?" I was thinking he wanted to make an album.
Yeah, some sessions or something.
I was like, "Sick! I'm actually looking for work," and he's like, "Oh, that's really interesting you say that because I'm on the road with Bring Me right now, and Matt is leaving the tour, and they need someone to come play drums." I immediately said yes, and, mind you, I hadn't kept up-to-date with Bring Me. I remember 10 years ago, I was 15 when Sempiternal came out.
That band, for me, in general, that album was incredible. But Count Your Blessings—their real old stuff… that's where I was heavily obsessed with them. That got me into heavy music, and my old bands used to cover the songs from that album.
Within 30 seconds, I got a text from Jordan from Bring Me, and he was like, "Hey, here's 11 songs, here's a multi-track of the show. Can you be here tomorrow?" It sobers you up real quick.
It's like midnight now. I'm back home, and I said, "Yeah," 'cause I'm the type of person where it's like if I say yeah and I kind of put myself into a corner, I have to you have to do it.
You have to do it. There's no backing out.
I have to do it. So, yeah, literally, I stayed up til 3 in the morning, woke up at 7, and flew to Phoenix for the first show. I learned, at the time, 11 songs in 12 hours, and we did no rehearsal. It's so funny. The first time I ever played songs like "Drown" and "Can You Feel My Heart" on a drum kit was in front of 25,000 people.
I can't even imagine what that would've been like.
I think the smallest show was like 20,000 people. And here's the thing, I didn't realize actually how big Bring Me was because I've been in the pop world for like three years. The funniest story was what clicked for me that Bring Me was as big as they are, was [when] we were direct support for Fall Out Boy, which is sick. Those shows are very much like 50/50. 
So my time got extended to play with them. I was supposed to be with them for like a week, and I stayed for like a month. The guys were like, "Hey, you need to learn five more songs 'cause we're playing this festival in Michigan," and they're like, "You'll be fine. Lamb Of God's playing…" I was like, "Oh my god, that's like my favorite band," and I was like, "It's so sick that Lamb Of God's the headliner." And they're like, "No. You're the headliner. Lamb Of God's playing before you."
And at that moment…
I was like, "Ohhh…"
 You guys are the real deal!
I was in The Ghost Inside's green room. It was like Ghost Inside, Memphis May Fire… all the Warped Tour friends and homies. I was talking to Andrew and Jim, and I was like, "Man, I hope people don't leave after Lamb Of God," and they're like, "You're crazy to think that." And then, sure enough, when we played, you couldn't fit another person in that field.