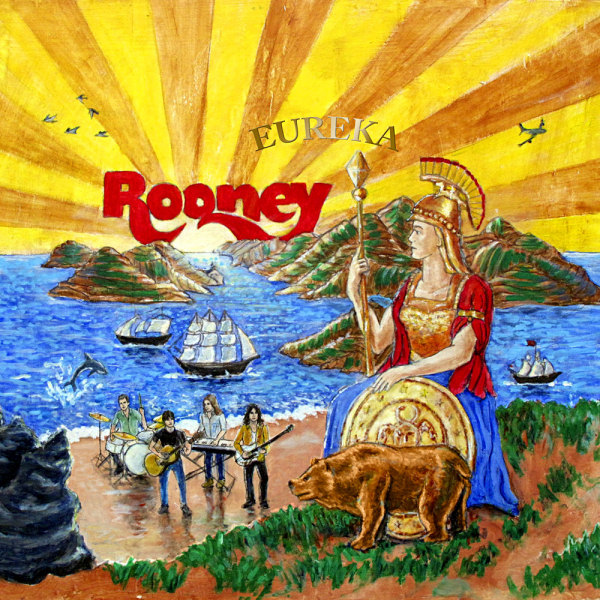 California's kings of summery rock anthems have released their third album just in time to beat the inevitable heat, and with Eureka the band have once again proven their ability to craft a timeless record collection of fun-in-the-sun jams.
While Rooney have always been adept at writing feel-good sing-alongs, their third full length shows the group at peak form, with guitarist Taylor Locke layering shimmering chords with impressive noodling at points, while since-departed bassist Matthew Winter bids fans a fond farewell courtesy of his bouncy and playful low-end licks.
Most of the tracks, like album-opener "Holdin' On," and "All Or Nothing" are perfect cuts of radio-friendly pop rock that sound like they could have been stolen from Green Album-era River Cuomo's personal notebook, which is entirely possible considering that the bands did tour together in 2003. Coincidence or grand theft melody, the world may never know, but there is certainly no denying the vocal and melodic similarities between the groups.
The country-tinged "Go On," with it's sliding guitar and jangling saloon-worthy piano solos, shows lead singer Robert Schwartzman recalling fond boyhood memories of his older brother, acclaimed actor and former Phantom Planet drummer Jason Schwartzman, while first single "I Can't Get Enough" is a breezy dance-able that should send Maroon 5 back to their practice space with envy.
The record really picks up steam with "The Hunch," a stomping rock & roller with vintage horn stabs that recalls the J. Geils Band's classic "Freeze Frame," and "Stars and Stripes" is a dead-on Steely Dan tribute that's heavy on the hoke until it suddenly drops acid in the last minute and melts into a twisted carnival theme that sounds like the soundtrack to a Coney Island boat ride across the River Styx.
However, it's tracks such as "Into The Blue," a bleak piano-led ballad that show what the group is capable of when Schwartzman shows off the gloomy side of his impressive songwriting prowess. In fact, the best song on the album is hands down "Not In My House," a dark and threatening rocker that finds the band in the most bad-ass three and a half minutes of their career, Schwartzman's role in The Princess Diaries not included.
The group do walk the boundary of adult lite-rock AM radio at times, but they handle the territory nicely, in spite of the flute solo and proggy, space-rock midsection of closer "Don't Look At Me." The Tom Petty influence is also thick, shining through in many of Schwartzman's cheery-but-not-cheesy melodies.
All in all, this is a very solid album that would certainly be a great soundtrack to any number of summer adventures, it's catchy choruses sure to inspire spontaneous karaoke sessions in south-bound automobiles all season long, while Mr. Cuomo weeps in his dorm room over the record he wishes he'd written.
3.5/5
RIYL: Weezer, Tom Petty, road trips
You can purchase the album on iTunes.