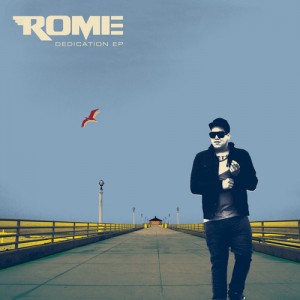 Sublime With Rome frontman Rome Ramirez has teamed up with Fueled By Ramen for his debut solo effort, the Dedication EP. Keeping up the quirky sound of his band, he manages to add a new upbeat dimension to the four songs. The EP's catchy choruses and laidback vibe make it a fun, easy-listening experience.
It's no surprise that Dedication is an EP listeners can relax to. The title track sets the one for the album with a steady, mid-tempo energy and infectious hooks. Written with fun. frontman Nate Reuss, listeners know they can kick off their shoes from the get-go. "Seasons" picks up the pace of the album, bringing in a hip-hop influence towards the end to show Rome's versatility.
The EP's eclectic mix of sounds is brought out further by "Hung Up," which sees Rome enter his comfort zone with a reggae style then change things up adding an element of pop music. "Oz of Love" closes out the EP with its eccentric, jumpy sound and wraps the album up nicely. Each song flows easily into the next, and the EP has an overall smooth and polished feeling.
Rome has big plans and a sound to back it up. Dedication is just a sample of what he has to offer. Though he doesn't stray too far from the musical stylings of his band, he shows he is willing to take risks experimenting with different genres. With its clever lyrics and a comfortable, warm sound, you'll have no trouble dedicating yourself to this EP.
Rating: 3.5/5