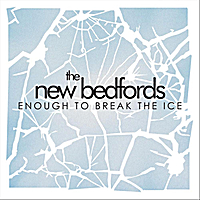 If you are ready to drink and dance and enjoy some good new-fashioned rock and roll, then give The New Bedfords a listen.   The New Jersey five-piece is made up of Kris Scotto on bass and Matt Lynch on guitar while drummer Adam Gruss and guitarist Dan Callas provide the backup harmonies for lead singer Ali Aslam.
When New Jersey produces a new band, we sometimes think of the Midtowns, Saves the Days and more recently, The Gaslight Anthems that have caused a ruckus in the punk rock genre.   But in this case, Northern Jersey has produced a band that represents the best qualities that make Weezer, Franz Ferdinand and Red Hot Chili Peppers so attractive in the alternative rock community.   Guitar solos, handclaps and just the right amount of gang vocals lay the groundwork for this five-track adventure through rock and roll, drinking and sex.
The instant throwback surfer feel of opening track "Gotta Get Out" kicks of an energetic 16 minutes that closes with the seemingly radio-ready "The Ballad of Duane Cunningham", which showcases Aslam's impressive vocal range and style.   These tracks sandwich three others, starting with "Last Request", which essentially is a complaint about why there aren't more bands like The New Bedfords on the radio.   Next in line is "I'm Good For Some Bad Decisions", which has a chorus that would not seem out of place on any Franz Ferdinand song, which is guided by a delicious bass line and guitars that will swoon you out of your seat.   Before the excellent aforementioned closer, we are guided through the lives of classic rock song characters in "Where Are They Now?", displaying the clever lyricism that just adds to the sound musical ability of the band.  (4.0/5.0)
Buy the EP on iTunes and make sure to check out The New Bedfords at their CMJ showcase October 21st at the National Underground in New York City.