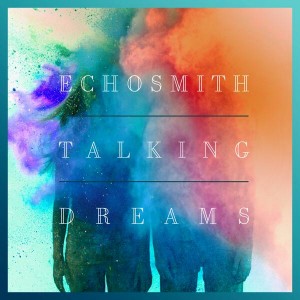 If you've been on idobi lately, you've probably seen Echosmith popping up again and again. For good reason, too, because this band of siblings have been making waves since their very successful stint on Warped Tour this past summer. This alt-pop foursome is  young in every sense of the word; not only is this their first record, but all four members of the band are either in their teens or just barely out of them. But don't let their age mislead you – Echosmith pack one hell of a punch with their unique blend of pop-rock.
Their debut album, Talking Dreams, starts off with "Come Together," a song that's hard to put into just one genre. The track sounds a bit like MGMT's infamous single "Kids," though a little less electronic and a little more rock. Lead vocalist/keyboardist Sydney Sierota, the second-youngest of the Sierota siblings, sings about unity, coming together, and bursting through every barrier in your way. Perhaps the song is a nod to how the band has exploded onto the scene in such a short time. Regardless of what it's about, you're bound to find yourself humming its catchy chorus for days.
The next track is "Let's Love," a heavily 80's-inspired song about loving unabashedly while you still can. Sydney shares the vocal spotlight on this track with Jamie, the eldest sibling. "Let's Love" features a lovely vocal harmony throughout most of the track and, as with virtually every song on this record, sounds years ahead of the young band's collective age.
The third track on Talking Dreams is "Cool Kids," a song you've probably heard all over our airwaves. "Cool Kids" was also featured as one of iTunes' Singles of the Week, which is easy to understand as it talks about something that everyone can relate to: wanting to fit in. We all remember that annoying teenage phase where you never quite seemed to belong anywhere, right? Well, this infectious track will bring you right back to awkwardly making your way down the halls of your high school…but this time, you're going to love it.
Next up is "March Into the Sun," which starts simply with a loop of handclaps accompanied by a chorus of oh-oh-oh's. The song quickly picks up, with Sydney's delightfully airy vocals soaring miles above you. The song feels ethereal and light throughout, but the subject matter goes much deeper. "March Into The Sun" talks about persistence and not simply laying down to accept that something is ending when you don't want it to. "Bright," the sixth song on the 12-track record, breaks away from the previous pop-heavy tracks, sounding like it comes out of The Lumineers' catalog. The folky tune  features Sydney's vocals simply accompanied by an acoustic guitar and some occasional backing vocals, creating yet another fantastic vocal harmony.
The following song, the album's namesake track, jumps head-first right back into the alt-pop extravaganza that makes up almost the entirety of the record (in a totally good way, though). After "Talking Dreams" is "Tell Her You Love Her," a song that is a bit more rock-inspired than the others, but it's brilliant in its simplicity. The song is a perfect example of how sometimes, truly, less is more. If you have great vocals, substantive lyrics, and an awesome hook, you really don't need a bunch of unnecessary flourishes to make it work. The track that follows, however, was hands-down a personal favorite off – though it is hard to describe why. Give "Ran Off in the Night" one listen and you'll be hooked, too. From the opening chorus of "Won't you come away with me, won't you come away?" the song draws you in and beckons for you to keep hitting the repeat button again and again.
The penultimate song on the record is "Nothing's Wrong," which shows Echosmith's fondness for blending storytelling lyrics with a first-person narrative. In the verse, "Nothing's Wrong" tells you a story about a couple of kids apathetically waiting for the world to end. The song then breaks into a fun, anthemic chorus, shouting, "We walk like there's nothing wrong," but quickly settles down in the verses, pulling you back into the story.
Talking Dreams concludes with "Surround You," a song that sounds like something from Of Monsters and Men's latest release. This mostly-subdued track has so many subtle pieces that all seamlessly blend to shape the  constantly rising and falling  sound, playing off the lyrics full of mountains and valleys and rolling hills. This track certainly feels much too large for these four kids to have created – but thankfully, they did.
In fact, that's the general impression of the album as a whole. Again and again it is impressive to think that the music coming out of your speakers first came out of these four kids. With all they have managed to accomplish in their short time as a band, from being one of Alternative Press' "100 Bands to Watch in 2013" to their first ever single being used in the NBC promo for the 2012 Summer Olympics, it is incredible to think what they will accomplish together in the future.
Rating: 4.5/5