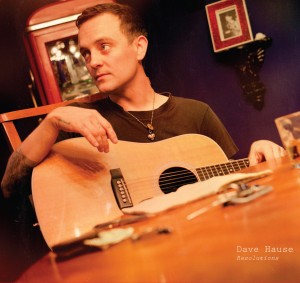 Very often, the songwriter of a band will find himself writing songs and covering topics that do not fit in to the theme or feel of his current band's sound.   This has happened, with great results, with the debut album from Dave Hause.   Hause recorded the album with the Empty Bottles Band, which is simply a group of his friends playing various instruments.   In addition to the basic tools of rock and roll, he incorporated an organ, pedal steel and mandolin.
Hause is the lead singer of beloved Philadelphia punk outfit The Loved Ones.   The fast paced musical style of The Loved One's that has been displayed on two EPs and two full lengths over the past eight years is unsurprisingly absent on Resolutions.   The fact that he steps so far out of his band's comfort zone and settles into another frees him of being your run of the mill "lead singer of a punk band releasing a solo album".   His incredibly unique powerful vocals fit well into a myriad of musical styles spanning ten tracks on this Paper and Plastick release that captures "Some of the best song [he] has written to date".
The listener will feel instantly pulled in and intrigued by opener "Time Will Tell" with lines like "You say there's no God, god dammit / I could use a little faith to help from crawling right out of this skin".   If anything, these songs are interesting and attractive because they are so far from fan favorite The Loved Ones songs like "100k" and "Jane" but still capture the incredible vocal talent of Hause.   "The songs I was writing at the time didn't really fit [The Loved Ones style] and seemed to be pulling in a different direction, so I figured I would see that through," he said of the tracks that make up Resolutions.
The tracks vary in musical style, from the style of his former band on "Rankers and Rotters" to the indie leaning "C'mon Kid" to the polka-folk of the stand-out track "Prague (Revive Me)".   The closing track, "Meet Me At The Lanes" is a lyrical and musical peer with "All My Friends Are In Bar Bands" by The Wonder Years, off The Upsides released one year ago.
"When songs happen quickly and easily you just kind of have to ride the wave, and before I knew it I had a record's worth of good tunes that don't fully fit the Loved Ones paradigm. I think fans of my songwriting will definitely get what's going on and will be happy to hear it."   As far as lead singers turned solo artists, you wont find a better release in recent memory than this one.   If you are a fan of The Loved Ones along with the vocal style that Dave Hause brings to the table and are looking for something just a little different, then Resolutions is certainly an album you need to get your hands on. (4.0/5.0)
Grab the album on itunes.