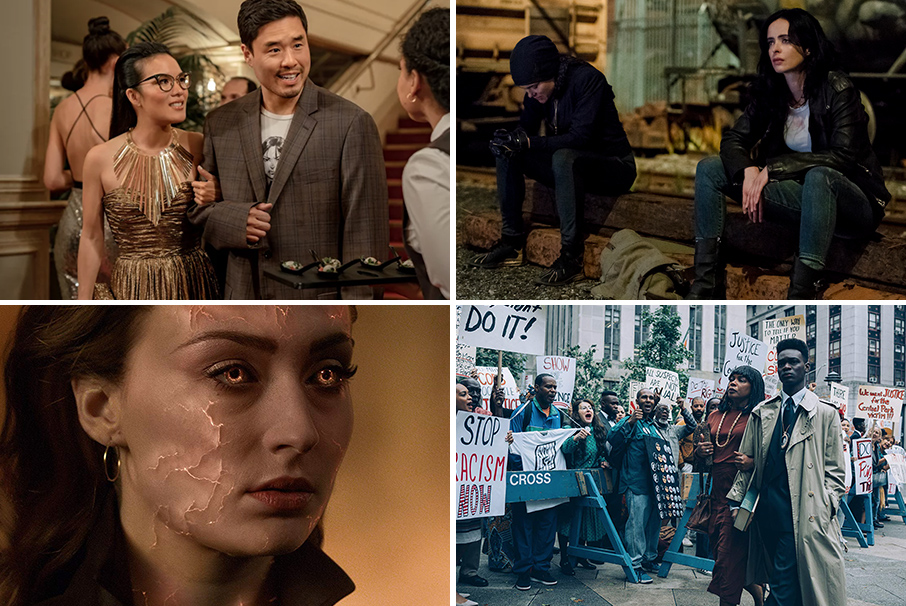 Clockwise from top left: Always Be My Maybe (photo (c) 2018 Ed Araquel) // Jessica Jones 
(photo: David Giesbrecht/Netflix) // When They See Us (photo: Atsushi Nishijima/Netflix) // 
Dark Phoenix (photo: Doane Gregory - © TM & © 2017 Marvel & Subs. TM and © 2017 Twentieth 
Century Fox Film Corporation)
This week on Geek Girl Riot our Rioters gather to share all the shows and movies they've been watching. Get ready to update your watchlist!
Superheroes, Supertech, and Survivors
Our Heroic Trio return for a She Said / He Said / She Said, kicking off with some of the TV shows that they've been digging into lately. Philip gives his take on the new season of Designated Survivor, while Sherin and Alex give you a spoiler-free tease of Jessica Jones S3 (out Friday!). The trio also talk about the incredible depth of the first episode of Black Mirror S5, "Striking Vipers".
Monsters, Music, and Mutants
Julian jumps on the airwaves with Sherin to dive into Godzilla: King of Monsters and why you might enjoy it with some context. Julian also sings the praises of Rocketman before coming to the defense of Dark Phoenix.
The ones that moved us
Our Heroic Trio come back in to talk about the shows and movies that have truly moved them. First up: When They See Us, the incredibly heartbreaking portrayal of the Central Park Five, as told by Ava DuVernay and Netflix. Then our Rioters giggle over all the things they love about Always Be My Maybe (and point out a few things y'all need to be aware of). Sherin says of the movie:
"There's a lot I want to say about Always Be My Maybe but it's mostly squealing and giggling in glee. Neither predictable or clichéd, instead ABMM hits the tropes which makes it an enjoyable character driven rom-com that I, personally, loved." 
Philip also gives a spoiler-free sneak-peek of Shaft (if you can handle it) before Sherin and Alex raise a glass of the finest wine to Good Omens.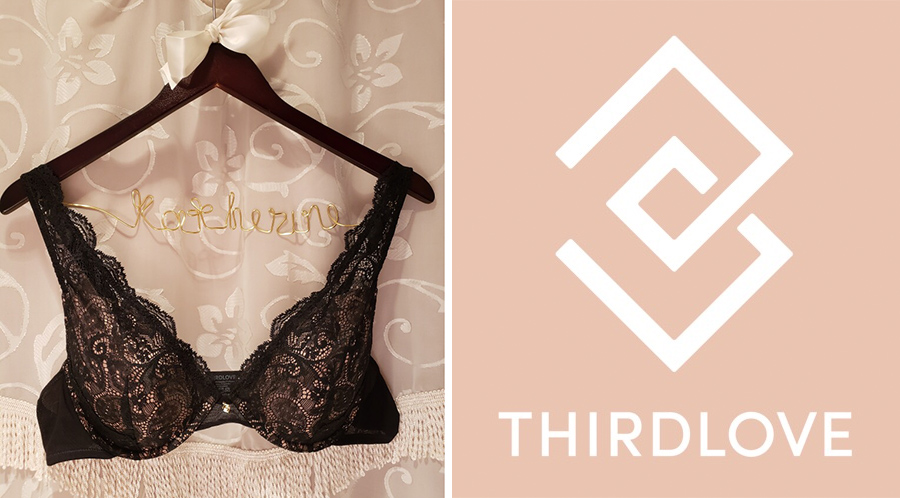 ThirdLove
ThirdLove is turning up the fabulous with their lovely range of underwear designed for all shapes and sizes! Their bras look pretty, feel pretty good, and their company works to support the community around us. ThirdLove knows there's a perfect bra for everyone, which is why they're offering you 15% off your first order! Go to thirdlove.com/GGRIOT now to find your perfect-fitting bra… and get 15% off your first purchase!
Tune in to Geek Girl Riot on idobi Radio every Tuesday at 11pm ET / 8pm PT for your dose of late-night geekery from our team of rioters. Til next time, see a list of everything our Rioters talked about below:
LINKS:
– When They See Us
– Designated Survivor
– West Wing
– L.A.'s Finest
– Bad Boys
– Black Mirror
– Guardians of the Galaxy
– Aquaman
– Jessica Jones
– In Living Color
– Godzilla: King of Monsters
– Ghidorah, the Three-Headed Monster
– Godzilla
– Friday Night Lights
– Stranger Things
– Pacific Rim
– Gang Busters
– Rocketman
– Kingsman
– Bohemian Rhapsody
– Game of Thrones
– Dark Phoenix
– Iron Man 2
– Iron Man 3
– X-Men: Apocalypse
– Always Be My Maybe
– The Central Park Five
– The Central Park Five: A Chronicle of a City Wilding – Sarah Burns
– Shaft
– Good Omens
Podcast: Play in new window | Download