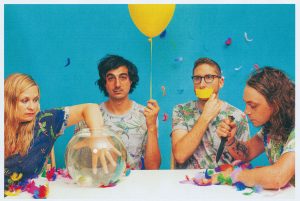 Tree River is about to release a brand new album, Time Being, on April 1 via Big Scary Monsters. I caught up with Trevor Friedman and Phil Cohen to learn how the two started to collaborate on music, how Time Being came to life, and how Max Bemis of Say Anything got into the mix. I especially loved learning more about the track "homesick," my favorite off the upcoming album. You can stream "Thought Bubbles" and "Journey Proud" now and keep an eye out for what's next. I hope you enjoy this one and share it with a friend. 
This episode is brought to you by; 
Bombas' mission is simple: make the most comfortable clothes ever, and match every item sold with an equal item donated. So, when you buy Bombas, you are also giving to someone you're in need. Visit Bombas.com/scoggs and get twenty percent off any purchase.
Raycon wireless earbuds are the best way to bring audio with you because no matter how much you shake things up—literally, no matter how much you shake—you know they won't fall out of your ears. Their Everyday earbuds look, feel, and sound better than ever. Visit BuyRaycon.com/scoggs to save 15% on Raycons!
Please don't be shy, email me! [email protected] with any advice, questions, or topics. If you like the show, please rate, subscribe & share with a friend. 
Talk soon! 
<3Sara 
Stay connected
@treerivermusic
@SaraScoggs
@lets_talk_soon
Theme song produced by Shelby Merry
Tree River Photo by Ben Lieber
Podcast: Play in new window | Download