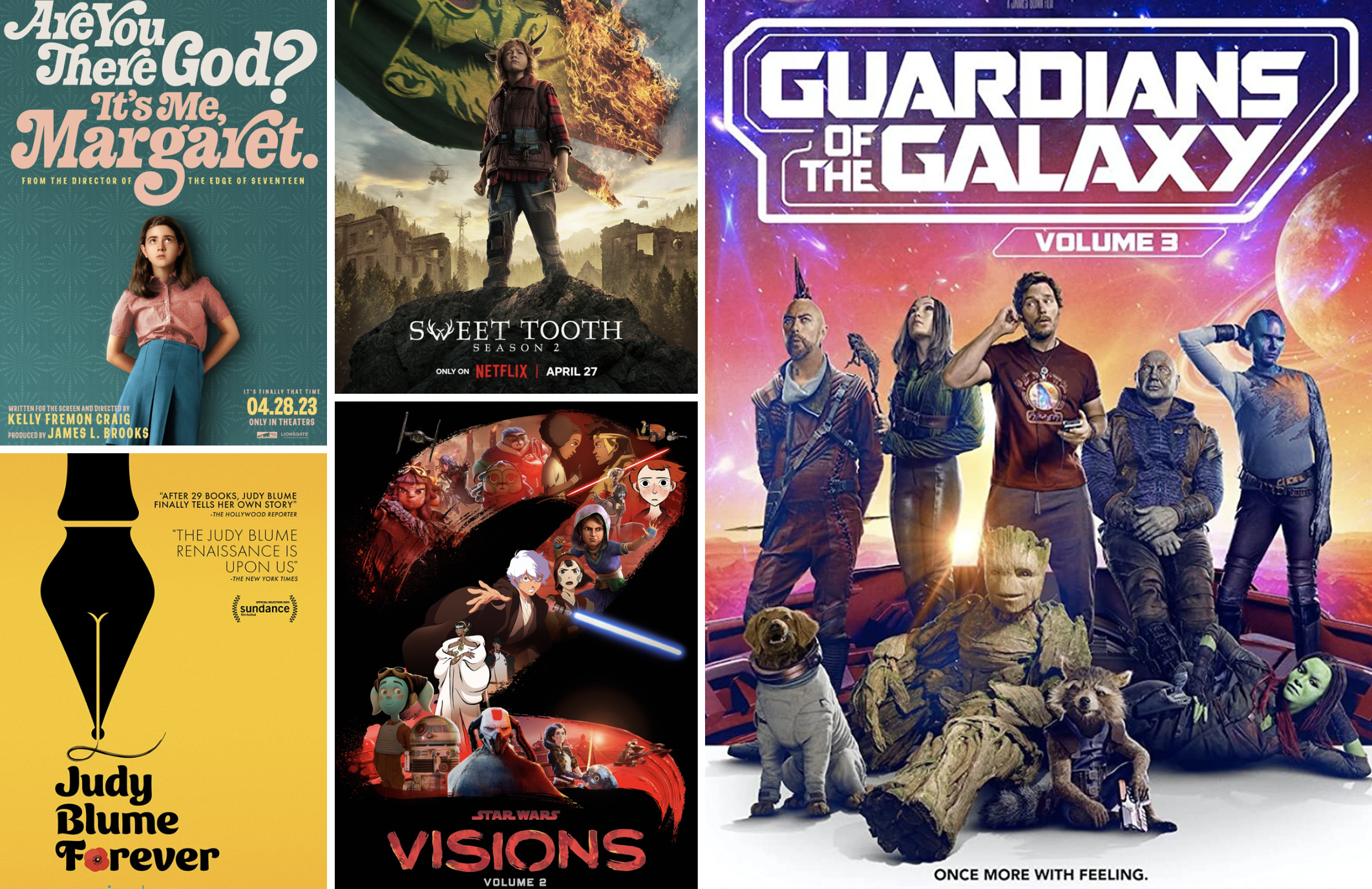 Geek Girl Riot honors May the Fourth with Star Wars: Visions S2, before celebrating Judy Blume with Are You There God? It's Me, Margaret. and Judy Blume Forever. They also give you the goods on Sweet Tooth S2 and Guardians of the Galaxy 3.
Star Wars: Visions S2 + May the Fourth be With You
A long time ago in a galaxy far, far away, someone made a joke about May the Fourth and it stuck. Which means our Rioters celebrate the royal occasion by toasting to Star Wars and the impact it has had on them over the years. Sherin, Julian, Day, and Renee share some childhood memories and talk about what they love most about the franchise. 
That leads them into a preview of Star Wars: Visions S2, which is coming to Disney+ tomorrow. Sherin says, "Every style of animation blends harmoniously with various cultures, but Visions is about young women finding their power while mothers and daughters, both chosen and by blood, hold each other tighter."
Are You There God? It's Me, Margaret. + Judy Blume Forever
If Star Wars fueled our geeky hearts growing up, Judy Blume helped many of us figure out who we were. Our Rioters show some love to the beloved author and share why her books were so important, which leads them into talking about how banning books is always dangerous.
This ties in with their thoughts on the adaptation of Are You There, God? It's Me Margaret., which is in theaters now. Sherin comments, "Are You There, God? It's Me Margaret. is sweet and awkward and relatable across generations." She also shouts out the Prime Video documentary Judy Blume Forever, saying for AWFJ, "Judy Blume Forever is edifying because it ties Blume's history to our now, but it is also sweetly nostalgic blended with salty realness. That's what makes it such a treat."
Sweet Tooth S2
We've been waiting for this one for what feels like an age: Sherin and Renee need to talk about S2 of Sweet Tooth. They ring the Spoiler Siren and get into the beauty and pain of the new season, with Sherin adding, "There's a lot of elite post-apocalyptic content lately and Sweet Tooth is right there, especially when you consider it's the best recent remix of Peter Pan. It's smartly written, unflinching, and it will shred your heart." Watch it—you MUST—right now on Netflix.
Guardians of the Galaxy 3
The Riotous shenanigans don't stop there, 'cause Guardians of the Galaxy 3 is almost upon us. Sherin, Julian, and Renee give you a spoiler-free teaser of the new movie and how it fits into the MCU timeline, previewing the scenes and themes they enjoyed (or didn't) and which heroes (and villains) really spoke to them. Sherin says, "There are three movies here and I like two of them. GotG3 can be snide and ridiculous but what makes it work is Gunn's ability to find the heart of a story, ridicule or explode it, and allow it to envelope his audience."
Julian gives it a B+, commenting, "With a sincere space superhero adventure, James Gunn and company have created a fun, emotional rollercoaster of a space adventure that's easily the best Marvel movie since No Way Home." Watch GotG3 in theaters on Friday!
"The High Evolutionary is a ball of insanity with such intense pathologies there's no doubt he's a villain, even while you fully see what drives him."–Sherin Nicole, Geek Girl Riot
Podcast: Play in new window | Download