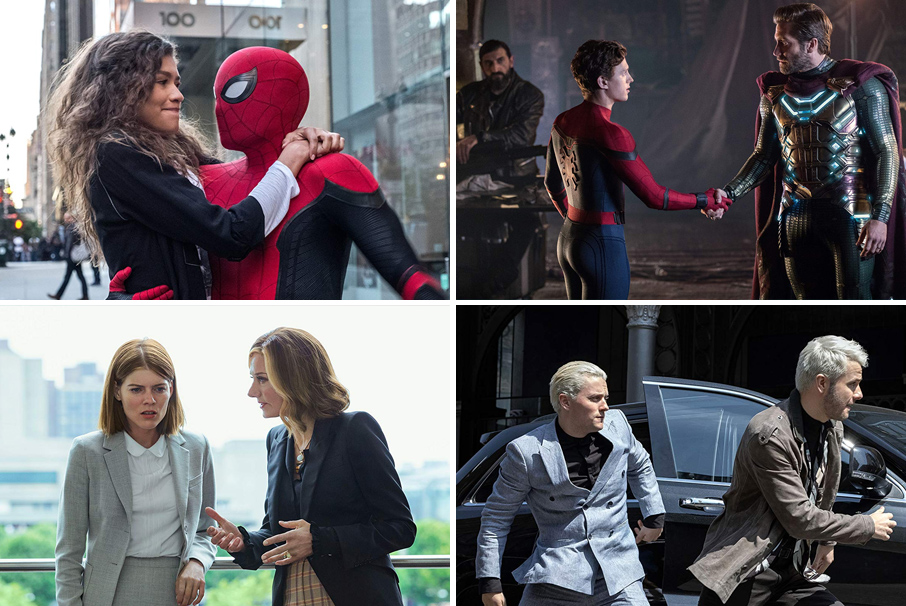 Top row: Spider-Man: Far From Home (photos by Jay Maidment - © 2019 CTMG, Inc.) 
Bottom row: The Rook (photos via Starz)
This week on Geek Girl Riot we're breaking down the good, the bad, and the ugly [faces we made] about Spider-Man: Far From Home…plus we share our thoughts on the new Starz series The Rook.
Spider-Man: Far From Home is Finally Here!
Tom Holland is swooping in once again to steal some hearts as your friendly neighborhood webslinger in Spider-Man: Far From Home, out now! Sherin and Drew get together with Ulysses E. Campbell of Fantastic Forum and Nell Minow of Roger Ebert & Movie Mom to dive into the Spider-verse. Hear their first impressions and what they loved about the new Spidey production. They also share what they didn't like so much and what made them make stank faces (that's not necessarily in a bad way, people!). Sherin says of the movie: "This is my favorite live action Spider-Man. Tom Holland encapsulates both Spider-Man and Peter Parker better than anyone I have seen."
Our spidey senses tell us that we'll be dropping some spoilers but nowhere near as many as Tom Holland on a press tour. You have been warned!
The Rook: The Book vs. The New Starz Series
We jump out of the Spider-verse to talk about a new Starz show called The Rook. Based on the novel of the same name by Daniel O'Malley that our Rioters loved, we had high high hopes (just like that Panic! song) for the adaptation. Unfortunately the start of the season has let us down. Sherin says the new series is: "[an] enthralling supernatural thriller novel turned into an office drama. It was toothless…and so disappointing." Sherin, Alex, and Angie share their disappointments and compare the book and the series. 

Photos: Care/of
We want you to stay healthy—and Care/of is making that easier! This subscription vitamin service delivers personalized vitamin & supplement packs each month—even the (super cute!) packaging is tailor-made for you. Get 25% off your first month of personalized Care/of vitamins with the code GGRIOT at TakeCareOf.com
—
Tune in to Geek Girl Riot on idobi Radio every Tuesday at 11pm ET / 8pm PT for your dose of late-night geekery from our team of rioters. Til next time, see a list of everything our Rioters talked about below:
LINKS:
 – Spider-Man: Far From Home
 – Booksmart
 – Spider-Man: Homecoming
 – Avengers: Infinity War
 – Avengers: Endgame
 – Venom
 – The Greatest Showman
 – Captain America: Civil War
 – Deadpool
 – Spider-Man: Into the Spider-Verse
 – The Rook
 – The Rook – Daniel O'Malley
 – James Bond
 – Twilight – Stephenie Meyer
 – Dilbert
Podcast: Play in new window | Download