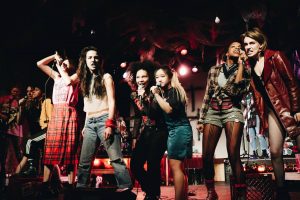 The hybrid theater/music project 'Riot Anitogne' brought a mixture of Sophocles' tragedy, 'Antigone', and the '90s Riot Grrrl movement. This week we catch up with Seonjae Kim, the creator of this original punk rock musical, to discuss her unique creative process, how the songs came to life and how to cultivate confidence while in the creative pursuit. You can now stream 'Riot Anitogone' and learn how to catch a live performance. 
This episode is brought to you by; 
Raycon wireless earbuds are the best way to bring audio with you because no matter how much you shake things up—literally, no matter how much you shake—you know they won't fall out of your ears. Their Everyday earbuds look, feel, and sound better than ever. Visit BuyRaycon.com/scoggs to save 15% on Raycons!
Please don't be shy, email me! [email protected] with any advice, questions, or topics. If you like the show, please rate, subscribe & share with a friend. 
Talk soon! 
<3Sara 
Stay connected
@sunintheskyletterj
@riotantigone
@SaraScoggs
@lets_talk_soon
Theme song produced by Shelby Merry 
Photo courtesy of the artist
Podcast: Play in new window | Download