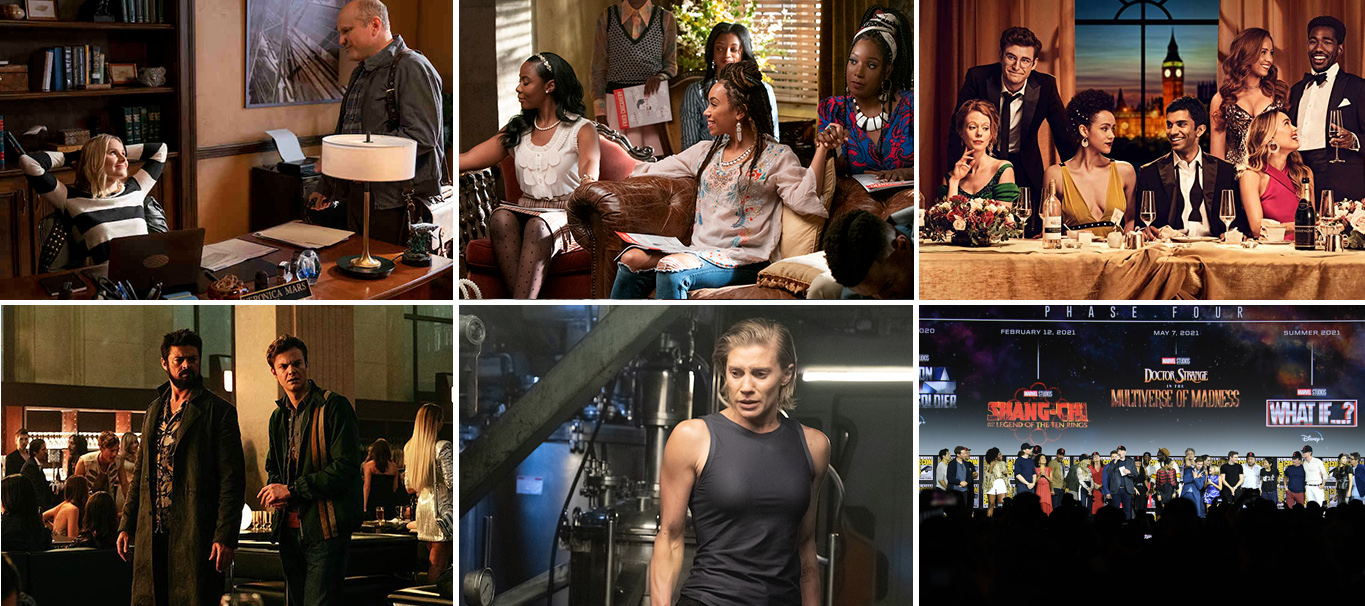 Top row L-R: Veronica Mars (photo: Michael Desmond/Hulu) // Dear White People (photo: Lara 
Solanki/Netflix) // Four Weddings and a Funeral 
Bottom row L-R: The Boys (photo: Jan Thij / Amazon) // Another Life (photo: Colin Bentley 
/ Netflix) // Marvel panel at San Diego Comic Con (photo: Kevin Winter/Getty Images)
This week's Geek Girl Riot is jam packed: We talk Veronica Mars, Dear White People, The Boys, Another Life, Four Weddings and a Funeral, and share our San Diego Comic Con highlights!
Veronica Mars, Dear White People, + Marvel vs. SDCC
Hulu surprise-gifted all of us with Veronica Mars season 4 a week early it doesn't take a detective to know we're loving it. Sherin says of the season: "It is heartbreaking in a lot of ways. It's still just as funny as you remember, and the banter is phenomenal, but one of the wonderful things about Veronica Mars is it never shies away from real life issues."
Speaking of things we love, Dear White People is coming back on August 2nd and it reaches new emotional depths—catch a sneak preview from Sherin. She says: "The students of Winchester are about to swerve from their non-stop activism and get personal. And their personal complications are going to hit them hard—with even deeper social ramifications. This is such a good show."
You'll also hear the first of many of our Rioter's highlights from San Diego Comic Con, kicking off with the glorious Marvel panel mega-explosion of announcements.
The Boys + More SDCC
Garth Ennis and Darick Robertson delighted the darkest parts of our minds with their comic The Boys. Now Seth Rogen, Evan Goldberg, and Eric Kripke are bringing The Boys to Amazon on July 26th. Unfortunately the series adaptation missed the mark, with Sherin saying: "The character development from the comics isn't here and without that you really don't understand who The Boys are so you can't really side with them—and in their twisted universe they need someone on their side." Hear our Rioters' thoughts on the show vs. the comic. Plus more SDCC highlights!
Another Life, Four Weddings and a Funeral, + Even More SDCC
Sherin got sucked into Netflix's new sci-fi show Another Life, out July 25th. She tells Philip and Alex why they'll enjoy it, telling them: "We love a space saga and on this surreal one everything goes wrong! …and you won't be able to stop watching it happen." Our heroic trio then throw in some more SDCC moments. To close us out, Sherin and Alex throw love confetti at Hulu's upcoming Four Weddings and a Funeral, out July 31st. Sherin says, "This show is 90210 but for the grown and sexy—a full glow-up—with a Notting Hill address." (read our review!)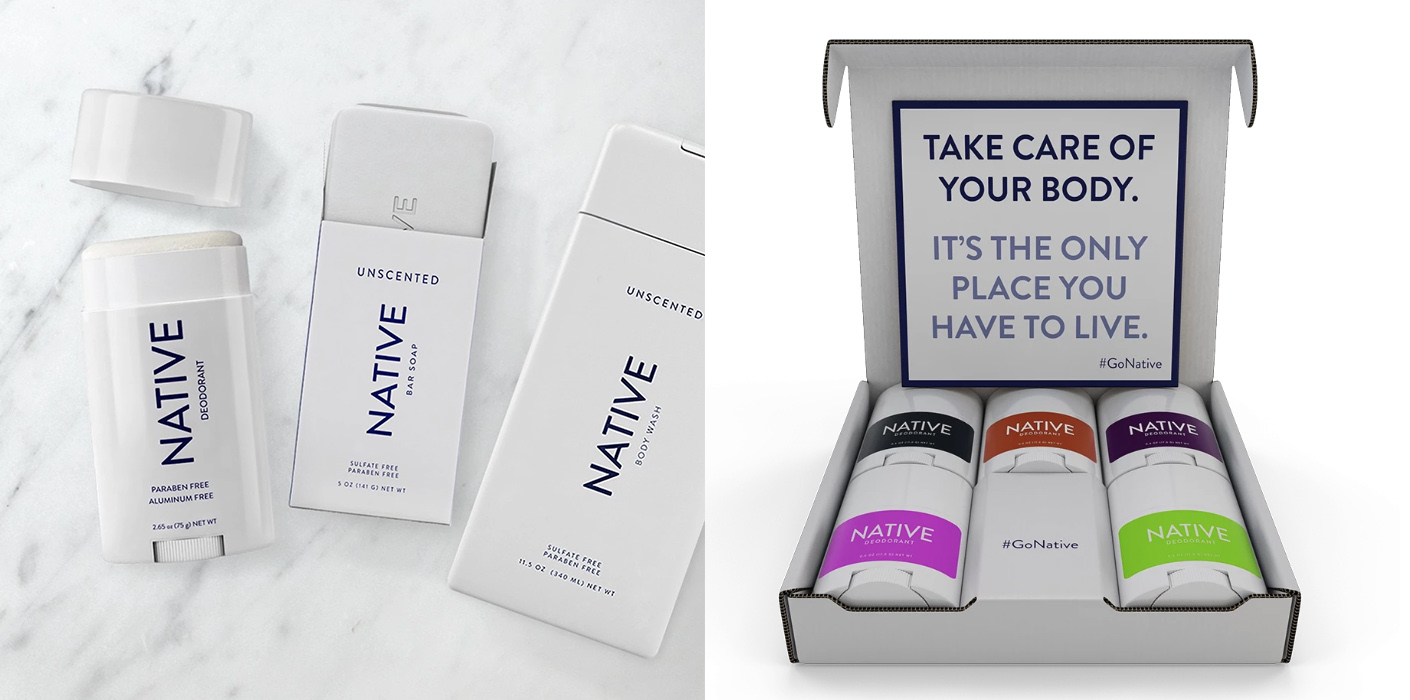 Photos via nativedeodorant.com
We want you to feel good and smell even better. That's why GGR is teaming up with Native Deodorant, which creates safe, simple, effective everyday products with trusted ingredients and trusted performance. For 20% off your first purchase, visit nativedeodorant.com and use promo code GGRIOT during checkout!
Tune in to Geek Girl Riot on idobi Radio every Tuesday at 11pm ET / 8pm PT for your dose of late-night geekery from our team of rioters. Til next time, see a list of everything our Rioters talked about below:
LINKS:
 – Veronica Mars
 – Dear White People
 – The Boys
 – Another Life
 – Invincible
 – The Departed
 – Infernal Affairs
 – Shang-Chi and the Legend of the Ten Rings
 – Captain Marvel
 – Thor: Love and Thunder
 – Thor – Jason Aaron
 – Kim's Convenience
 – Black Panther
 – Avengers: Endgame
 – Spider-Man: Far From Home
 – Blade
 – Steven Universe
 – Young Justice: Outsiders
 – Doom Patrol
 – Creepshow
 – The Boys – Garth Ennis, Darick Robertson
 – Hitman – Garth Ennis
 – Superman
 – Shazam!
 – Watchmen – Alan Moore
 – Preacher
 – Star Trek: Lower Decks
 – Star Trek: Picard
 – Star Trek: The Next Generation
 – Star Trek: Voyager
 – Heroes
 – The Expanse
 – Lost in Space
 – Battlestar Galactica
 – Arrival
 – Snowpiercer
 – The Walking Dead
 – His Dark Materials
 – Polar Express
 – The Golden Compass
 – Game of Thrones
 – The Witcher
 – The Wire
 – The Lord of the Rings
 – Dune – Frank Herbert
 – Blade Runner 2049
 – Dune movie
 – Dune TV series
 – The Fast and the Furious
 – Four Weddings and a Funeral
 – Love Actually
 – Notting Hill
Podcast: Play in new window | Download