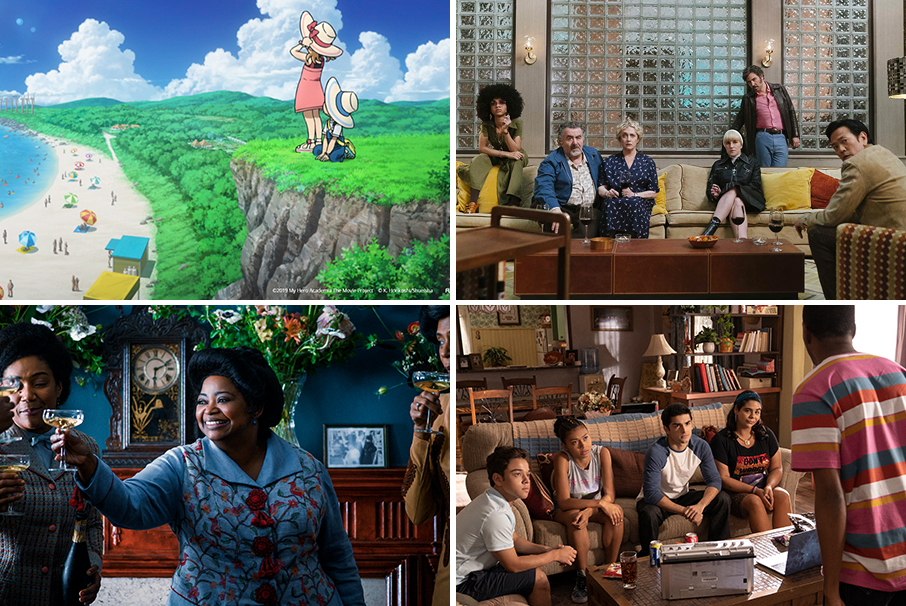 Clockwise from top left: My Hero Academia: Heroes Rising // Hunters (photo: Christopher Saunders/Amazon 
Studios) // Self Made (photo: David Lee/Netflix) // On My Block (photo: Gilles Mingasson/Netflix)
Geek Girl Riot is action-packed this week: We talk My Hero Academia: Heroes Rising, Hunters, Altered Carbon, Candyman, Self Made: Inspired by the Life of Madam C.J. Walker, and On My Block. 
But first, hear why it's vital that you go out and vote in all the upcoming elections, before getting some tips about Ginger Sprite (and no, that's not a new Spice Girl).
My Hero Academia: Heroes Rising
You know we love our anime & manga which means we must talk about My Hero Academia: Heroes Rising. The new film is in theaters now and we want you to go see it—so dig into why Sherin and Julian think it's a great action anime. They'll also tell you what you need to know about the MHA world. (read Julian's review)
Hunters + Altered Carbon S2
Hunters just dropped on Amazon Prime and we have THOUGHTS. Sherin and Philip tell Julian about the moments that worked and the ones that went too far. Then Philip tells the crew about Altered Carbon S2 and whether the show has fixed the problems from the first season (stream it on Netflix now). 
Candyman + Self Made + On My Block
That Candyman trailer is all we see when we close our eyes at night…our Rioters break it down. Sherin and Julian then tell Philip about Self Made: Inspired by the Life of Madam C.J. Walker and why "inspired" is the key word. The soap opera-y goodness is real, y'all, and our Rioters are here to tell you why you've gotta watch it on Netflix on March 20th. To close out the show, Sherin decides to ruin her friendships with the boys by telling them about On My Block season 3 (and they get mad jealous at how good it sounds). 
Left: TodayTix // Right: Best Fiends (keep scrolling for some sweet deals!)
TodayTix:
Who's ready to hit the stage? TodayTix is the place to get the best prices on theater tickets and it's so quick & easy to book on their app. Their huge range of musicals, plays, comedy nights, and beyond mean that all you need for a great time is TodayTix. Go to todaytix.com/GGRIOT and use promo code GGRIOT to get $10 off your first purchase.
—
Best Fiends:
If you need us, we'll be in the world of Best Fiends—come join us, won't you? The 5-star rated mobile puzzle game is so much fun to play and collecting all the cute lil Fiends adds to the game's charm. Head on a new adventure and download Best Fiends FREE on the Apple App Store or Google Play.
—
Tune in to Geek Girl Riot on idobi Radio every Tuesday at 11pm ET / 8pm PT for your dose of late-night geekery from our team of rioters. 'Til next time, see a list of everything our Rioters talked about below:
LINKS:
 – Hunters
 – Altered Carbon
 – My Hero Academia: Heroes Rising
 – Self-Made: Inspired by the Life of Madam C.J. Walker
 – Teen Titans
 – X-Men
 – Dragonball Z
 – Naruto
 – Fast & Furious
 – Lore Olympus
 – Candyman
 – Inglourious Basterds
 – Birds of Prey
 – Y: The Last Man
 – The Killing
 – Captain America
 – The Falcon and the Winter Soldier
 – Marvel's Luke Cage
 – All Rise
 – Storm
 – Cyberpunk 2077
 – Star Trek: Picard
 – Blade Runner 2049
 – Locke & Key
 – She Did That
 – They've Gotta Have Us
 – Who Killed Malcolm X?
 – On My Block
 – Real Women Have Curves
 – South Central
 – Knives Out
 – Glow
Podcast: Play in new window | Download