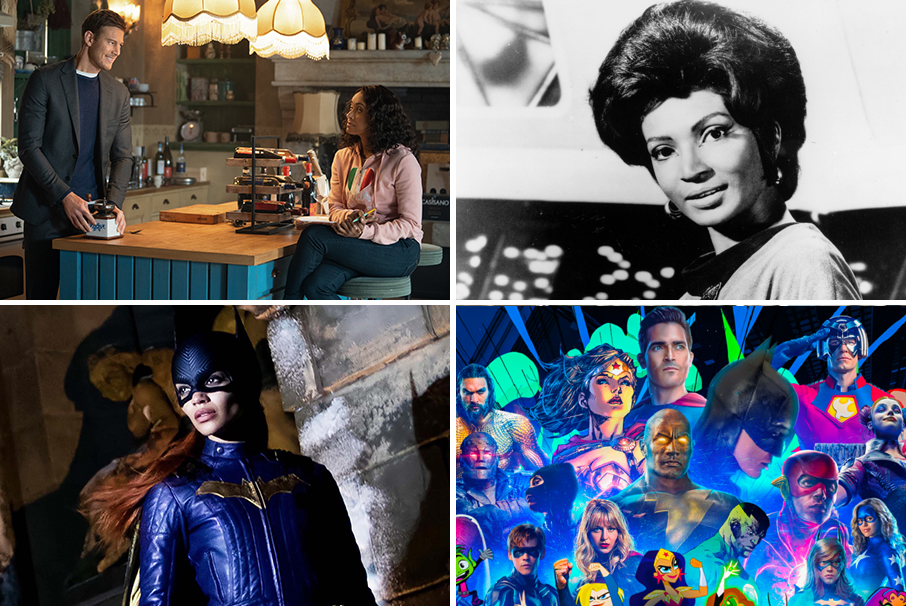 Geek Girl Riot teams up with Fantastic Forum for an episode honoring Nichelle Nichols and digging into the recent moves and cancelations by Warner Bros. But first, a quick visit to Love in the Villa.
Love in the Villa + Entertainment News
Sherin and Alex introduce the show and dive right into Love in the Villa, a new Netflix rom-com about a woman (Kat Graham) who heads to Verona on a solo trip only to find her stay at a romantic villa interrupted by a charming British man (Tom Hopper). They give you a teaser of what to expect and break down some of the tropes you'll come across. Watch it tomorrow on Netflix!
Then it's time to hear from our pals at Fantastic Forum, as host Ulysses E. Campbell kicks off with some entertainment news.
Remembering Nichelle Nichols
Rioters Sherin and Julian along with Mike Lunsford join Ulysses in paying tribute to Nichelle Nichols. They share the impact she had on them, from Star Trek to her work with NASA and beyond, and how her legacy is so much more than words can express. 
Canceling Batgirl (Hey Warner Bros, WYD?)
Warner Bros. has been making some questionable moves lately. The Warner Bros. Discovery merger has caused a huge amount of changes and cancelations, including the almost-completed Batgirl movie, along with a slew of other shows. The FF crew talks about what it means for the future of DC and how to build a legacy, comparing the DCEU to the Marvel and Fast & Furious franchises. They also dig into how the entertainment giants have been treating creators and their art.
​​
Tune in to Geek Girl Riot on idobi Radio every Tuesday at 11pm ET / 8pm PT for your dose of late-night geekery. 'Til next time, see a list of everything our Rioters talked about below:
LINKS:
 – Batgirl
 – Love in the Villa
 – The Umbrella Academy
 – The Flash
 – Buffy
 – The Omega Man
 – I Am Legend
 – Thor 377
 – Star Trek: The Original Series
 – Reminiscence
 – Peacemaker
 – The Suicide Squad
 – Justice League
 – Justice League Unlimited
 – Wonder Woman
 – Avengers
 – Captain America
 – Daredevil
 – Batman
 – The Dark Knight
 – Watchmen
 – Blue Beetle
 – The Matrix
 – Lethal Weapon
 – Fast & Furious
 – Superman
 – Harry Potter
 – Bad Boys for Life
 – Ms. Marvel
Podcast: Play in new window | Download