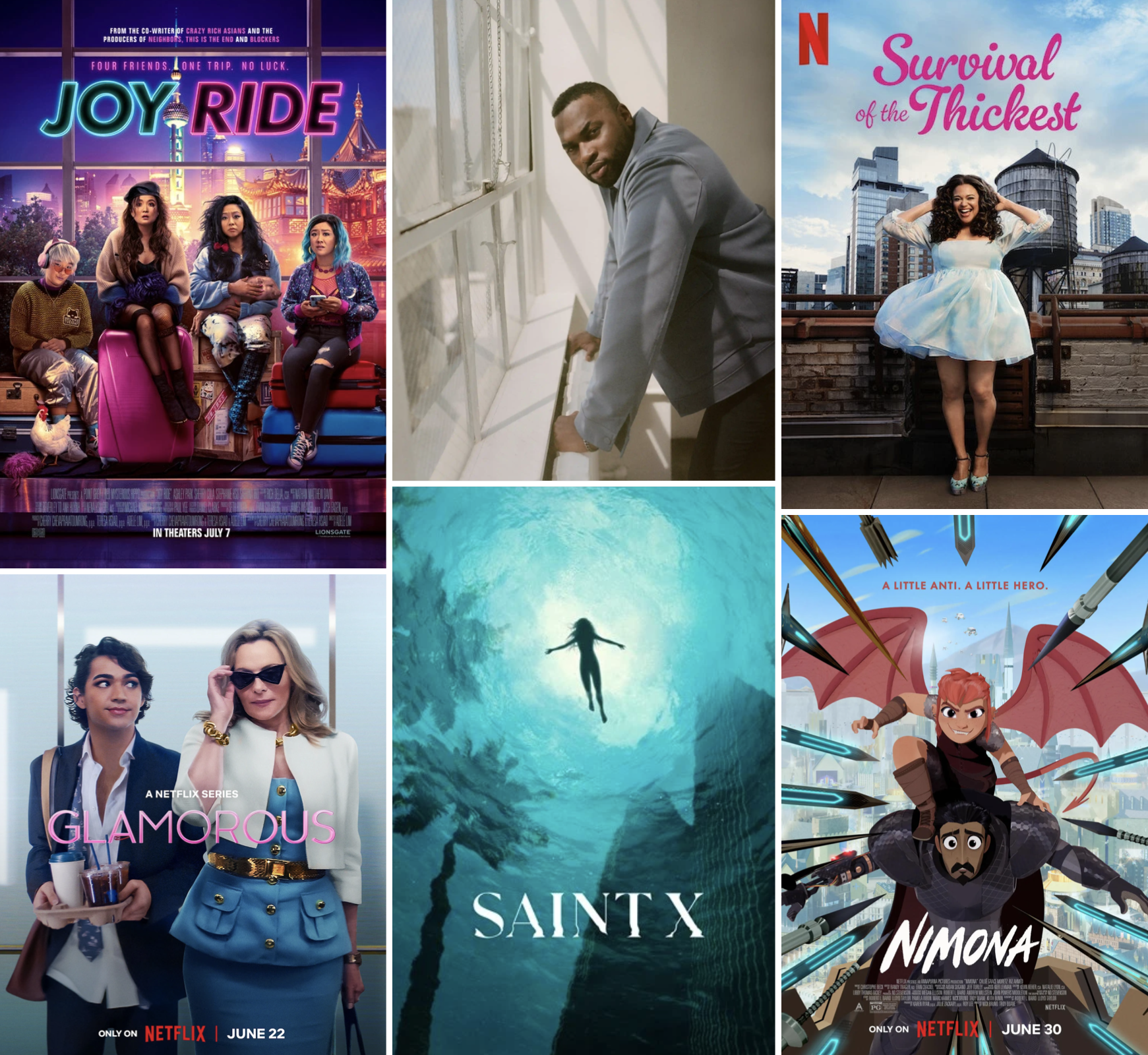 Our Rioters are reporting for duty with the latest binge-watch update, including: Joy Ride, Survival of the Thickest, Nimona, Glamorous, and more. We also chat all about Saint X with Josh Bonzie.
Joy Ride
Buckle up, 'cause Sherin and Soma are about to take you on a Joy Ride. They get into the wild road trip comedy with a side of raunch, talking about the all-star cast and representation, the themes and storytelling, and why you gotta go see this with your besties in theaters now. 
New Binge-Watches + Binge-Rants
Our hosts kick off the second segment by doing some hot takes on what they've been watching lately, including: Black Mirror, The Perfect Find (and their Gomez & Morticia Addams fancasting), and Survival of the Thickest starring our fave Michelle Buteau. 
Then Sherin has a bone to pick with the overpriced designer handbag industry, sparked by Pharrell's $1 million Louis Vuitton bag. Oh, and she and Soma roll their eyes at the internet discourse about the new Superman casting news.
Interview with Josh Bonzie from Saint X
Renee takes over the mic to chat with the wonderful Josh Bonzie who plays Gogo in Saint X, Hulu's intense new series we've been obsessing over for quite some time now. Josh talks about connecting with his character and fellow cast members, staying present when filming, and what it was like shooting both story timelines at once.
Nimona, Survival of the Thickest, Glamorous
Philip AKA Dusty Sprinkles jumps on with Sherin to chat about Nimona, the new animated adaptation of the beloved graphic novel. They celebrate this queer, action-packed, magically monstrous film in all its glory. They then dive deeper into the deliciousness of Survival of the Thickest (we just can't get enough), before getting into the fierce fashion fabulousness of Glamorous starring Kim Cattrall and Miss Benny. Watch all three properties on Netflix now!
Producer's Note from Sherin: Here's the thing. Do not record your show segments between flights and after multiple film festivals and even more deadlines. If you do you might phuck around and call Sir Ballister Boldheart his boyfriend's name (Sir Ambrosius Goldenloin) and remain embarrassed because you cannot fix that shit before the episode premieres. 

SHERIN BLAMES PHILIP
(go mess with him @philipjp24601 because he let her run through that entire segment without correction. That's what the great grammas call: Leaving you out there with your slip showing)
Tune in to Geek Girl Riot on idobi Radio every Tuesday at 11pm ET / 8pm PT
for your dose of late-night geekery.
Podcast: Play in new window | Download