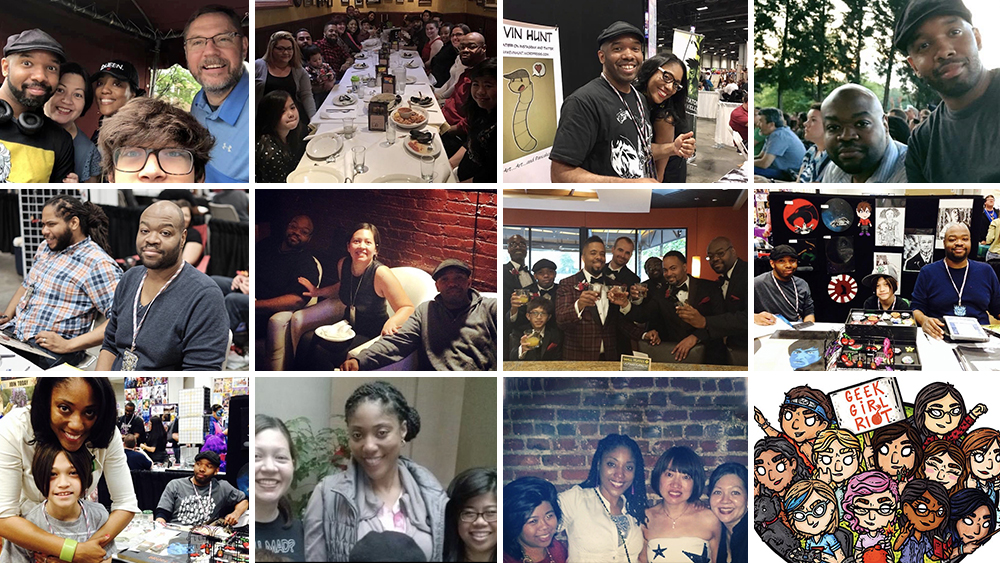 Our Rioters, the Brunch Bunch, and our friends!
Get ready to smile with the latest Geek Girl Riot as our Rioters share their tale of friendship within the group.
Introductions & Inspiring Each Other
Y'all know Geek Girl Riot is a place of love, acceptance, and community. But did you know some of our Rioters have been friends for many years? (They're basically your friendly neighborhood immortals.) Soma had the idea to tell the story of how the gang got together so she sits down with Sherin, Kat, and Philip to do just that. Expect many jokes and fun memories along the way as our Rioters share how they became BFFs and what their friendship means to each other.
We Get By With A Little Help from a Big Group of Friends
Then it's time to get a lil mushy as Sherin, Soma, Kat, and Philip take turns saying how much they appreciate one another. It'll make you smile and wanna call your own friends to check in (and don't worry, it doesn't get too sentimental—there's no crying in GGR).
Spreading the Love During These Heavy Times
To close us out, our Rioters share some stories of friendship and love beyond their circle, including finding kinship through fandom, finding ways to cope during the pandemic, and making sure to put some good into the world. We encourage you to do the same. 

Left: Thrive Market (photo via thrivemarket.com) // Right: Best Fiends (photo via bestfiends.com) 
// Keep scrolling for some sweet deals!
Thrive Market:
Getting your groceries delivered just got easier (and you know how much we love that). Thrive Market caters to Paleo, Keto, vegan, and so many more dietary needs and their products are the highest quality organic & sustainable. To make it even better, each membership purchase also provides a free one for someone in need. Try Thrive Market risk-free: Head to thrivemarket.com/ggriot to join today and get up to $20 in shopping credit toward your first order!
—
Best Fiends:
We're ready to cause Slugmageddon on Best Fiends—you in? You can spend countless hours playing the 5-star rated mobile puzzle game no matter where you are (you don't even need wifi!). Find your favorite Fiend (and beat those Slugs): Download Best Fiends FREE on the Apple App Store or Google Play.
—
Tune in to Geek Girl Riot on idobi Radio every Tuesday at 11pm ET / 8pm PT for your dose of late-night geekery from our team of rioters. 'Til next time, see a list of everything our Rioters talked about below:
LINKS:
 – Snatch
 – Derry Girls
 – Lore Olympus
 – Supernatural
Podcast: Play in new window | Download