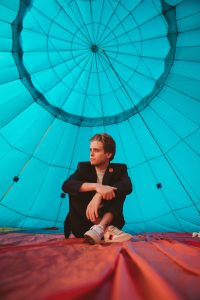 Devin Kennedy 
We get to know Los Angeles-based singer, songwriter, and producer Devin Kennedy this week! Devin released his single/music video for "Follow Through" this past February. Devin and I talk about who in the music industry gave him encouragement and support at the beginning of his career, what the single "Follow Through"means to him, and much more. Devin also offers some great insights on how to practice mindfulness each day. There's more coming from Devin soon, so keep an eye out! I hope you enjoy this episode and getting to know Devin. 
This episode is brought to you by; 
Hunt A Killer brings people together by challenging them to decode ciphers, examine clues, and solve puzzles. It's like an escape room delivered right to your door! Right now, you can go to huntakiller.com/scoggs and use code SCOGGS for $10 off your order. 
Never get tired of a good whodunnit? Then you'll love June's Journey. You play as June Parker, an amateur detective investigating a series of mysteries, full of twists and turns. Ready to awaken your inner detective? Download June's Journey free today on the Apple App Store or Google Play!
To keep the new year positivity going, Audible has created a destination for complete well-being that delivers inspiration, encouragement, and actionable steps—no matter what your goals are. Audible editors have curated a range of titles featuring experts in a wide range of self-care and self-development categories— from mastering your emotions and improving relationships to getting in shape and finding more success at work and home.
Please don't be shy, email me! [email protected] with any advice, questions, or topics. If you like the show, please rate, subscribe & share with a friend. 
Talk soon! 
<3Sara 
Stay connected
@devkennedymusic
@SaraScoggs
@lets_talk_soon
Theme song produced by Shelby Merry
Photo by Alexander Bemis
Podcast: Play in new window | Download